Our trip to the mountains for our summer holidays.
After such a hectic year with Covid, and thinking that travelling should be easy by now, we got to know we were wrong. At least, we managed to do our trip to the mountains. Here I will recount how it went on our summer holidays.
This article may contain affiliate/compensated links. For full information, please see our disclaimer here. 
Preparations. Our trip to the mountains for our summer holidays.
We had mixed messaging from the UK government, that we could travel and then not. This topped up with the Italian and French governments changing their minds weekly.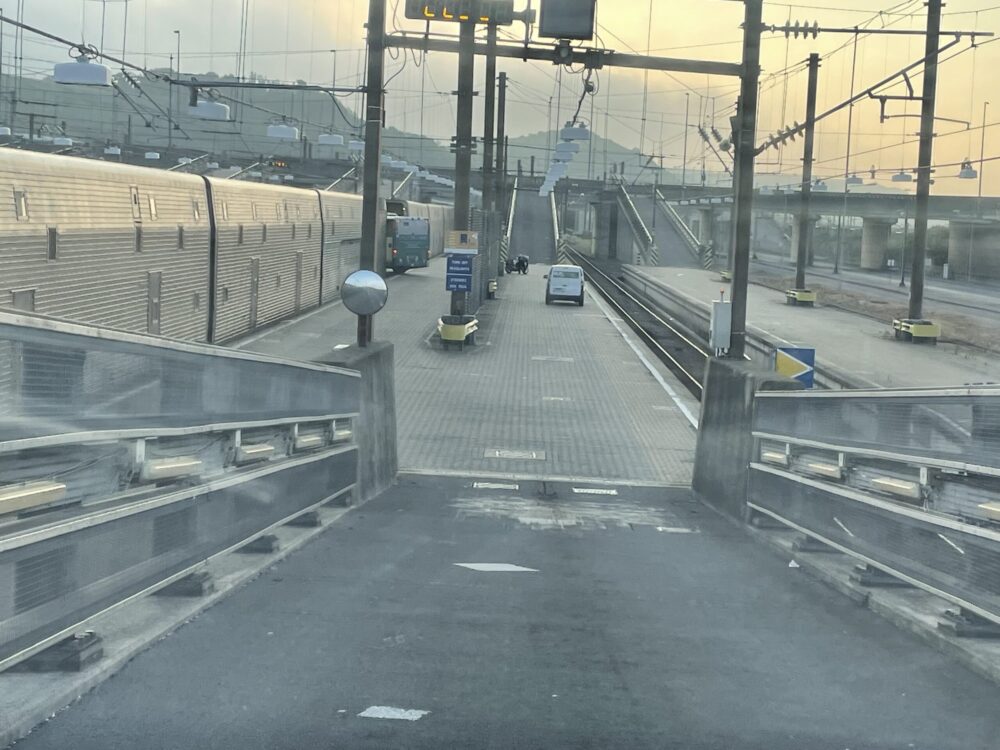 The last week before travelling, when I've thought that we were going to get finally away, we had to do the following.
First, if double vaccinated, the French were allowing us to come in without quarantining
. This was the same for the kids of
fully
vaccinated adults. The only thing that was not clear is if our boy of 12 needed or not a further test.
Just
in case, at the last moment, we went to get an antigenic test at a drive-through at the O2 in Greenwich. There was a line on the advice stating that self-administered tests did not count. At least, we could use antigen tests for both Italy and France.
I've bought a series of tests for the whole family for France and then for Italy. I was afraid of not being able to use one for both destinations, as we were sleeping over in France.
Then France changed the advice that those needing tests from the UK, they had to have their test up to 24 hours prior travelling
. So only my eldest son (
maybe
) required a test to travel into France.
The actual drive. Our trip so far to the mountains for our summer holidays.
In the early morning we departed towards the Eurotunnel. There we had to get off the car to show the new paperwork for taking out the dog into Europe. (Thanks Brexit, NOT!). It was a long queue, but it was moving fast. We were not given the hanger for the car with the letter of our departure, until we did that. I went then to the bathroom and I've seen a long queue of people showing their vaccination status. I've thought, yikes, I have not done this queue.
But then I've realised that those waiting have not before uploaded the record locators on the Eurotunnel website
.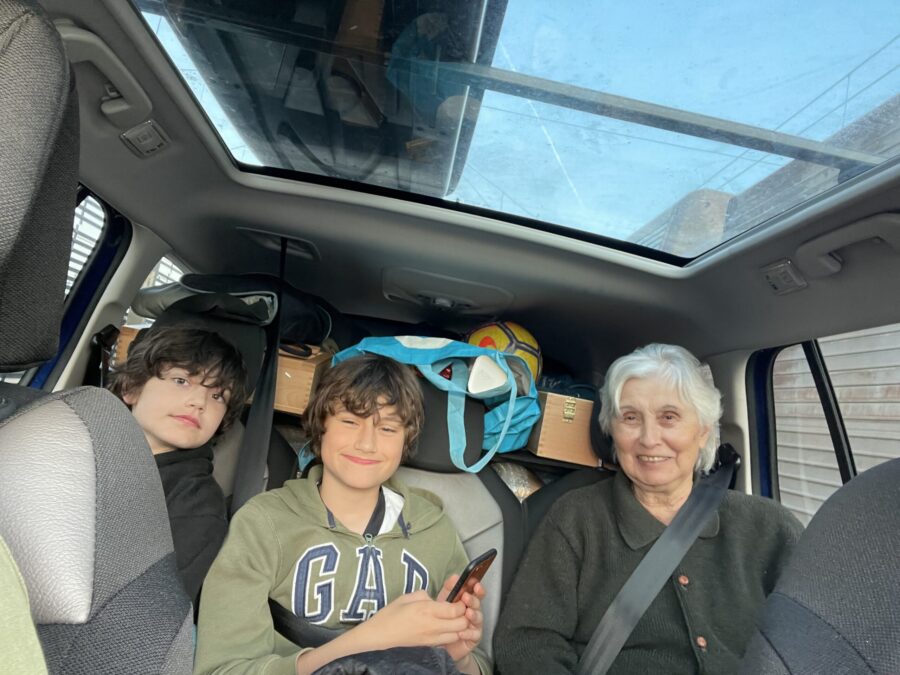 We passed through the British passport control- there were two windows for that. No stamps given to our passports. Then we went through the French passport control…. there were no-one there. It looks like the person was arriving as we passed, so nobody checked us at all!
They only stopped us to pass the little test that no explosives were in the car. Nobody check our food or anything- I packed without bringing any milk derivatives or meat, as that was not allowed…. we could have passed anything!
The trip was very smooth. We have done it so many times, that we are doing it in no time at all. We stopped at an 'aire' and had our tuna mayo and egg mayo sandwiches. These were ok under the rules of entering food into the EU after Brexit. And we arrived in Chaumont at the Hotel Ibis Styles, we've left our bags and had a nap, as we have started our day too early.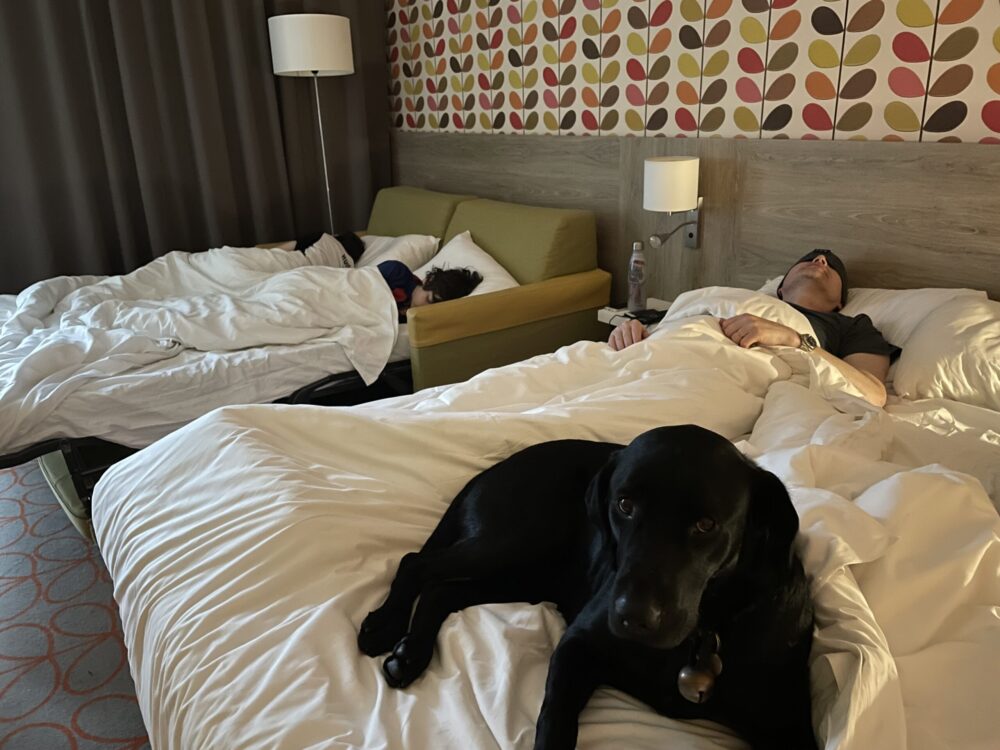 Then it was the time to go out with Ozzy around town.
We've tried to get sushi from our favourite restaurant around the corner but it
was closed
due to holidays
.
Then the boys wanted a burger to take away and while waiting, I went to ask if we could get an al fresco table at the hotel. Unfortunately it was full. At the end of the day, it was Friday night in Chaumont!
We went walking around and we went to the small restaurant we used to go in every trip. This is the Restaurant Le Jardin. It is off the Rue de Verdun, before it convertes in Rue Toupot de Beveaux. As the boys offered to stay eating their burgers in the room with Ozzy, we could have a civilised dinner. The food is amazing, this chef makes everything, and he only gets a waiter in the summer months. You choose some options in the
formule
, and you know it will always be good. We've sat on the side – it is an old site of a
bibliotheque,
that looks a bit falling apart, but it was great. We were alone in this open space. The waitress was super nice. I was trying to bauble my poor French. I always get confused with my Italian. She knew a bit of Spanish so we made ourselves understood.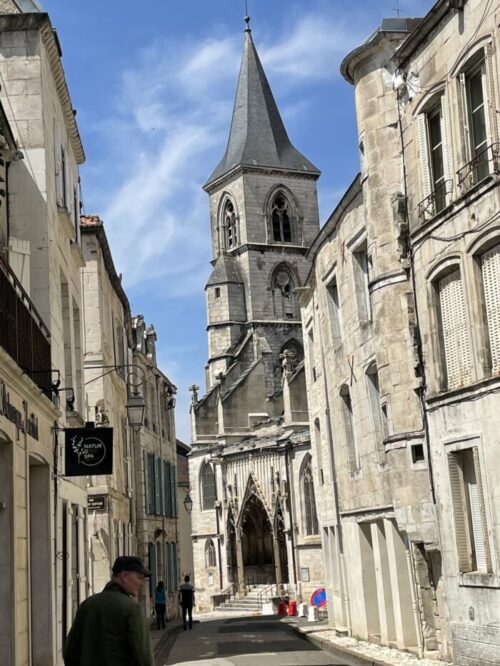 We went off to sleep as the next morning we needed to leave early. There were stories of a horrible storm around all the area. My husband said why didn't we stay one extra night before travelling to avoid it. But we had our Covid tests that needed be 48 hours for Italy, so that was not an option!
We woke up early, had breakfast
al fresco
and then off we went. We hit a bit of bad weather around Dijon and Lons-le-Saunier, but it was short-lasted. The road was great all over the way. We've arrived to the Mont Blanc Tunnel and nobody asked us anything. We were finally in Italy.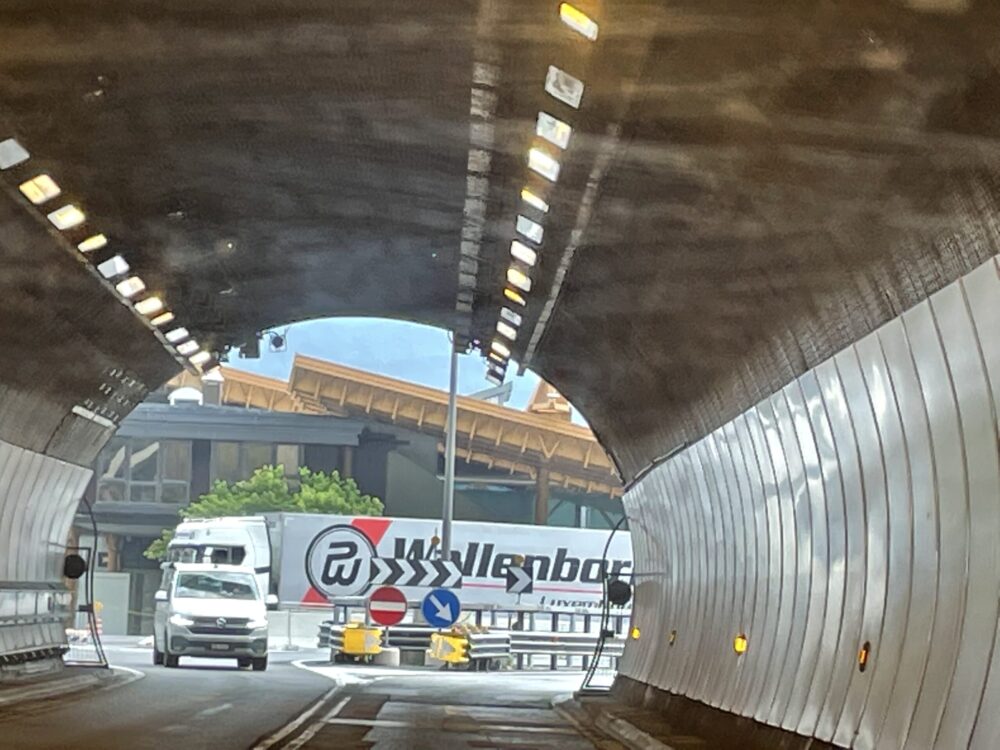 The quarantine on arrival to Italy. Our Trip to the mountains for our summer holidays.
We have arranged to get Ozzy picked up in the morning and evenings. We had a boy in the mornings that was great. Then the lady in the evening arranged with another girl that was coming at midday for him. So Ozzy got plenty of exercise. We had to quarantine for five days, as per the rules of Italy. This is because of the presence of the Delta variant in Britain. Britain seems to be the first country to have all these variants of concern.
I've got food delivered home by Minimercato Jolly and Alpifrutta. So we were ok with that. We had lots of aperitivos in the balcony and I've painted a lot with soft pastels. Nobody came to check on us, looks like we did not seem too important.
Free from quarantine! Our trip to the mountains for our summer holidays.
As soon as the quarantine was off, we've started going out each morning with the dog. And I kept myself busy. My husband worked pretty much all the time from Morgex. I went with the boys and my mum several times to the Piscina Alpina in Courmayeur. For that we took the funicular from downtown Courmayeur into Plan Chécrouit. And up there it is a short trek to the pool. There you have some loungers that you rent and parasols. You can eat there and views are amazing. The boys had a lovely time.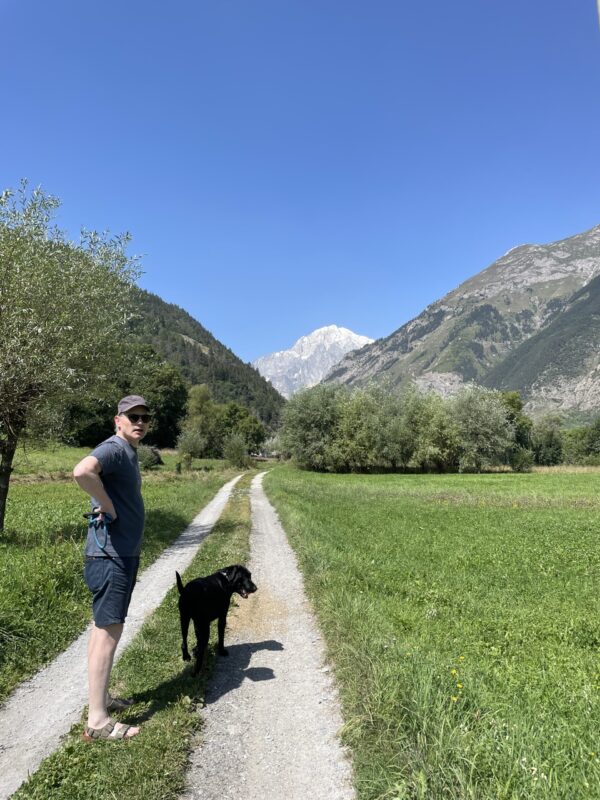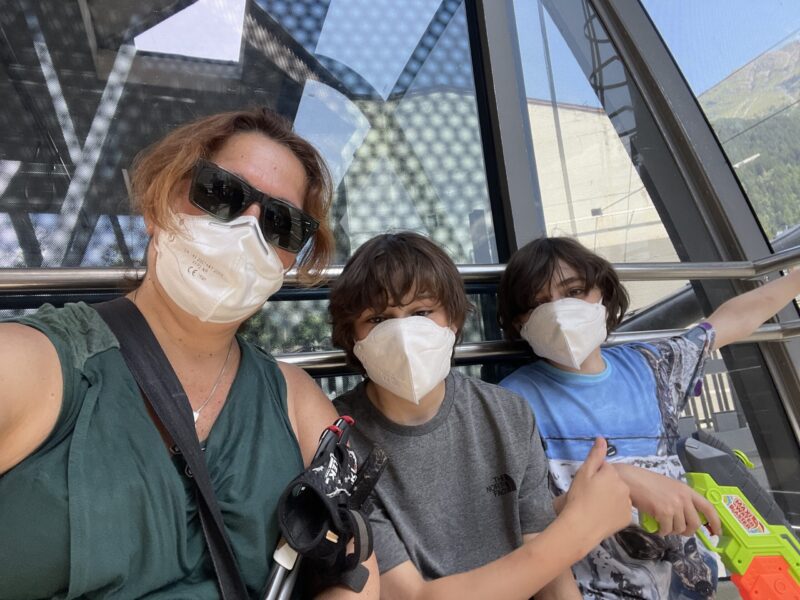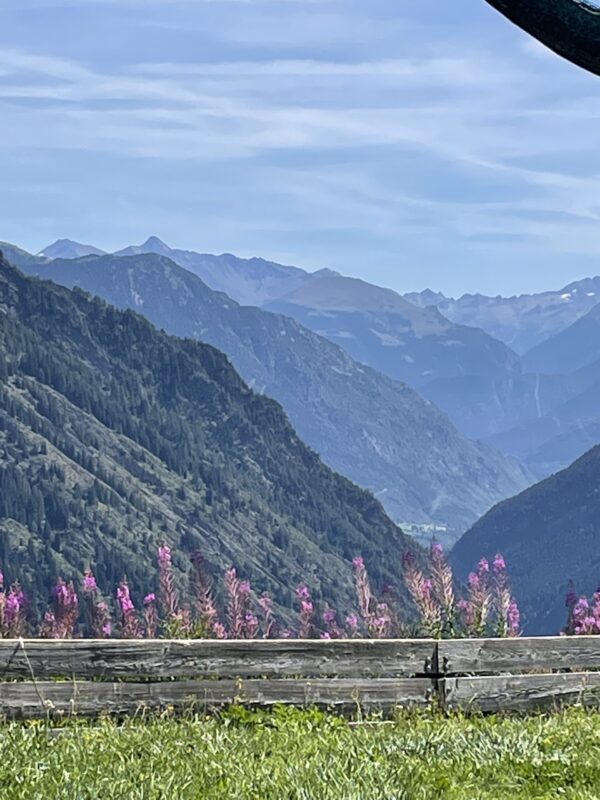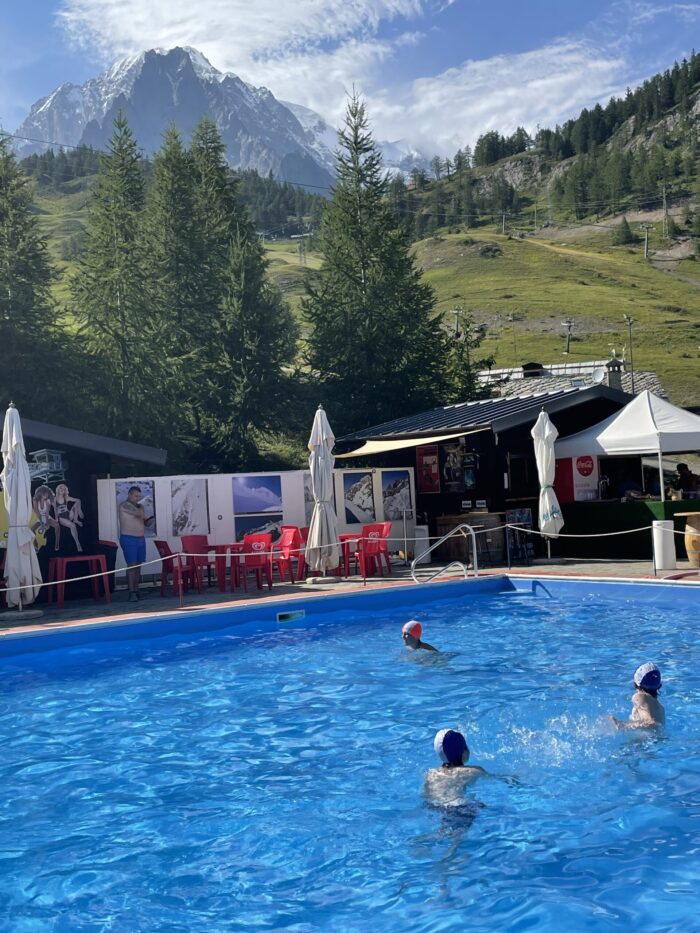 We managed to go for a long weekend – the one of my birthday, into Milano. We've rented a great Airbnb located at San Ambroggio. We were very comfortable for walking everywhere. We dined at Naviglio, had lunch across San Siro, walked by the Duomo, Brera, and all over the city. We went then to visit some friends to Moltrasio for lunch, in Lago di Como. There had been some major storms and mud-slides there, and you could tell because the lake was full of wood. The road had a detour due to the landslides and it took a bit to get back on the main motorway back to Morgex.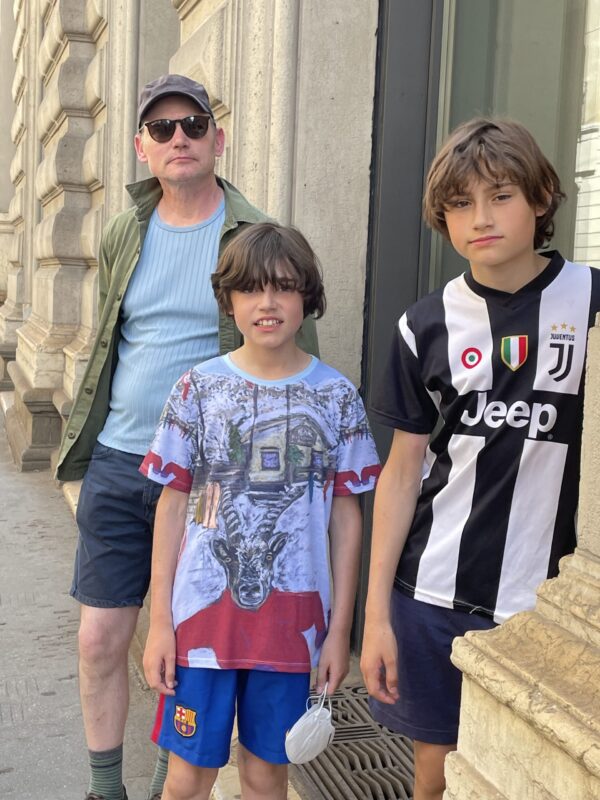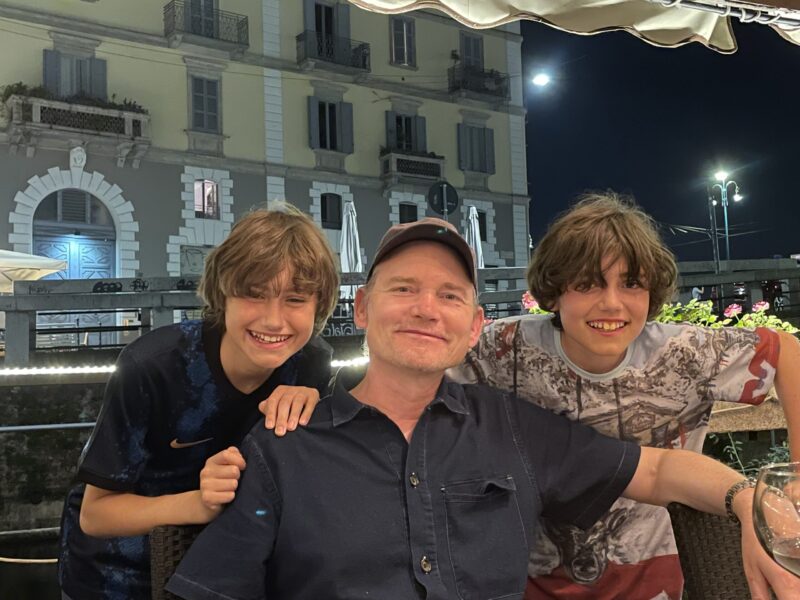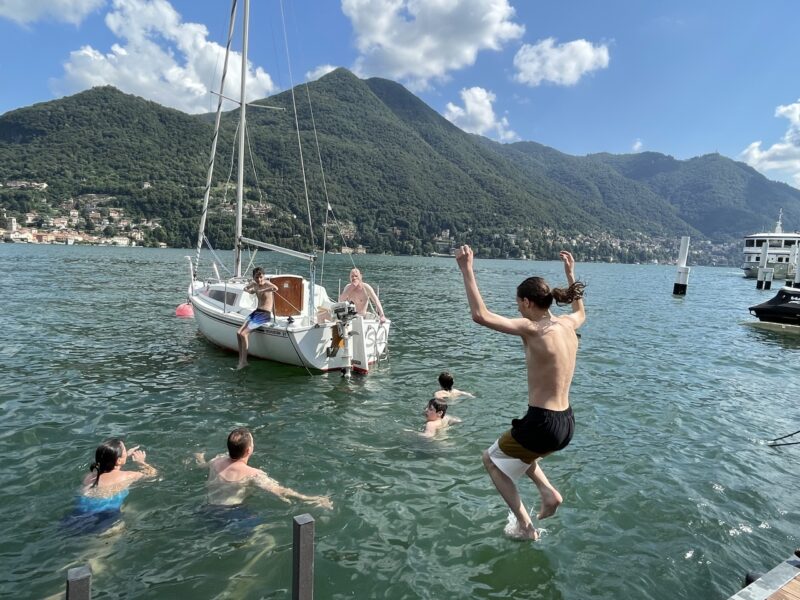 We also went to Lago di Arpy, taking the road off from Morgex up. The place was so packed, it was incredible. The
sentiero 15
to access the lake from Colle San Carlo is very easy, marked as T.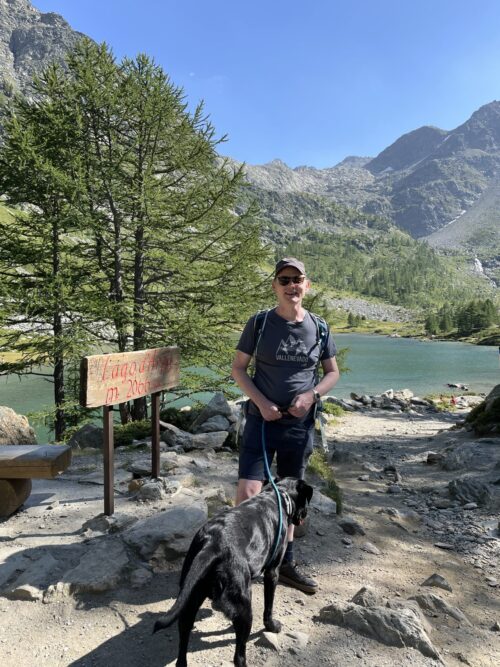 It does have a bit of a steep part – but very short, in the beginning and at midway. For my mother, that is about to turn 80, it was a bit too much. But she managed to walk for one hour (even getting into the wrong path), and then back to La Genzianella. This is a bar/restaurant with an ample terrace. We went with Ozzy, our dog, to the lake, and he had lots of time in the water searching for his ball. Once back we had something to eat and drink and came down.
Another trip was to Cogne, a small town famous for its cross country skiing, tucked in the Gran Paradiso Park. The trip itself is great, via a windy road with some spots where it is too thin for two cars passing each other. The place is a great spot to stay for a couple of days and
just
go hiking. Dogs must go on a lead there, because you can encounter any kind of wildlife. If lucky you can see some ibex in nature!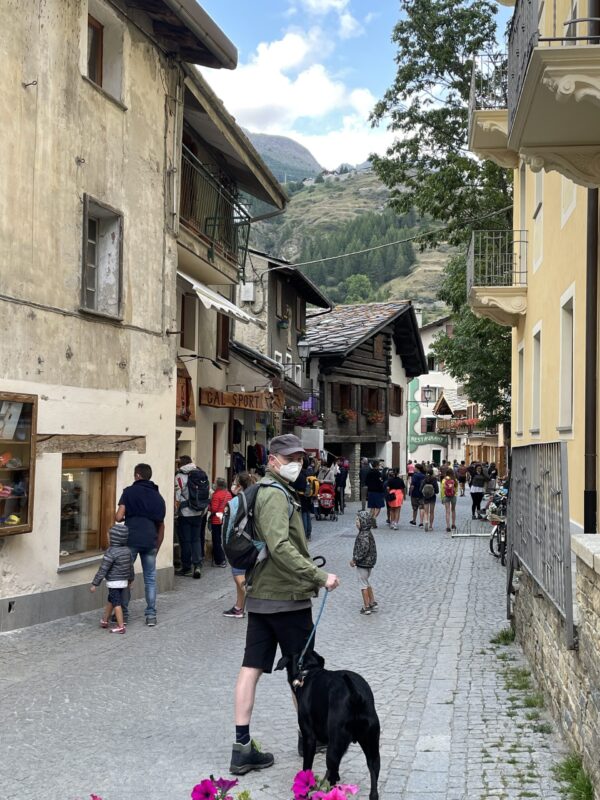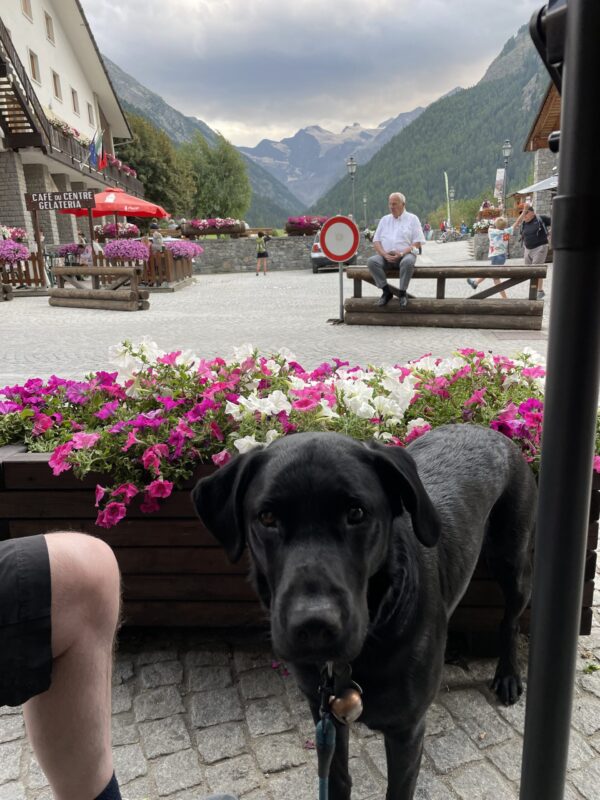 We visited, as we always do, Val Ferret, Val Veny and also Pila (taking the cablecar from the city of Aosta). All great days out! And there are so many other things to do. We did not even scratch the surface of what to visit in the Aosta Valley!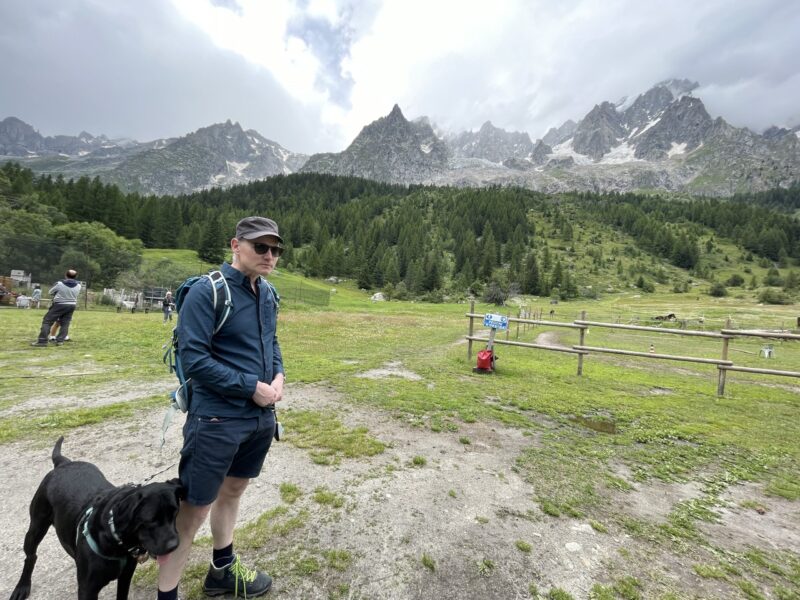 I even managed to put an exhibition of my artwork. It was my first exhibition, so I had no idea what I was doing. I designed and printed a poster. Walked around town to put it on all billboards and shops in Morgex and the surrounding villages. The owner of a vineyard lent me an old consecrated chapel by the bookshop in Morgex. The place was amazing. In reality, some people came to see the chapel more than my artwork! The chapel is always closed, so for people passing by, they wanted to check it out! The
mostra
went on well, it was a good start.
What I enjoy most of Italy is the food. The lazy afternoons with an
aperitivo
in the balcony or in the bar Lo Dernier around the corner from our flat. Apart of loving the Aperol Spritz, they are very civilised and you always get some food to go with. In this way you don't get drunk! Other places I like for coffee or paninis are Bar Pillier Central and Sablè. Both do ice-creams and Pillier also offers aperitivo until late!
Coming back- Our trip to the mountains for our summer holidays.
Unfortunately, all good things come to an end. We needed to come back to the UK. I still needed to sort school backpacks and shoes for the boys. And now travelling is not as easy as before. You need to put all your data on the Eurotunnel reservation before arriving to Calais. When I've tried, our names were not in the reservation. I needed to be thirty minutes on the phone to talk to a human being and rectify this.
Then we needed to do some Covid tests – an antigen was good enough, before leaving Italy. We uploaded that information to the Eurotunnel website. We bought some extra tests in the UK before leaving. This was as we were going to use them to enter France, and finally France allowed us in without the tests.
Also, you need to upload your personal locator form. To do this, you need to pre-book your Covid 2 day. In this case, as we were all double-vaccinated, we needed only day 2 test. This changes almost weekly, so please find out the information before you travel as it can change! There are lots of expensive rates around. We've used for second time Randox, with promo code EasyJet2021. This was giving us a better discount than BF2021.
We've found out we had some guests that book my apartment last minute, and the lady that does my cleaning was away. The other lady I have as a contact was busy, so we have to stay to clean before leaving. It was a bit of a hurry, but we cleaned it all and off we left at 1 PM. By 9 PM we were in Reims where we stopped for the night at the Holiday Inn Reims.
As when we finally checked in, the restaurant
was closed
, we went out to the main avenue to eat. Reims is nice and
really
happening, but for me it is a bit seedy. A drunk guy kept on coming towards our table and spitting his beer (not a nice spectacle) and there is no one to tell him off. Anyways, we had a very nice combination of food. The kids had KFC (they love that kind of food). We had some Thai food that was delicious. We
were fed
and good to go to sleep off our tiredness.
The next morning we had breakfast in the terrace of the 7th floor of the hotel, with nice views of the city and the Reims Cathedral
. Then we had an easy drive to Coquelles, where the Eurotunnel is. As usual, we have to drive through the Pet Passport Control. You can stay in your car if you want, and personnel check your paperwork there. This is more civilised than in the UK side of the Eurotunnel.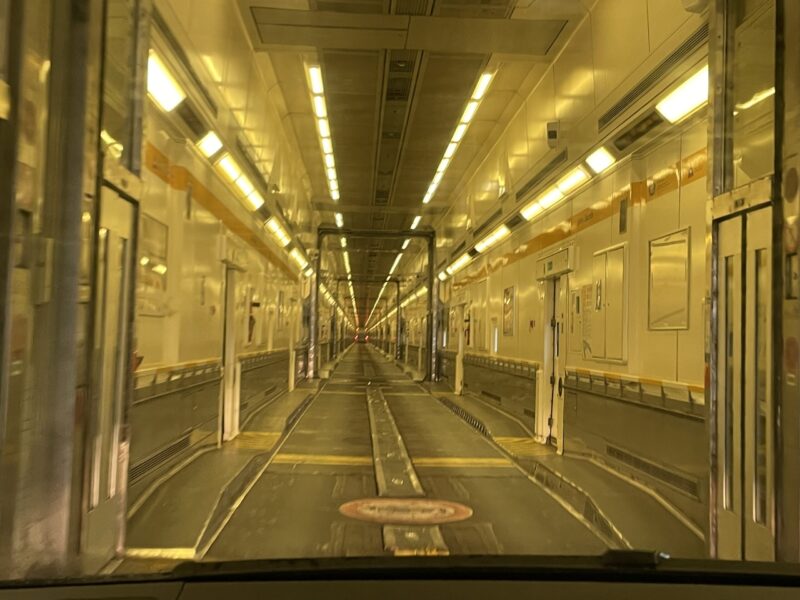 After that, you go through the French control. They've asked why we did not have any stamps in our passports. And it was because the person in the French control in the UK was not there. So the guy had to write the date we left the UK on them. We have to show our Eurotunnel reservation and all was ok. The UK was very fast too.
What I found fascinating is that in the France side, everyone was using masks, and then in the British side – 50 meters later, no masks were on sight
! COVID is not in the England side (read my irony here).
Now back to the grind. I am counting days to see if we can go back soon! Right now, Italy has lifted the quarantine for double-jabbed UK citizens. We will have to see if we can go back in the fall! 
Start planning your next trip!
You can search for your own accommodation in the snow for your next ski holiday through our Accommodation Search tab. Or if looking to stay in the heart of the Mont Blanc Valley in the Aosta Valley, check Il Coure della Valdigne review here. This is our own family home in the mountains, that I am renting out when not using, you can always write me a private message if interested to info@the-ski-guru.com
You can book directly through Airbnb  through this link
If you want to take your family skiing and you don't know where to start, read here. And search for your ski transfers from all airports to the Mountains here. And for those that are like me, that are lazy to cook, you can get your food, even gourmet mountain food delivered to your home with Huski.
If renting equipment (skis or snowboards)  check our agreement with Skiset– you can get up to 50% off ski or snowboard rental rates. I have been using them for years every year when I go to America  and Europe and they are great!
Already selling some alpine design items for your house. #bringthemountainshome with The-Ski-Guru HOME and put a smile in your face. These are hand-paintings done by me, applied to cushion covers, coasters and mugs.
Featured Image: Our trip to the mountains for our summer holidays.Photo: The view just in the entrance to Lago d'Arpy- the view of the Catena di Monte Bianco.
Please follow and like us: