Review of the new RS1 Panda Optics goggles.
This article may contain affiliate/compensated links. For full information, please see our disclaimer here.
Just after returning from Courmayeur, I had a late 'Christmas gift' delivered home. It was a brand-new Panda Optics goggles. I was just thinking that I wanted to upgrade from my Oakley goggles, that are not bad at all, but I find them to have a small lens for my face.
Also, my eldest has a pair of goggles with a wide lens which you could exchange using a magnetic system, which I love…so I wanted one something like that for me! I tend to use goggles mostly when light is flat, but I like the versatility of maybe using them all the time instead of sunglasses.
I've packed my Panda goggles with my helmet on my suitcase for last week's trip to Morzine with some mum's friends. We had four days skiing in Morzine, three with lovely weather and one with a bit of foul weather, snow on top and lots of rain on the lower pistes!
After adjusting them well to my helmet (on my first run I had them a bit loose and they were moving all over!!), they really stayed put on nicely and fit my Scott helmet fine. The vision is much improved which is great. The UV400+ protective polarised lens works perfect for those sunny days in the mountains and allow you to see the different ruts in the snow. Snow was hardpack, with some harder spots on the pistes and some loose snow accumulations, so when going downhill, is good to see in advance how the snow conditions are to adapt your skiing.
I've used the yellow low light lens for the afternoon when the sun was behind the mountains, and for the day when we had foul weather. It works just fine…the only I could suggest if skiing under lots of rain, is that I could have done with some screen wipers! I had to stop sometimes to try to dry the water on them as it was raining cats and dogs! But, why should I have bothered to ski under rain? Reminds me of being younger skiing in Bariloche, Cerro Castor in Ushuaia or Whistler, that are lower resorts and sometimes you do get rain…. And being miserably wet afterwards. Here I guess nowadays our clothing is better, so I did not suffer so much!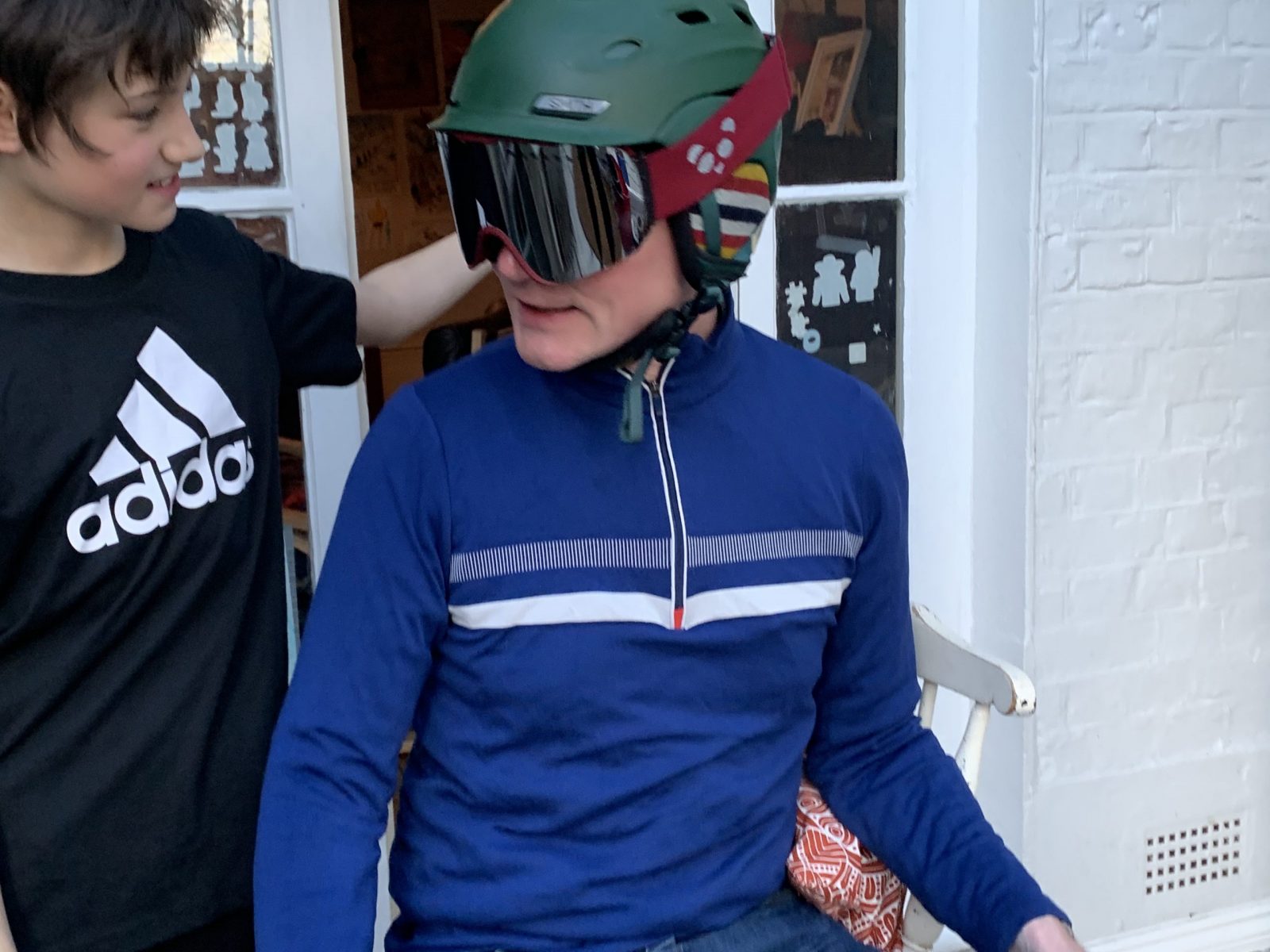 The changing of lens is so easy – gone are the days of trying to put another lens on those goggles when you have to clip it inside the frame. I have always been useless at that. I guess that is why I just stick to use sunglasses for sunny weather and goggles when the light goes off or on bad weather days! This pair of goggles have 8 magnetic points where to attach the lens in no time at all.
These goggles are brand new for the 2020 ski season and were helped to be developed by four-times British Olympian Chemmy Alcott and a Panda Optics team of British Alpine racers to help with their vision while competing and also for casual skiing. If good for them, it has to be good for me, as my skiing is not that competitive at all!
More info on Panda Optics.
You can search for your own accommodation in the snow for your next ski holiday through our Accommodation Search tab. Or if looking to stay in the heart of the Mont Blanc Valley in the Aosta Valley, check Il Coure della Valdigne review here. This is our own family home in the mountains, that I am renting out when not using, you can always write me a private message if interested to info@the-ski-guru.com
You can book directly through Airbnb  through this link
If you want to take your family skiing and you don't know where to start, read here. And search for your ski transfers from all airports to the Mountains here. And for those that are like me, that are lazy to cook, you can get your food, even gourmet mountain food delivered to your home with Huski.
If renting equipment (skis or snowboards)  check our agreement with Skiset– you can get up to 50% off ski or snowboard rental rates. I have been using them for years every year when I go to America  and Europe and they are great!
You can start thinking about your trip, by reading the articles on the Planning your Ski Trip tab.  Or how to pack for your family ski trip.  If taking your furry friend abroad to the continent, read about the new Pet Travel Scheme update from DEFRA. Self-drive skiers also need to plan for Brexit. Check out our tips for driving to the mountains.  If flying and renting a car in Europe, beware of the extra charges they will pass to you if you want winter tyres, snow chains or ski racks. If driving, check the winter tyres news for Europe and North America. You can see how our last family ski holiday was not as expected, even though one plans it to be a success, but how we could do the most of it. If you want to get better before getting to your next ski holiday, here is a quick guide to indoor skiing and dry slopes in the UK. You can also read our week in the mountains during our summer holidays in Courmayeur.
Featured Image: Review of the new RS1 Panda Optics goggles.
Please follow and like us: