Our Christmas holidays in the mountains with the kids and our dog! Courmayeur, Aosta.
This article may contain affiliate/compensated links. For full information, please see our disclaimer here.
So now that we are happy homeowners of a lovely flat in the mountains, we'll be there on every possible occasion. To do it cheap and more environmentally friendly, we drive with a full car going through the Eurotunnel and sleeping over in Chaumont on our way up, staying at the Ibis Chaumont Centre Gare, and in Reims coming back.
And as leaving your dog in care in the UK is super expensive, more in Christmas, we decided to take him with us and try our ski holiday with a dog! We have already travelled with him when we went to equip the flat in October, and I've realised, that if Ozzy had his sleeping crate, he is fine. That is his safe place. So, I've ordered one in Amazon to be delivered in Italy. That made the trick.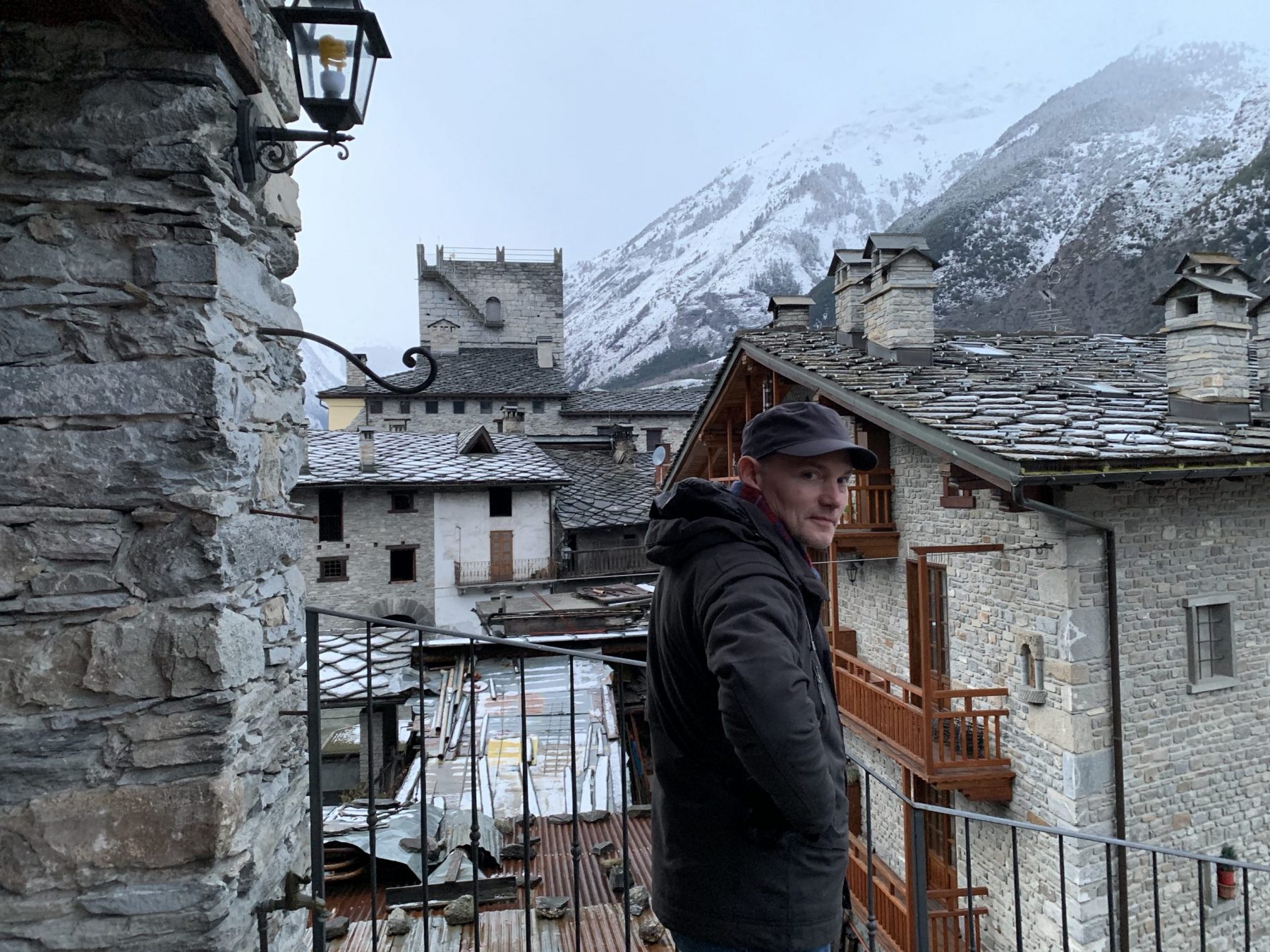 When we go and stay over in a hotel, there is no way that Ozzy will stay happy at a hotel room, even with his best filled bone. He starts crying first and the noise turns into a bark- therefore that is not an option! We have learnt to go to eat in two halves. Usually my husband and my eldest take Ozzy for a walk and I have a quick dinner with my youngest, and then we go to the room and stay with Ozzy while they have dinner. Same in the morning for breakfast. It is not ideal, but that seems to work fine for us.
The trip to the mountains is always amazing. I was expecting it to be much busier, as we've left the day after school broke up, on 21st December. I was glad to see that the route was pretty empty, even if France was having transport strikes at the time.
We arrived in our home in Morgex, just 10' down the road from Courmayeur, in the Aosta Valley, with good light and with time to bring all the goodies we were bringing to the flat to finish decorating it. As the car was really full, we will need to bring more boxes in our next February trip.
In December I am usually hibernating. Thinking of waking up really early to go skiing and trying to push everyone around me was not my idea of fun. I have been working hard, more with my deadlines of my job (the Mountain Travel Symposium), and I needed to sleep it off! And, having a dog, we cannot really leave him all day in.
Plus, the day when we arrived, it was snowing in Courmayeur (at 1200 m+) but raining in Morgex at 900 m. The first days were like that, this winter had a lot of snow early on but then the freezing line was fluctuating a lot, so it could rain up high, which is not the normal thing….but with climate change, there is nothing normal to count on anymore!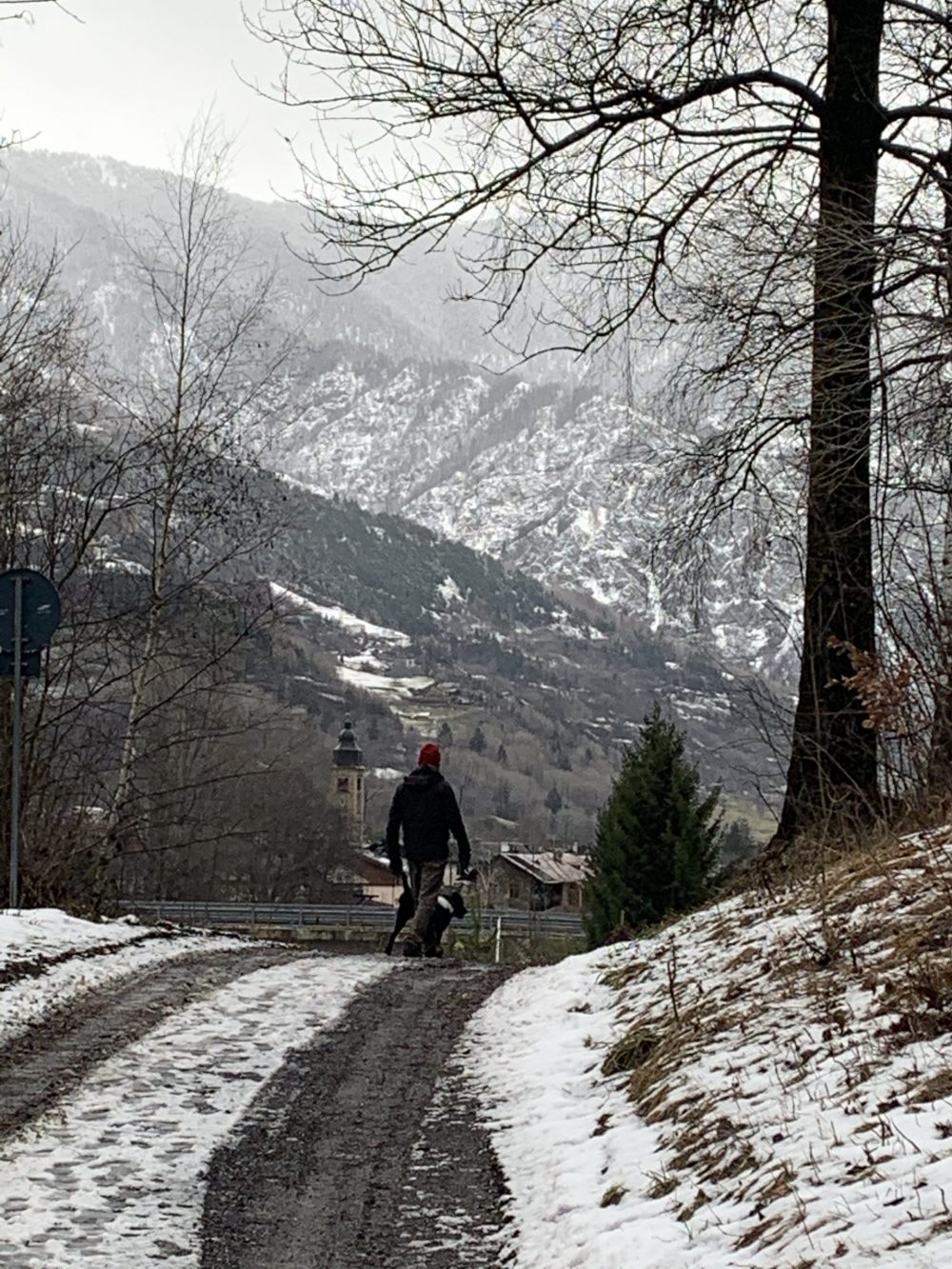 So, mornings were starting around 9 AM, with a walk by the river and the woods just out of Morgex with Ozzy. Each day we were doing a bit more, going up the Licony trail with magnificent vistas of the Mont Blanc. I've bought a winter jacket and fleece for Ozzy, just in case he did not resist the cold. Plus, I've got him some bright orange booties…. The booties, waste of time, lovely, but in two minutes they were flying off his legs! The jacket was used, and it was great for trying to spot him when we were going out late with him. As he is so black, you can hardly see him at night. This jacket was white and blue, so it helped a bit.
This worked for the first week, but then, after going so much through the woods, the jacket got all tangled and destroyed…now I will try to repair it before next trip!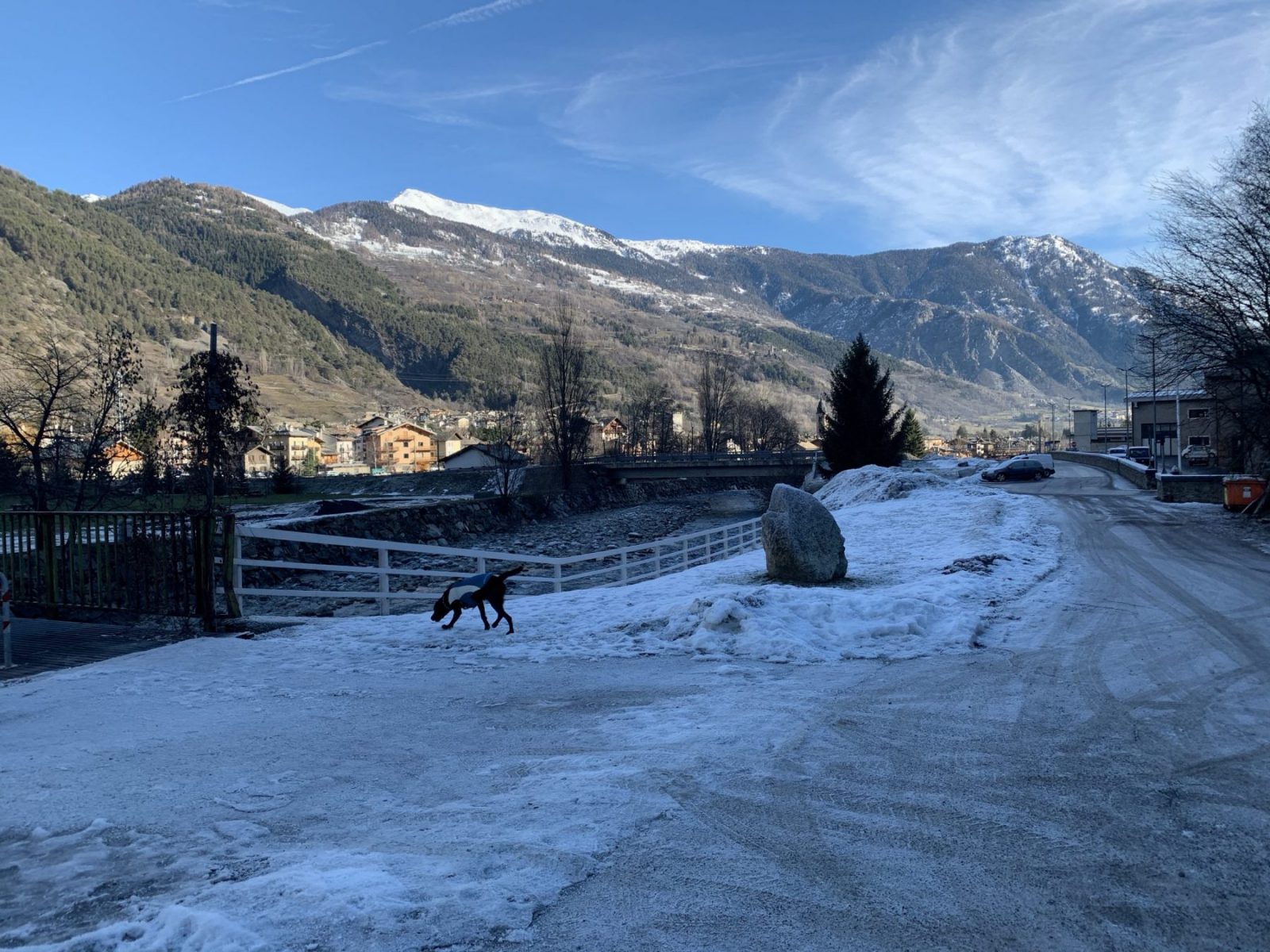 We found a mountain goat in one occasion, that jumped on top of Ozzy and both rolled over the side of the mountain…. It was so fast that we were not sure what happened…the only thing is that Ozzy lost his ball and the goat disappeared! My husband said it was a dog, but there was no owner, the animal was having a more triangular face, with yellow eyes and little horns…. – obviously I am starting to think my husband needs glasses!
But what about the skiing??
Well, we got around it, but these days, we are kind of fair-weather skiing!!!
First day we arrived, we went to Aosta to the supermarket and also to see the Mercatino di Natale held at the Foro Romano – (the great ruins in the old town of Aosta). It was lovely, we had some hot chocolate and then did our shopping at Gros Cidac….the supermarket is so good, with full aisles for salamis and cheeses…my kind of place – plus a coffee store inside…. Very civilised!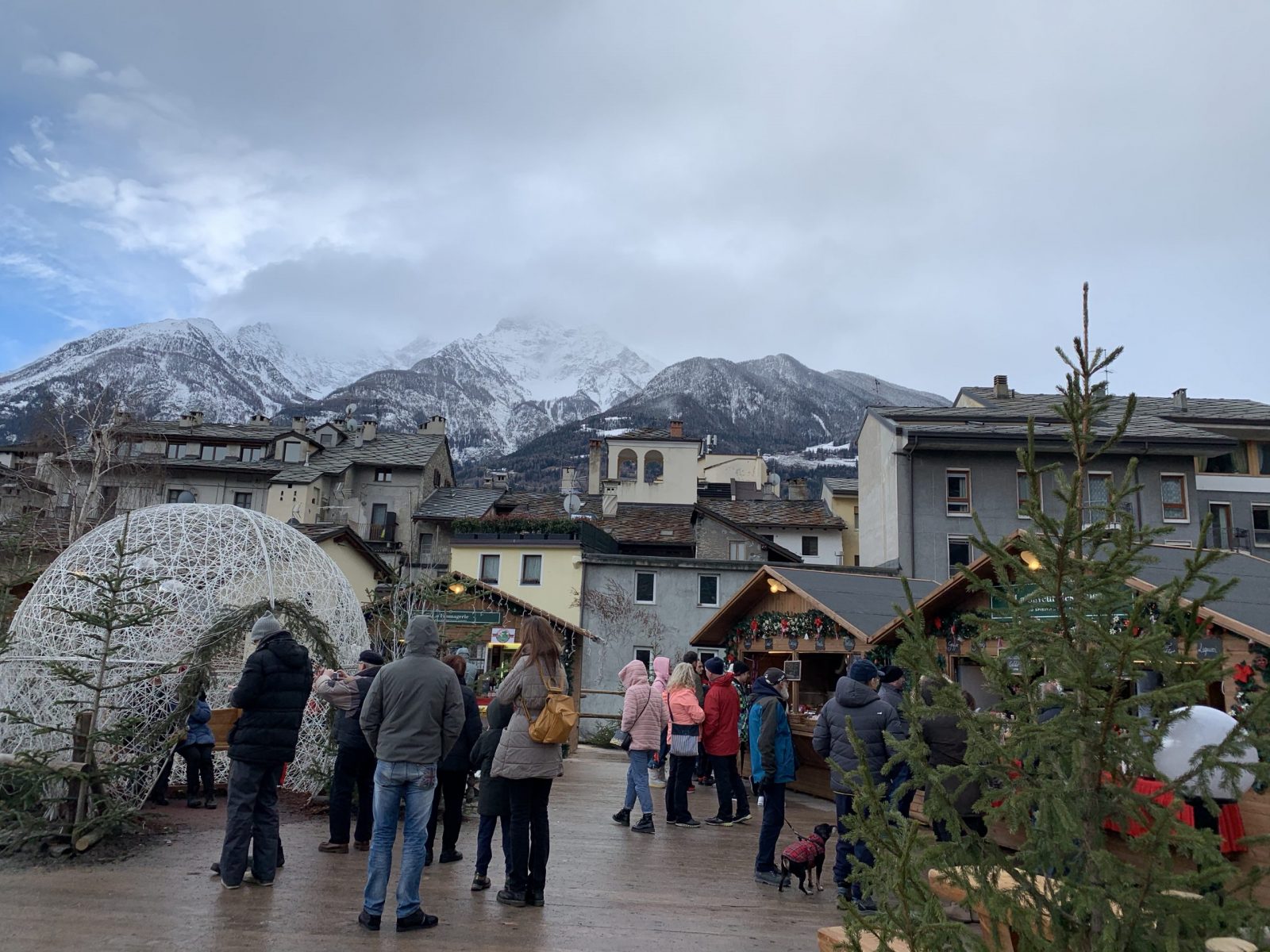 Second day it was really raining cats and dogs and I've looked at the cameras and it seemed it was raining high as well….. we took for ever to get out, and we've decided to go to Arpy, just 8 km up the road (pretty much up a windy road from Morgex). Arpy is a small, very small town, with a Nordic centre and some paths for snow shoeing. We made it up there at 3.30 PM and I was thinking we should make it down before it was dark, as the road was a bit icy and I prefer to be seeing where we were driving!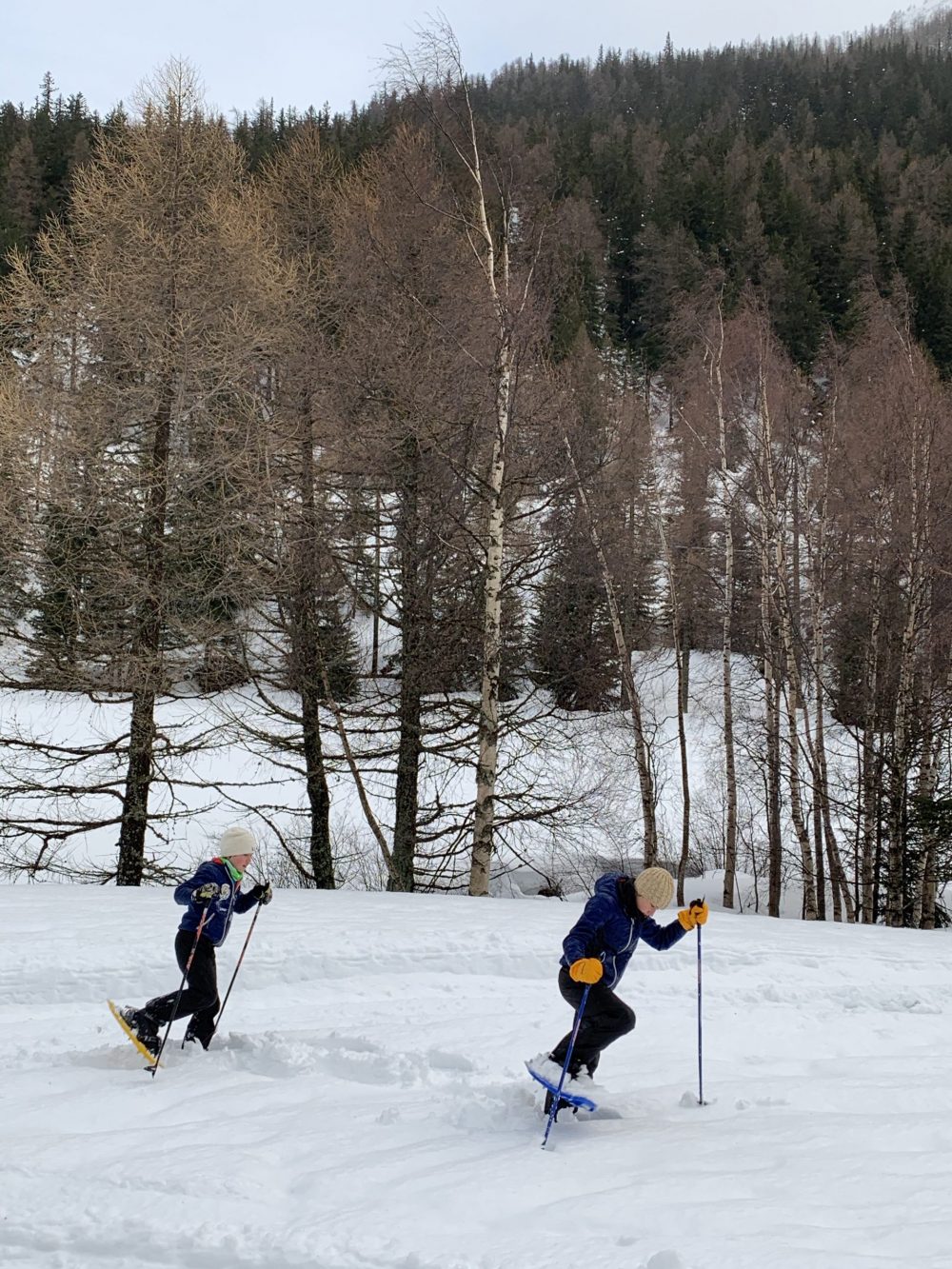 First we had a hot chocolate to warm up as it was freezing, and then I used my cross country skis (I've bought them in the year 2000 while living in Aspen, still good as new!) – and then I've rented snow shoes for the boys and my husband was going to use my old snow shoes. When he was putting them on, he realised that the leather straps were broken. I've told him why not go and rent some snowshoes but he was lazy about it. He came walking next to us instead. There is one path for cross country skiing and a separate one for snowshoeing… I did not want to be alone cross country skiing so I've told the others to come with me…but some very serious cross country skiing who were skating vigorously kind of told off my husband and they had to go to the other path- crossing through deep snow and they got all wet! He did not find it too much fun… so our effort was a bit short lived….
Finally, we just came back down into town and called it a day!
Next day finally we went skiing.  It was Christmas day. The idea was to go Courmayeur, but my youngest really, really wanted to go to Pila – you can tell the power of your first ski area- most of us humans, feel really attracted to where we've learnt where to ski or board…it is like a pair of old jeans, you are used to it, and that gives you security.
OK, so off we went to Pila. The cabin from Aosta to Pila is 30' from our home, so that was fine. When we arrived, we started putting our ski boots on the parking lot and my husband said that he had forgotten his jacket! I could see the white wind in the top of the mountain… he was saying, I'll be fine, it is pretty warm….Warm? That could be at 600 meters, where Aosta is located, but the cabin takes you to 1800 m and then you go to more than 2000 m….and the rule of thumb is that every 100 m up, you get 1C less…. I've sent him to the shop by the gondola to go and get a cheap jacket- maybe a mid-layer that he can use in another occasion. He did that, got the cheapest jacket in the shop (that actually looks pretty good), and off we went to ski.
It was lovely. I've thought it was going to be pretty full, but no, it was very civilised! We skied a lot, for having arrived at midday, because we did not stop for lunch! We did, however, had a coffee and some muffins (the boys) with hot chocolate at Lo Bautson…but we were approached to tell that the restaurant was closing, as well as the pistes…with the police asking us to please ski down… at least the police was not with the police dogs this time!
It was a brilliant Christmas day to have!!!!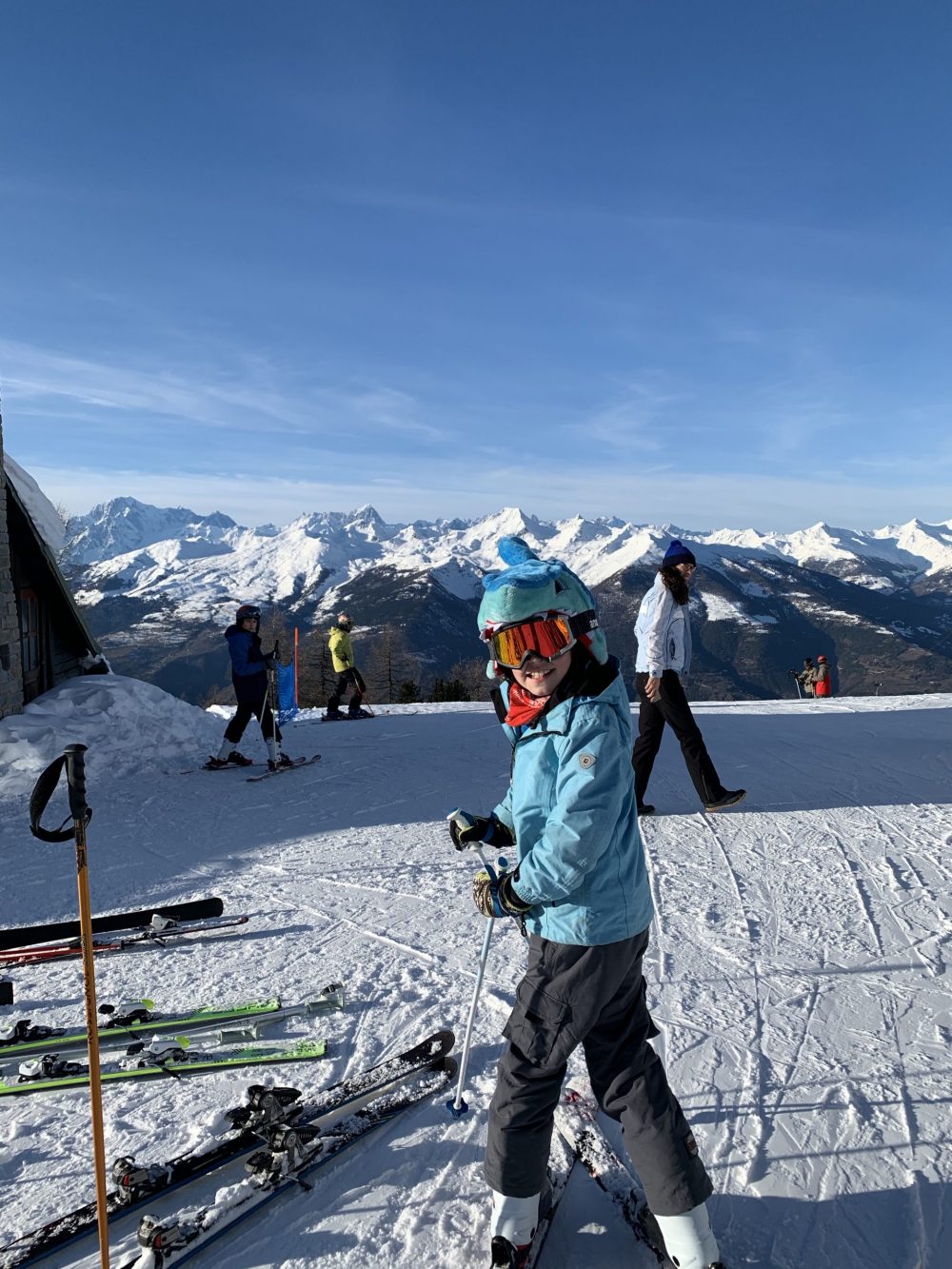 The following day I was determined to go to Courmayeur… so as usual, in the morning we went out with Ozzy, tired him out, and got ready to go to Courmayeur. When we arrived, having had parked in Dolonne, to go and pick up my ski season pass and get some dailies for the rest, after doing the queue, we went back to the parking lot to get our ski boots on and get up the elevator to take the cabinovia up.
Guess what? My husband had forgotten the ski boots now! Going to buy new ski boots was not an option really… He bought some new ones at Finches in London this year! I think he is losing his marbles! It was a bit late really to go back home and back again to Dolonne, and we were tired too, so we've decided to go into town and have a stroll….plus my husband was owing me my Christmas present.
Courmayeur was so beautifully decorated- really, really full of people for the holidays…la passegiatta was heaving! We went back and forth through Via Roma seeing all the lovely designer shops and boutiques, and finally went into 4810. I love that shop, when I send clients for getting their equipment rentals, as they have a good selection of goods.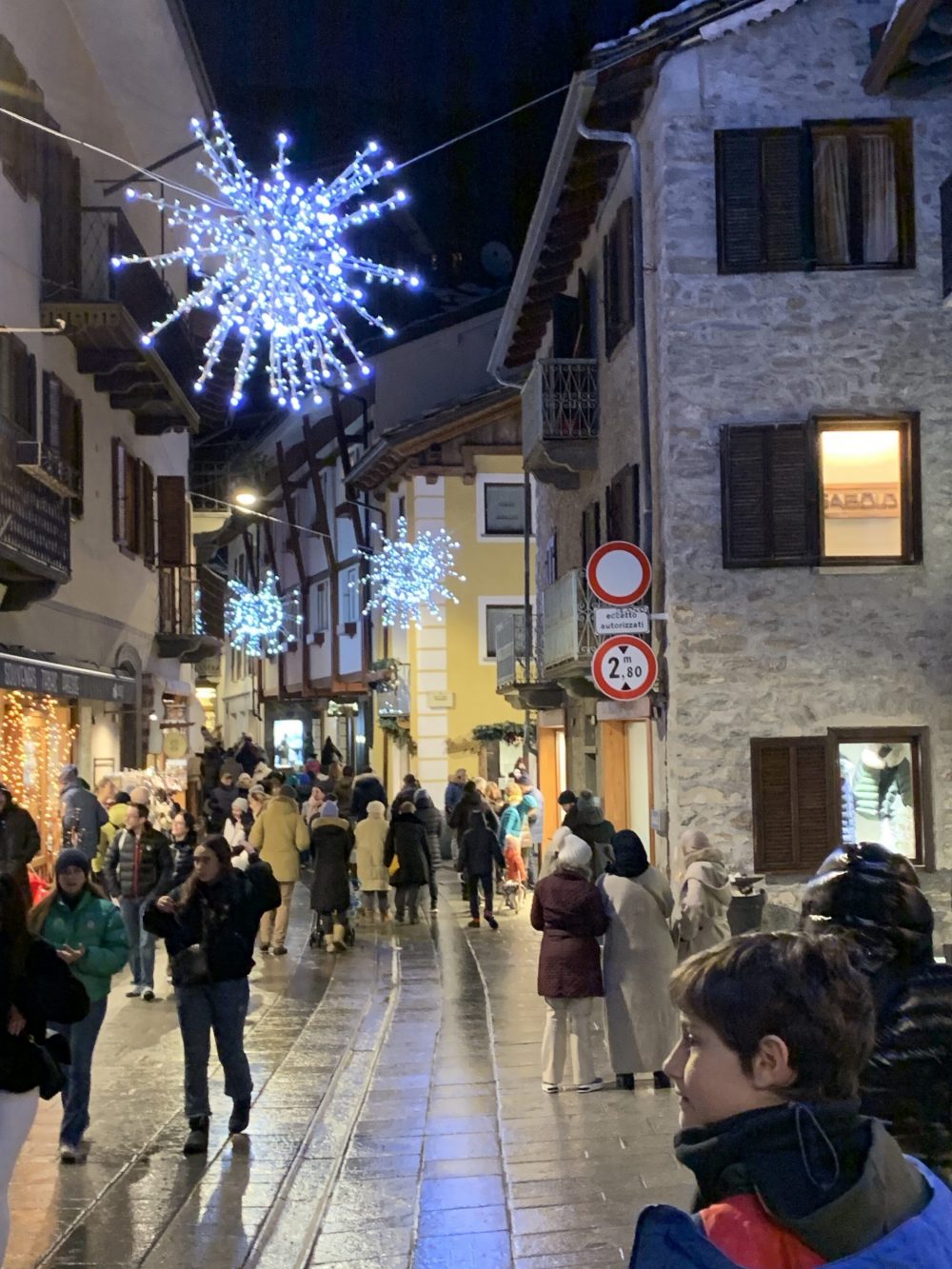 We went to a small café to have some crepes, and then we went back home for dinner.
We woke up the following day and we decided to go to Cogne. Cogne is located in the Gran Paradiso National Park. Basically, you drive to Aymavilles and up the mountain through an incredible mountain drive till at the end of the road, you reach Cogne. Obviously, we were late as to go cross country skiing. There is a small alpine resort, but Cogne is more well known for the World Cup of Cross-Country skiing in January. The town was really full, but a completely different vibe- these is Nordic skiing country…. The ski shops have lots of cross-country skiing on top of touring, and in less degree alpine skiing equipment.
The town is very pretty, the views amazing, and we had to go and have some crepes before coming back home… where we going to get up and go skiing some day?
Finally it was the turn off skiing in Courmayeur. This time we decided to drive to the Val Veny parking lot. This is just a regular parking lot and I've thought it is a better way to go up the mountain avoiding the crowds. The parking was full, but we managed to find a place.  A short funicular takes you to the base on the Val Veny side. The great thing is that we can all ski together now, and we put our skis and off we went.
We skied into the Peindent chairlift, that took us up, and this time we skied passed it and went into the Zerotta chairlift. The views in Courmayeur are amazing, I know as I have skied there sometimes now, but the Val Veny side, going up with the Mont Blanc itself and the rest of the massif, the Dent de Géant…. all are mouth dropping views… so spectacular! The pity is that the chairlift Zerotta zooms you up too fast!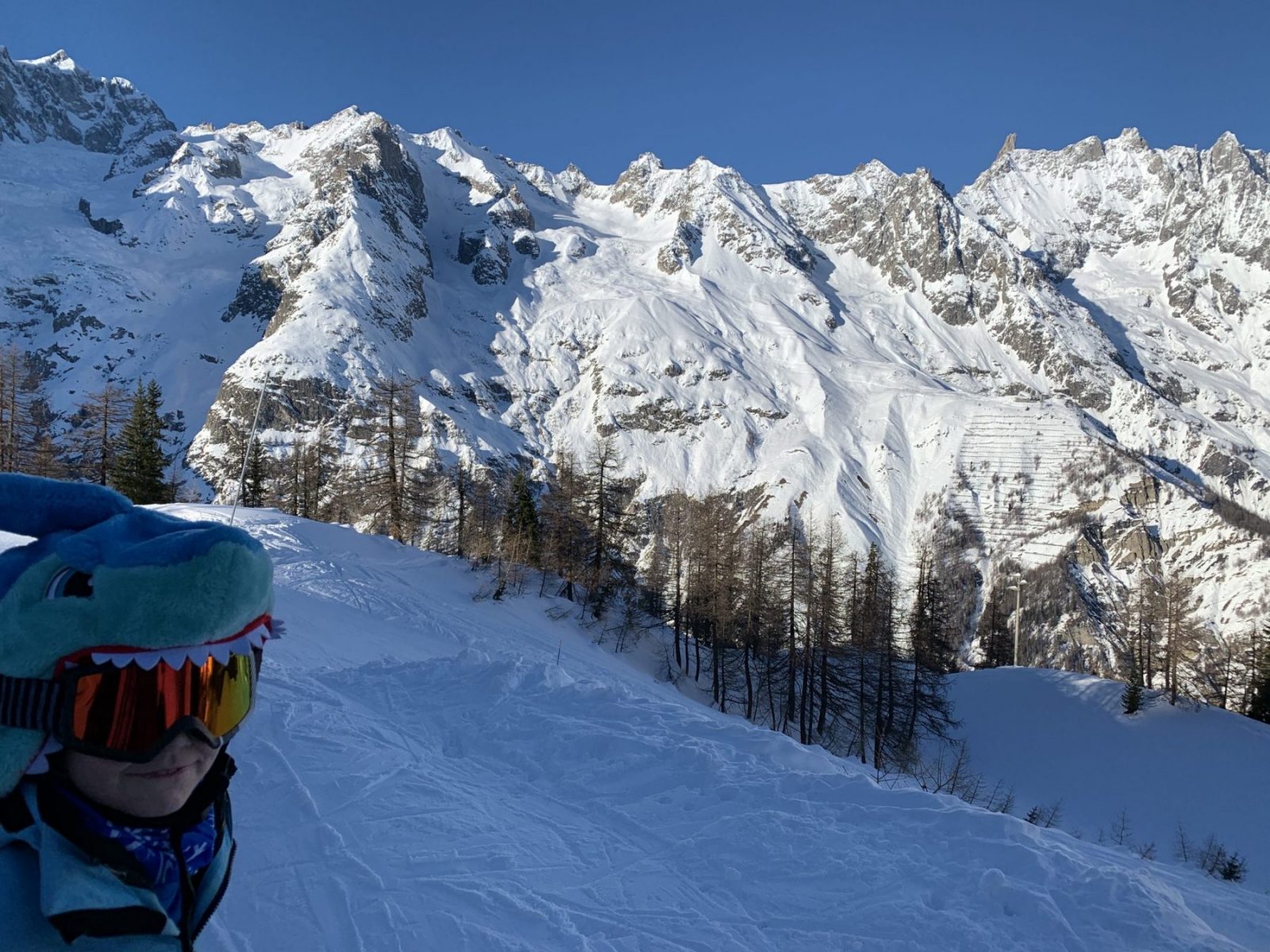 The snow was pretty good on the Val Veny side, more as the snow is protected by the trees and this side is not so exposed to the sun. The crowds tend to stay on the front side, (the Plan Chécrouit side), so it is a good way to come towards the Val Veny side if you come in busy periods as New Year's week!
Lots of beautiful and really tempting mountain huts are dotted around the mountain, so you can always stop to admire the views and fill up your tummy. Nothing like food in Italy, and Courmayeur has its fair share of amazing eateries, plus they are not expensive! That is why you have the City Ski Championships end of January with lots of celebrity chefs cooking in mountain huts and restaurants all over Courmayeur. This is 'the' place for 'la dolce vita'.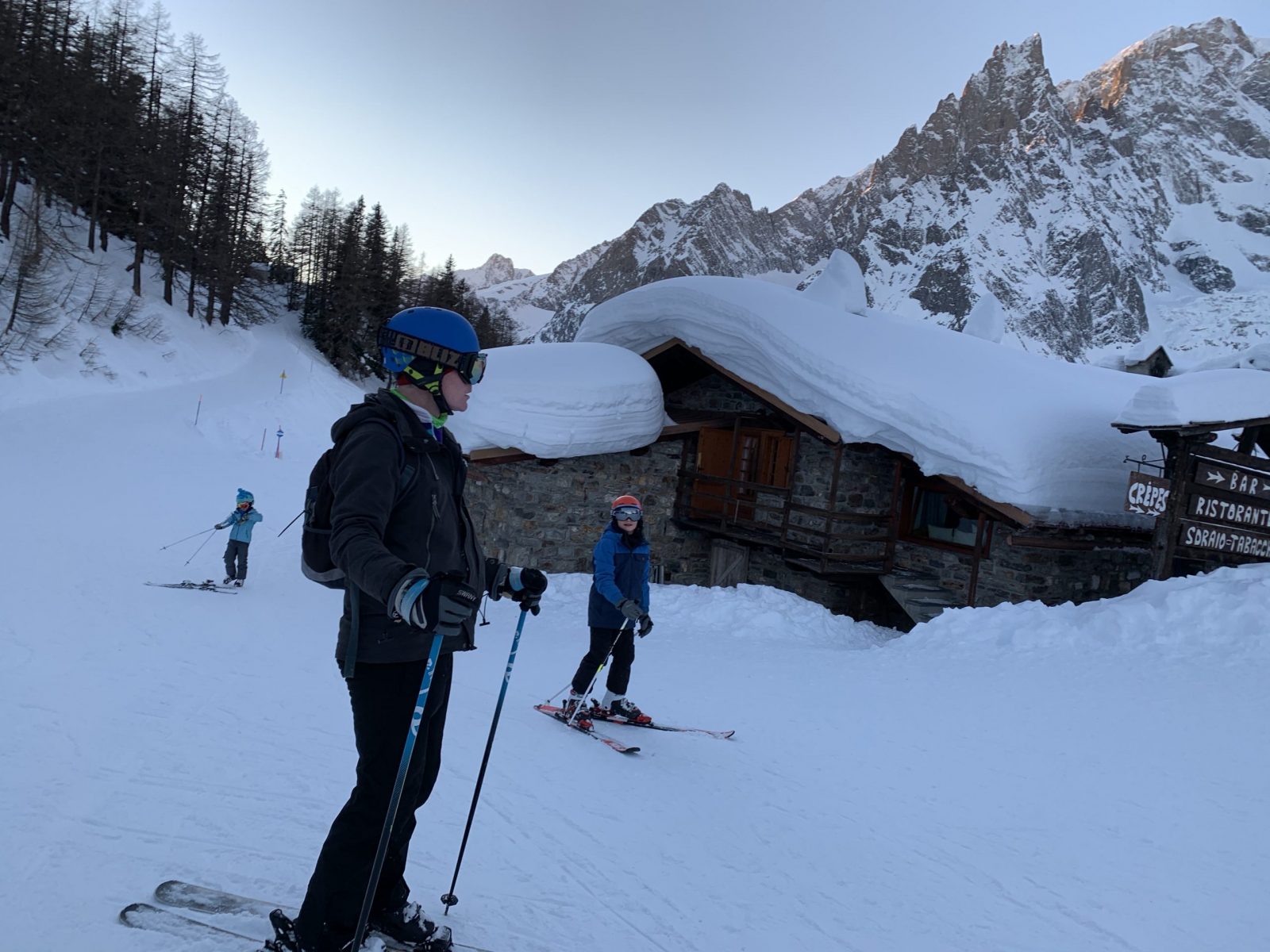 You can tell that I love Courmayeur and I am completely biased. If you are an intermediate skier that are hungry to do hundreds of kilometres of piste and not repeat one piste ever, maybe this is not your place. The ski area has 40 km of groomed pistes and 60 km of off piste, plus from the Skyway (that is a different lift company!)- you can access the Vallée Blanche and ski into Montenvers in Chamonix via an off-piste route (that has to be done with ski guides) of 24 km length of which 18 km is on a glacier, from 3,466 m to 1,000 m…not a bad run!
If you buy a multi-day ski lift from Courmayeur, you can have one, two or three days on other ski resorts of the Valle d'Aosta (depending on the length of your multi-day lift ticket) and one of those days can be used for the Skyway. Regardless if you go and ski the Vallée Blanche or come down the ski routes towards Courmayeur (remember, this is to be done with guides for safety as they are not patrolled and avalanches can occur)- it is worth going up the Skyway to see the Mont Blanc from Punta Helbronner- The rotating cable-car, the start, mid and final station are amazing. And if you have some more time, take the Panoramic Mont Blanc gondola to cross the Mar de Glace, and then you can see the panorama from the Aiguille du Midi. You can choose to come back to Courmayeur through the gondola or go down the funicular to Chamonix and maybe bus back to Courmayeur with a bus through the Mont Blanc tunnel.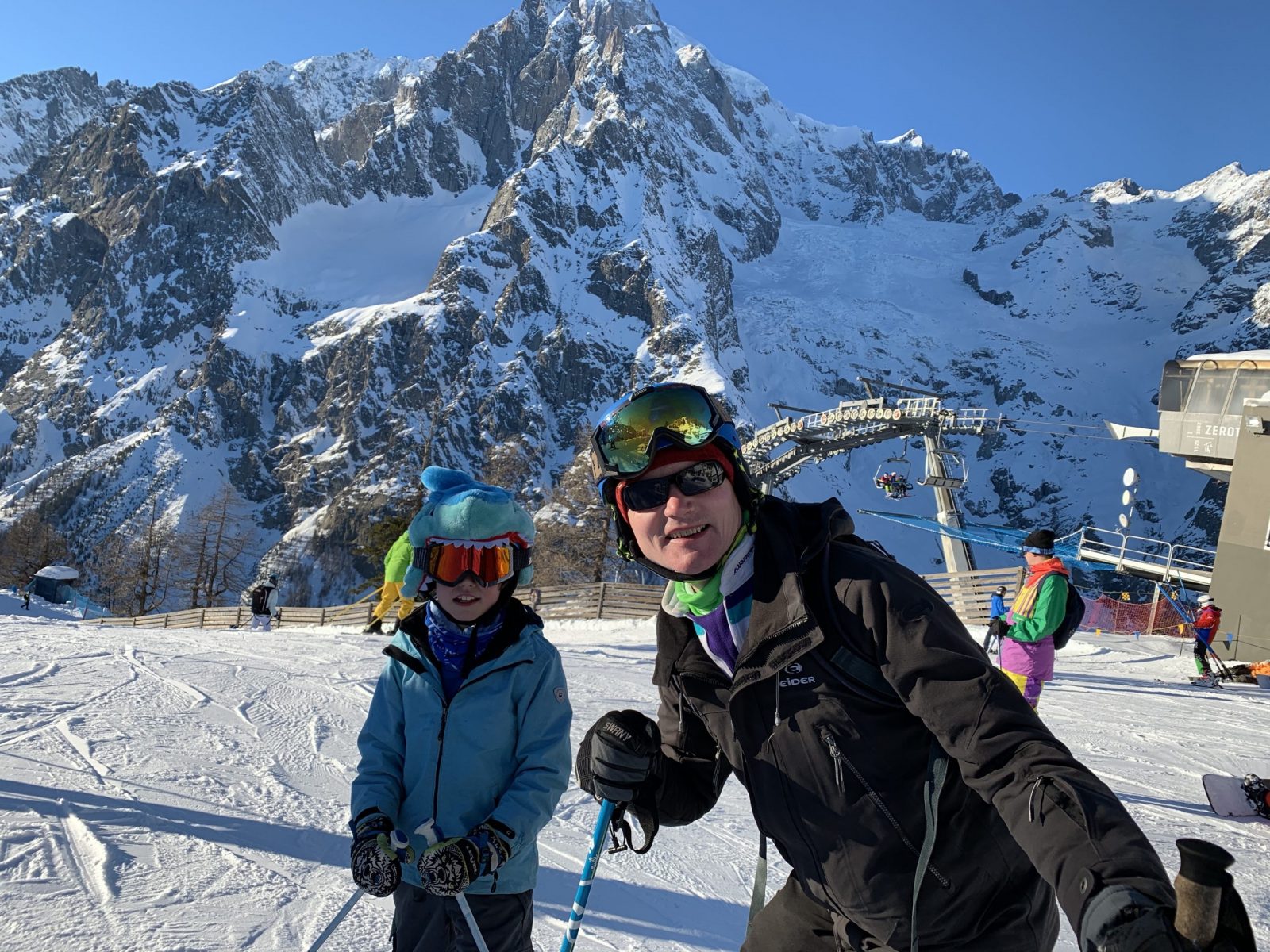 But why I like Courmayeur? It has that je ne sais quoi that small and exclusive areas can have, views are to die for, the town is really lovely and can entertain you with the many cafes, bars and restaurants, and this is not a trashy place like many other Europeans resorts can be…not particularly a party scene, which is good, there is party if you want it, but is not the rowdy guests getting drunk (you know where you are from…) and just trying to be a piss-head all week. This is a place for food-connoisseurs, for those looking to enjoy life with all it has to give, to step back and take the vistas, enjoy leisurely lunches and coffee or hot chocolate stops, and live life. For me it is not about who skied more runs that they can count before lunch… I think I am a bit too old for that now. I grew up skiing in resorts that are not massive like many of the European resorts are now. I do like repeating pistes, it is like using a pair of old jeans, you know all its nooks and crannies. I don't know. I love Portillo for example, a small resort for only 500 guests, not too many runs, some nice off-piste, but me now, I would be taking it leisurely and having the four meals a day you have, take time to absorb the vistas and recharge your batteries! The idea is to put your mind in white! That is the power of a mountain holiday, that I don't think other type of holiday does. At least, not to me!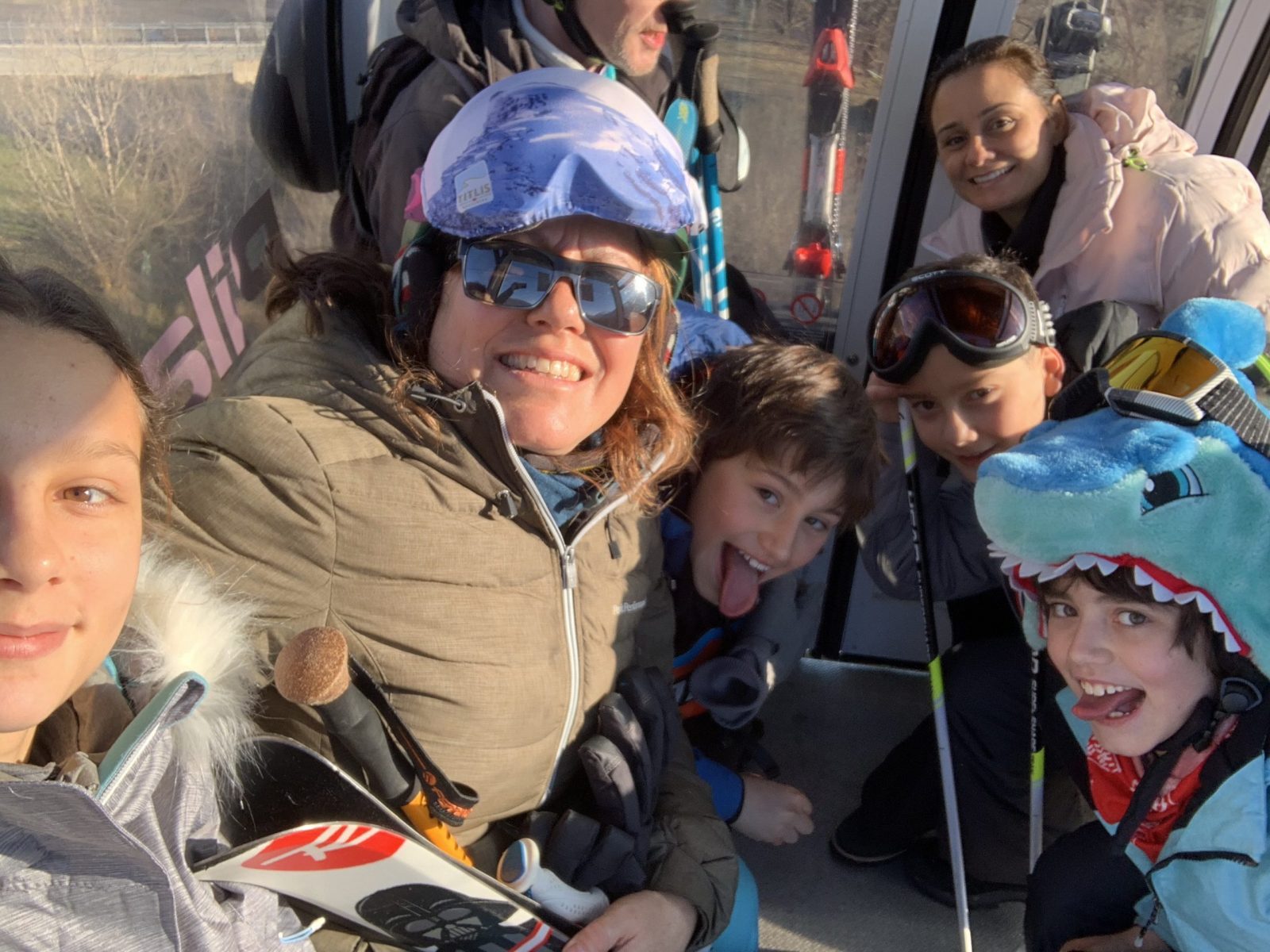 Another day and off we went back to Pila to meet our friends from London (actually from Venezuela that live in London like us). They were first timers (all but the oldest girl), and they were staying where we used to stay in the bottom of Pila, in Pont Suaz, by the outskirts of the town of Aosta. As they were new to the game, they needed a bit of assistance on what you do when you get to the mountain. To be honest, starting to ski when you are older it is a bit of a faff. The getting the lift tickets, up the gondola, going to the rental shop, trying boots, helmets (no helmets on the first shop so down the road for the second shop), trying to get your family and kids with skis up to the lift…explaining that maybe as they don't know how to get off the chairlift, it is better to go as a pedestrian with the skis on your lap and scream at the liftie to catch you and allow you to walk out of the lift with ski boots – which is horrible! You do need a stomach to endure this…. But, as I always say, it starts being a pain, but then you know what you are up to and things get easier, much easier!
They seemed to have a great time with the instructor, but my friend was not happy when she attempted to go to the base through a 'blue' that is a bit narrow and steep and really busy going down… I've tried to tell her when I've left them to go skiing around, that maybe she should go down on the chairlift again with the skis on her lap, but I think she did not get what I was talking about. She went down after taking her skis off because she was tired of falling down with people zooming past her. I love Pila and its layout, but I do believe that for never-evers, the terrain is not perfect, as where the main school operates, you need to take a chairlift up,  if coming from the gondola from town, and if you don't know how to get on and off the chairlift, that can be a bit nerve-racking.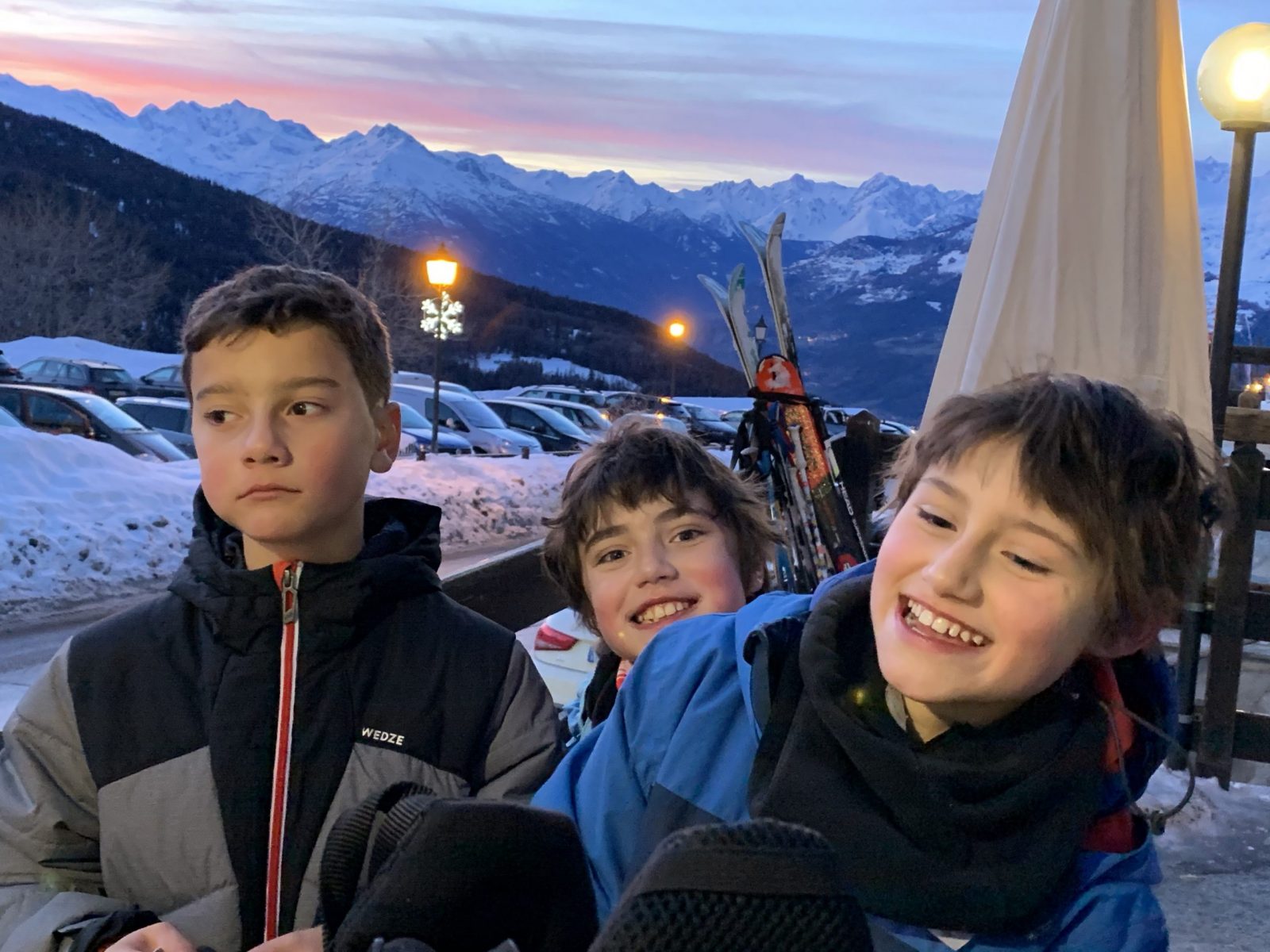 Anyway, all made it back down in one piece, managed to have a quick coffee by the cable car as there was a massive queue, and then went down together in the gondola to Aosta. The boys really wanted to go for dinner to their favourite Millenium pizzeria in Pont Suaz, so they went with my friends to their house while we went for a quick supermarket shop. We went in our ski pants for early dinner, more because I was a bit worried of leaving Ozzy alone for so long.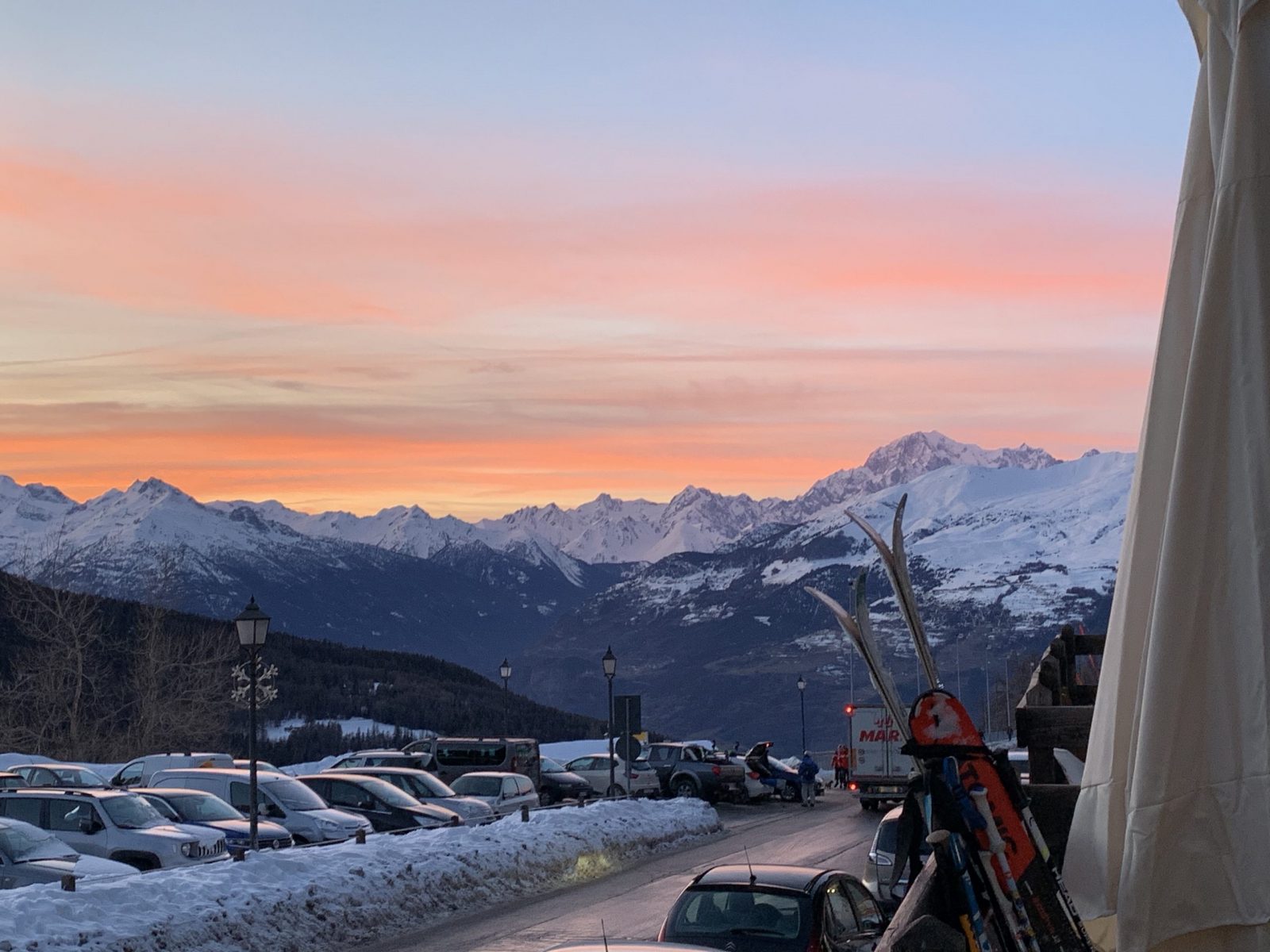 When we went back, Ozzy was fine, but we've took him for a deserved long walk in the darkness. He went running into a frozen pond by the side of the track and he was not ready for that, so he came out really fast…. Was a bit out of sorts poor thing!
We've alternated skiing with some other activities on this trip, and that was actually really nice! Usually when you go skiing, you feel you ought to get up early and be all day out, as you have that week you look forward all year long to enjoy. It is lovely and also exhausting. Now, that we will be a lot in the mountains, we don't have that urgency any more, and that is pretty liberating.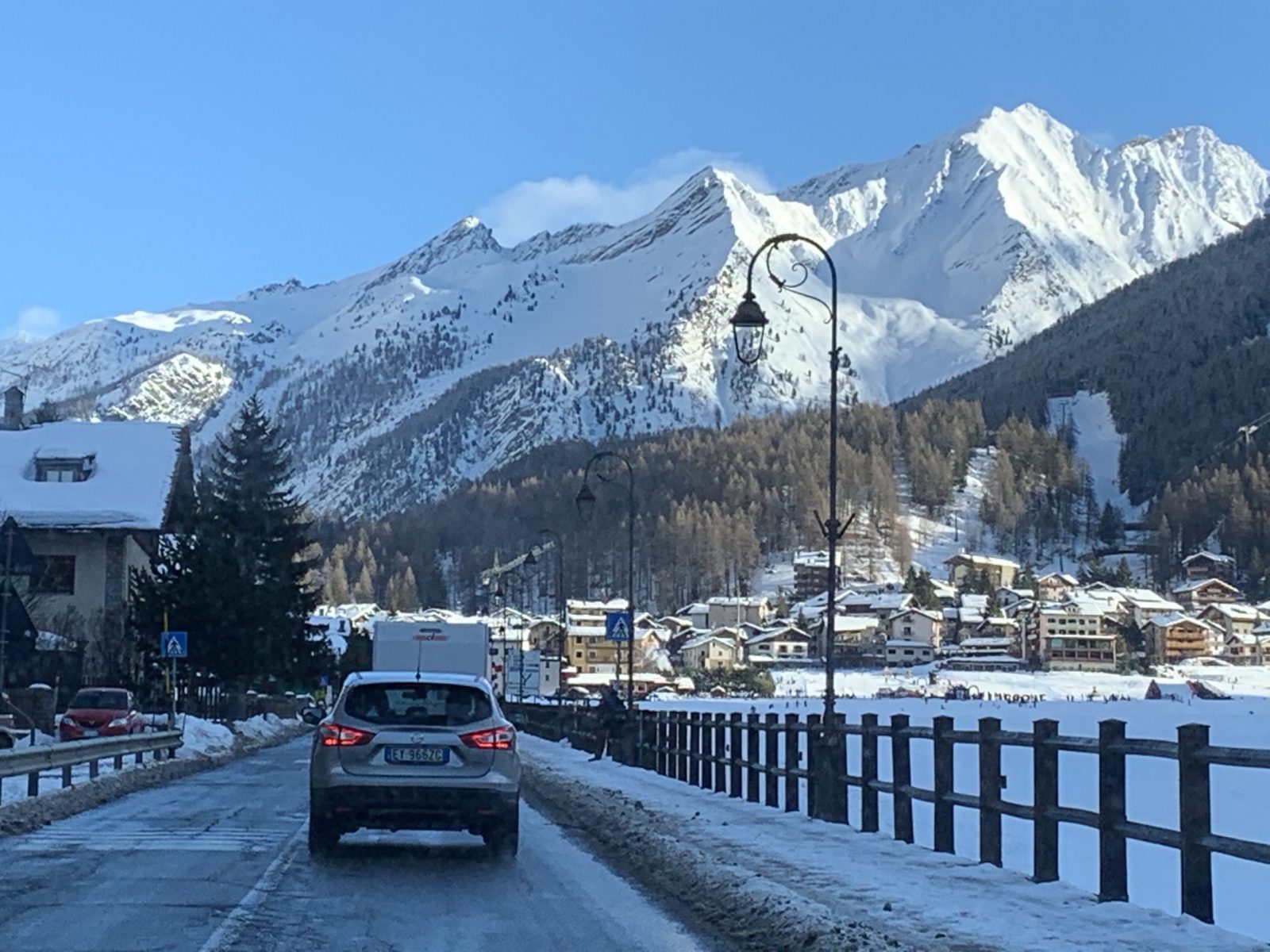 New Year's Eve was spent at home cooking with our Venezuelan friends, and then it was time to go to the main Piazza in Morgex. There was a great band, called Arhea 54. They were like ABBA mixed with heavy metal, by the looks, but the music was all from the 70's. At first, I've thought we were going to stay until midnight, and then go back to our home, but we've stayed dancing, with the kids, until 2 AM! It was lots of fun and we certainly were very tired by the end of it. The commune was giving free sparkling and Panetonne…. A bonus!
The next morning, we went out to take Ozzy for a long walk and left the boys in the flat as they were very tired. Then we had late brunch and went to Val Veny. Obviously, we were late again, but the idea was to go and see what was there. When we've realised we have to park pretty much down the lane and we have to go up for a while before trying to cross country ski, and because it was around 3 PM, I've thought we might go and see what is all about and then come back another day earlier.
The barrier was down at the moment, so we've thought that we either pick up a bus up the road or walk. I've thought it was going to be a short walk, but not with two tired boys. My eldest was not in the mood for moving. I was trying to get him to see his surroundings – that there are more than impressive, as you are within these majestic peaks, glaciers, everything is enormous and you are pretty high up already, but you feel like a spec in the enormity. Still all was to no avail. My husband kept on walking up while I was feeling like a poma lift to my boys, trying to drag them up the mountain. After a while, I was tired too, so we finally went all the way back to the parking lot. When doing that, we've realised that the gate was now open and the person in charge of controlling the in and out of the area was long gone! So at least we went up with the car. I think that on 1st January, half of the people in Courmayeur had the same idea as us. It was way too busy… we'll have to come back on another time and earlier, so we can go and cross-country ski, or bring Ozzy for a long walk!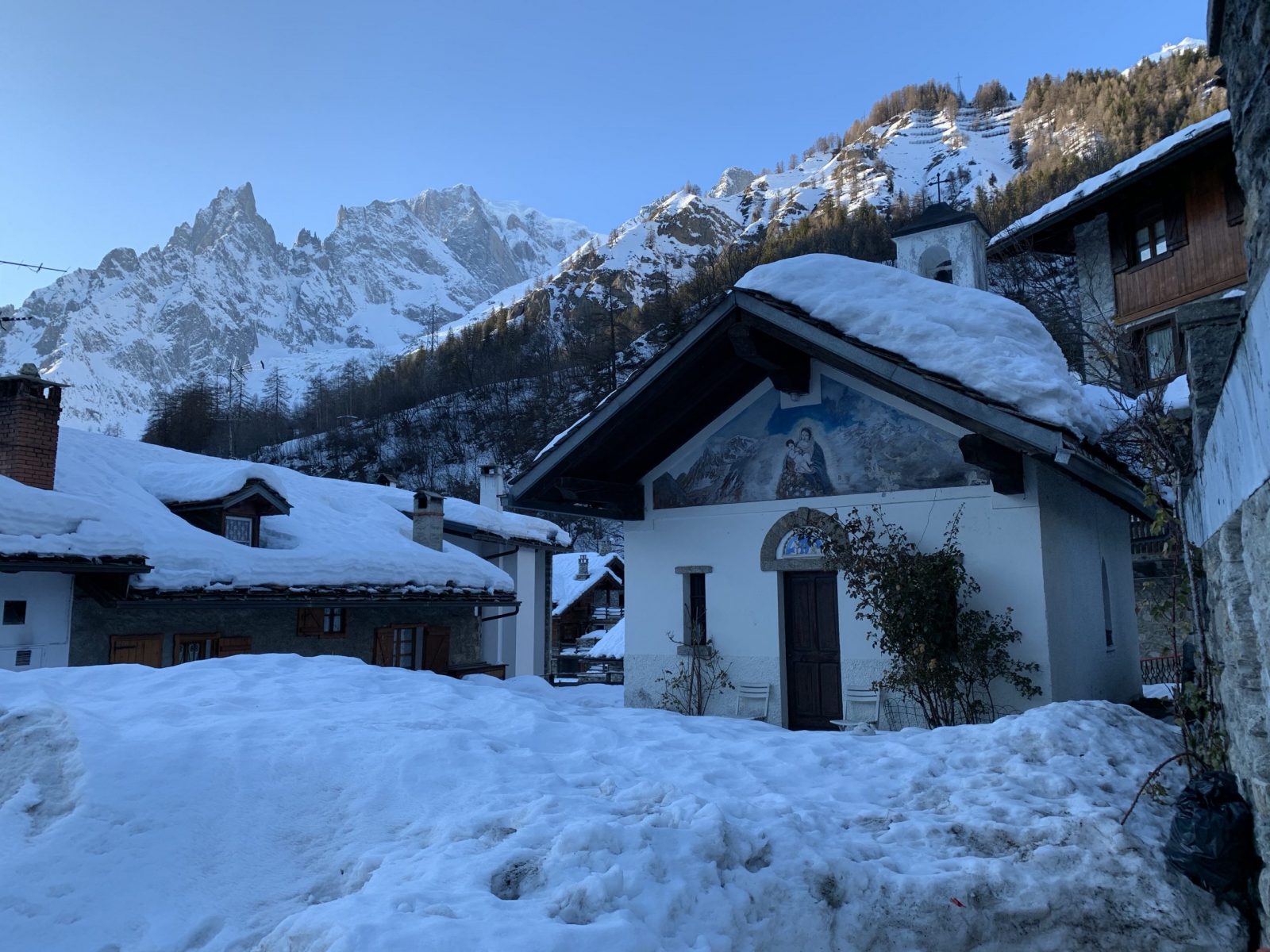 The 2nd January was the day to do some errands, to keep the flat ready for other guests, so that was it. We were still very tired of just sleeping well, eating well and absorbing great views, maybe no skiing that much, but oh well! I was going skiing again a couple days later with some mum friends, and we always have February and April to come back!
This is an account of another trip to Courmayeur, couple of years ago. And our trip to Pila just before. And you can check our Must Read Guide to Courmayeur and Where to Stay in Courmayeur.
You can search for your own accommodation in the snow for your next ski holiday through our Accommodation Search tab. Or if looking to stay in the heart of the Mont Blanc Valley in the Aosta Valley, check Il Coure della Valdigne review here. This is our own family home in the mountains, that I am renting out when not using, you can always write me a private message if interested to info@the-ski-guru.com
You can book directly through Airbnb  through this link
If you want to take your family skiing and you don't know where to start, read here. And search for your ski transfers from all airports to the Mountains here. And for those that are like me, that are lazy to cook, you can get your food, even gourmet mountain food delivered to your home with Huski.
If renting equipment (skis or snowboards)  check our agreement with Skiset– you can get up to 50% off ski or snowboard rental rates. I have been using them for years every year when I go to America  and Europe and they are great!
You can start thinking about your trip, by reading the articles on the Planning your Ski Trip tab.  Or how to pack for your family ski trip.  If taking your furry friend abroad to the continent, read about the new Pet Travel Scheme update from DEFRA. Self-drive skiers also need to plan for Brexit. Check out our tips for driving to the mountains.  If flying and renting a car in Europe, beware of the extra charges they will pass to you if you want winter tyres, snow chains or ski racks. If driving, check the winter tyres news for Europe and North America. You can see how our last family ski holiday was not as expected, even though one plans it to be a success, but how we could do the most of it. If you want to get better before getting to your next ski holiday, here is a quick guide to indoor skiing and dry slopes in the UK. You can also read our week in the mountains during our summer holidays in Courmayeur.
Featured Image: The boys waiting for the funicular of Val Veny to take us back to Courmayeur. Photo: The-Ski-Guru.
Please follow and like us: