Off-Piste snow report for December 13, 2019 for the Northern French alps – Henry's Avalanche Talk
Lots of snow falling now, but warmer temperatures for the week ahead
Big snow has started falling. This will set us up for the season, but it will bring high avalanche danger too.
It has been a great week for off-piste skiing, with regular top-ups of 10 to 20 cm fresh snow virtually every other day. Weather alternated between flat light conditions and snowfall one day and clear blue skies with fantastic powder the next.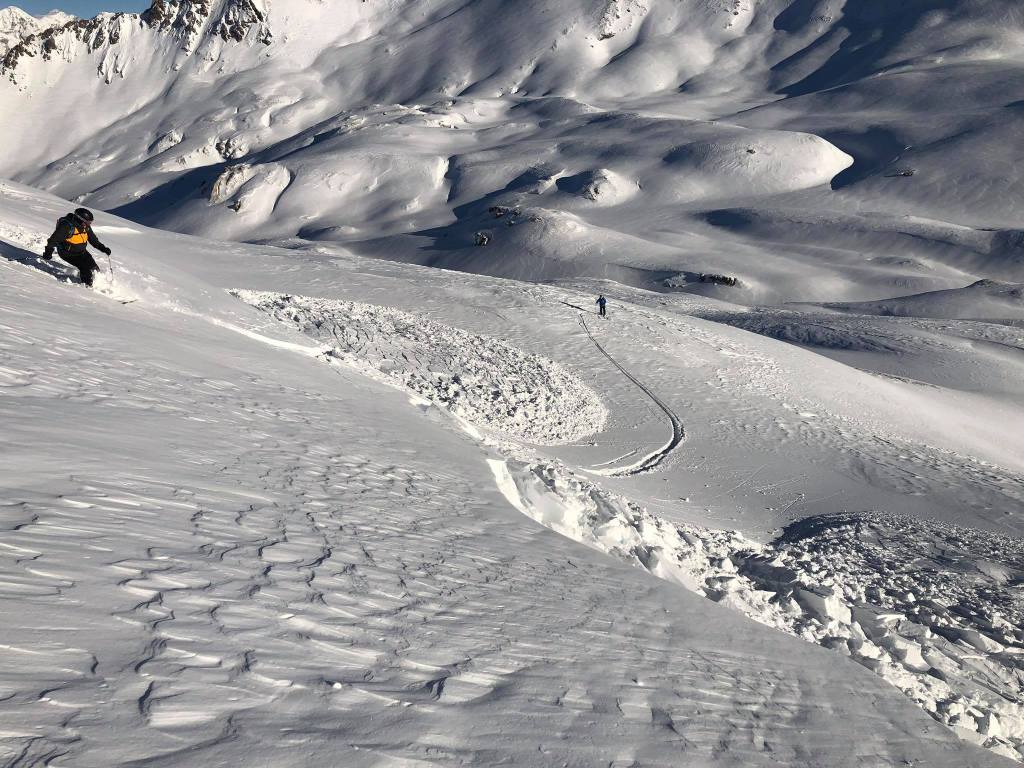 On Tuesday there was a blue-sky powder day and there were a few avalanches triggered by skiers. This is evidence that the greatest risks are wind slab on leeward slopes.
Current situation in the Northern French Alps:
At the time of writing (13th Dec) the avalanche risk is 4/5 (High). Over the week covered in this extended forecast, however, the danger rating will stay high or at least considerable (3/5). A huge amount of snowfall is expected in the N French Alps and surrounding area. Will we get a 5/5? That would be unusual.
The outlook is unsettled. The first storm will bring cold weather, but then it will warm up across the N French Alps. It will be coldest on the French /Italian border. But 0C could rise to 2700m. This will humidify the snow lower down and damage the quality of the powder.
The biggest storm is forecast for Friday/Saturday, when we may receive a metre of fresh snow in cold weather.
This fresh snowfall will be accompanied by high winds, causing accumulations of snow through drifting. This process is known as 'wind loading'.
Areas of risk to look out for:
The snow accumulations will make the risk of accidental avalanches, i.e. those triggered by people, very high.
The best advice during this time is to stay on and around slopes of less than 30° steepness.
The areas at greatest risk are wind loaded slopes so E and NE look the most dangerous. However, the bulletin is highlighting high risk (danger rating 4) on all slopes due to the considerable snowfall.
The dangerous slopes will become evident during and after the snowstorms that are predicted. This will be indicated in the daily avalanche bulletins. Also look out for recent avalanche activity, which is likely to be on those leeward slopes that have been loaded with snow drifting by the wind.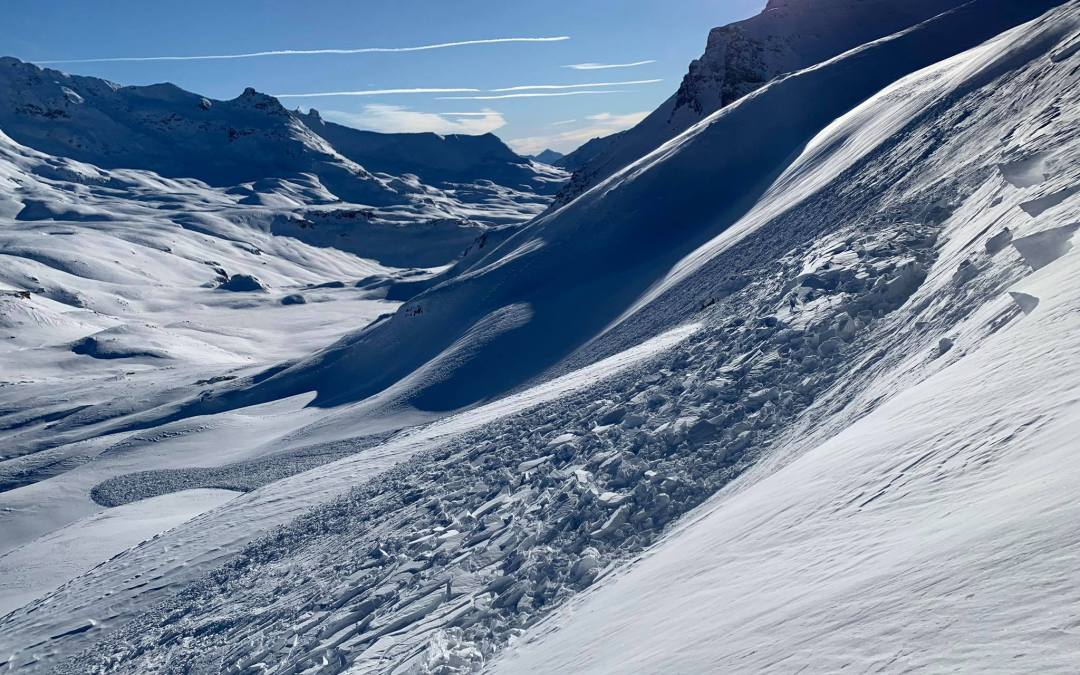 Due to the wind during the storms, the biggest danger will be on slopes where the snow has drifted in and built up. These slopes are generally on leeward sides of the mountain and other areas that are sheltered from the wind. This is where you are more prone to trigger a slab avalanche. Be careful because it's more tempting to ski in these places because there's more snow!
The danger is increased dramatically if there are 'terrain traps' below. In fact, the clearest answer to where there is the biggest risk is on slopes above dangerous terrain – features like cliffs, trees, holes and narrow valley bottoms.
This will be indicated in the daily avalanche bulletins. Also look out for recent avalanche activity, which is likely to be on those leeward slopes that have been loaded with snow drifting by the wind.
About HAT
Henry's Avalanche Talk (HAT) provides training and essential information for skiers who want to go off-piste but are held back by fear of the unknown. HAT is known for helping ordinary skiers have an extraordinary experience off-piste.
Henry's Avalanche Talk has been helping to educate off-piste skiers and snowboarders for over 30 years and has grown into a team of off-piste professionals, often referred to as HAT. Talks and courses have been delivered to tens of thousands of people, presented at international snow science conferences and published many papers and articles, often in the British press.
Training is available in the UK, Val d'Isère and online.
You can read here a post of the training I did with my son in the UK with Henry's Avalanche Talk.
You can search for your own accommodation in the snow for your next ski holiday through our Accommodation Search tab. Or if looking to stay in the heart of the Mont Blanc Valley in the Aosta Valley, check Il Coure della Valdigne review here. This is our own family home in the mountains, that I am renting out when not using, you can always write me a private message if interested to info@the-ski-guru.com
You can book directly through Airbnb  through this link
If you want to take your family skiing and you don't know where to start, read here. And search for your ski transfers from all airports to the Mountains here. And for those that are like me, that are lazy to cook, you can get your food, even gourmet mountain food delivered to your home with Huski.
If renting equipment (skis or snowboards)  check our agreement with Skiset– you can get up to 50% off ski or snowboard rental rates. I have been using them for years every year when I go to America  and Europe and they are great!
You can start thinking about your trip, by reading the articles on the Planning your Ski Trip tab.  Or how to pack for your family ski trip.  If taking your furry friend abroad to the continent, read about the new Pet Travel Scheme update from DEFRA. Self-drive skiers also need to plan for Brexit. Check out our tips for driving to the mountains.  If flying and renting a car in Europe, beware of the extra charges they will pass to you if you want winter tyres, snow chains or ski racks. If driving, check the winter tyres news for Europe and North America. You can see how our last family ski holiday was not as expected, even though one plans it to be a success, but how we could do the most of it. If you want to get better before getting to your next ski holiday, here is a quick guide to indoor skiing and dry slopes in the UK. You can also read our week in the mountains during our summer holidays in Courmayeur.
Featured Image: Photo: Credit- Ortovox. Henry's Avalanche Talk. Off-Piste snow report for December 13, 2019 for the Northern French alps.
Please follow and like us: