Your MUST-READ guide to Lech am Arlberg
This article may contain affiliate/compensated links. For full information, please see our disclaimer here.
Lech is one of these famous resorts in the world that should be in your bucket list. A typical Austrian Alpine village, in the end of the road (at least in winter), at first you arrive, and you think there is a road through it, but you need to see what is on each side of the road. The town is small, as the local law does not allow it to expand- which is great as you feel in a quaint town. Lots of dotted houses and hotels are around the main road and into the sides, pretty much all are near the lifts. The furthest in the valley are around 600 meters from the lifts, but there are free buses to go back and forth.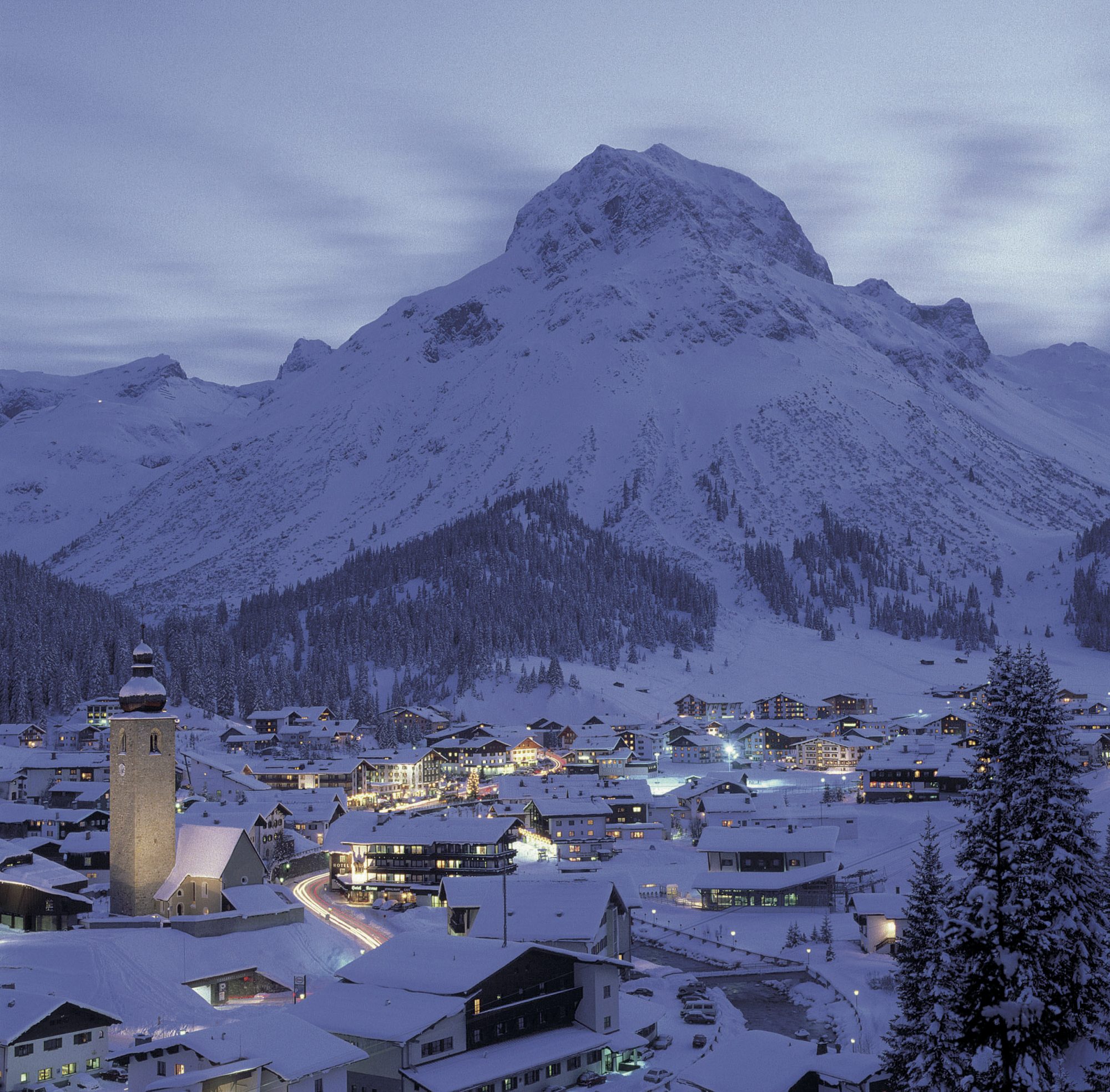 Buses also connect you hourly with St Christoph and St Anton. But you can also access them via the Flexenbahn gondola since the season before last. The Flexenbahn links Zürs and Stuben/Rauz. Skiers and boarders can go anywhere in the Arlberg on skis and snowboards. The ride takes 6 minutes with panoramic vistas from the gondolas, to the Klostertal valley and St Christoph. The addition of the Flexenbhan made the Arlberg the largest ski carousel in Austria and one of the 5 largest ski areas in the world. On top of the Flexenbahn, three other cableways have started operations on the winter of 2016/17 – the Trittkopf cableways I, II and the Aldonabhan cableway II have cemented the Arlberg as a bucket list destination.
Getting there:
You can easily get to Lech from the main airports in central Europe, such as Zürich (196 km) in Switzerland, Munich (248 km) and Friedrichshafen (128 km) in Germany, Innsbruck (120 km) and Salzburg (294 km) in Austria.
You can take the train from these airports and go to Langen am Arlberg train station, which is 15 km from Lech (if coming from Zürich or Friedrichshafen) and take a taxi from there or the local bus – check the times, the buses runs once an hour or every two hours, depending the time of the year.
The other nearest train station is St Anton am Arlberg Railway Station. All those visitors coming to Lech from the east can use either Langen or St Anton. In St Anton there is regular bus service until before 22.00 – once or twice an hour, and there is a wider range of taxi options – estimate to pay EUR 58.20 during daytime and EUR 78 at nighttime for one way to Lech. Der Lercher is an excellent taxi company that pick you up in comfortable vans.
You can see the score of Lech on Ratoong clicking here. Feel free to leave your opinion there too – this is a site of ski areas by skiers and boarders. 
The more deluxe hotels have their own transfer service – contact them in advance to arrange it. 
Why Lech is so special:
Lech is a place that will make you slow-down and enjoy being amongst mountains. The beautiful Omeshorn attracts your eye,  the typical mountain that stands alone and that you see from everywhere in town. This quaint town cannot be developed further. This fact, plus the majestic mountains, the cozy hotels and chalets dotted at both sides of the main road, all makes you stop and absorb the nature around you.
What else? For me it was going there and meeting the true locals, those whose families were the visionaries to develop the resort and that have been working every year to make what Lech is today, a mecca for skiers, but a small place, where you will never feel overcrowded, a small luxury spot in the world.
The history of the Arlberg and Lech
The Arlberg is known as the 'cradle of Alpine skiing". It was in the 1920's that Ski Arlberg pioneer Hannes Schneider taught the "Arlberg technique" which was developed by himself and today is known as the "stem christie". All over the world the "telemark turn" was still being taught, and Schneider revolutionised the ski teaching all the way from Japan to America. This is still taught today.
From being the 'cradle of Alpine skiing', the Arlberg and especially Lech grew up to be one of the top ski resorts and winter destination for the European royalty.
The community of Lech of around 1,465 inhabitants occupies an area of 90 km2 on a 1,450-1,717 m high plateau. Until the Flexen Pass was built between 1895 and 1900, the mountain farmers who lived in Lech were cut off during the winter.
Lech is the name given to the river – appeared as "Licca" in a document dated 642 AD.
There are traces of people being active in the area or migrating through it in the Middle Bronze Age. Rhaeto Romanic rivers names such as "Flexen", "Gampa", "Zürs", "Pazüel" and "Monzabon" point to early cultivation and hunting.
In 1059 AD, Emperor Heinrich IV gave a large hunting area around the Widderstein to the Bishop of Augsburg and the area remained in the ownership of the church until 1814.
The people that settled in the valley came before the 1300 from the Valais canton in western Switzerland and were called the Walser people. They've stayed long term in the countryside along the young river Lech. Because when they came, they found many fir and spruce forests, they named the area "Tannberg am Lech" (tanne means a fir tree and Berg a mountain).
The Walser people stayed and got the land as a fiefdom from the Swabian lords of the manor in exchange for a low natural interest. The idea was to persuade them to settle in these mountainous regions. During the Napoleonic wars, Tyrol and Vorarlberg had to be ceded to the Kingdom of Bavaria by 1814. The skiing arrival created a sudden economic upturn. As early as 1906, the first ski courses for locals were established in Zürs by Viktor Sohm. By 1920, Zürs' economic began to grow suddenly. By 1923/24 the first group ski courses for guests were held. In 1937 the first drag lift in Austria was built in Zürs. Lech was developed soon after, but the economic boom stopped with the global economic crisis of the 1930's and the Second World War.
From 1949 onwards, the international tourists started to arrive again, and this was followed by lots of building. Lech got very well known internationally mainly due to many top sports people coming from the area.
Shopping:
From chic boutique, sports shops and shops where to get some local produce, you will have lots of choice in Lech. The Strolz shop next to the Arlberg hotel looks more like a 5 stars hotel's reception than a ski shop. There you can go and rent your skis or snowboards prior to go skiing.
Don't ski/won't ski:
Even if you want to do something else on top of skiing or boarding, or you are one of those that would not go skiing or boarding even if someone pays for it, don't despair! As a beautiful site and a natural playground, there are lots of things to do in Lech.
Winter hiking – there are over 40 km trails around Lech and Zurs to get you entertained for long. Get a pair of warm winter boots and dress warm and you can enjoy the beauty of a road or path surrounded by trees and the mountains
Ice-Skating: There is an air-conditioned hotel ice rink in the Hotel Jagdhaus with a 300 square meters of artificial ice for ice skating or ice curling. Zurs down the road offers a skating ring where you can skate, play hockey or alpine curling. It is next to a cozy heated chalet offering hot drinks and good music.
Horse-Sleigh ride, all warm up under some blankets and allowing you to absorb the lovely landscapes around you.
Snowshoeing: Use the same trails as for winter hiking and stop in the way in a nice hut for a lovely cuppa. Every Monday and Wednesday there are guided-torch snowshoeing hikes. They start at 4 PM. The meeting point is at the Skibex Hotel Sursilva Lech. Adults pay EUR 45 per person and kids under 18 years EUR 31 per person.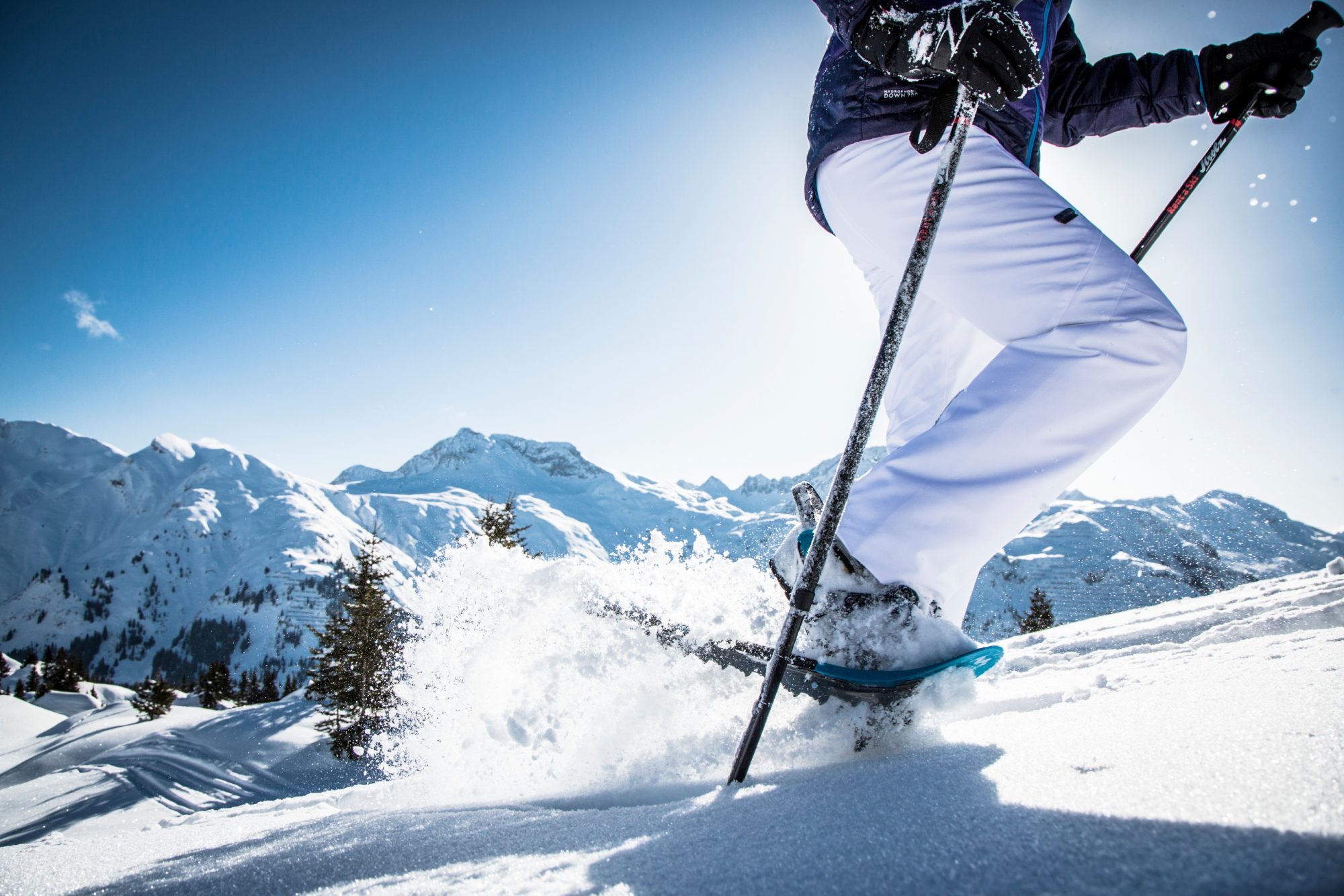 Cross Country Skiing: 27 km of trails are guaranteed for traditional cross country or the skating variety.
Tobogganing: The Oberlech-Lech toboggan run offers you a 1.2 km winding road through the forest of Lech and it has so many twists and turns, plus the last station will cause adrenaline levels to skyrocket! In Zürs there is a small trochanter for little kids. This one is located above the kids' land in Zürs and it opens during the same hours as the kids land.
Visit museums- there are many, from the Huber Hus, the Walsermuseum, the Kästelmuseum, the Hall of Fame.
A visit to Skyspace Lech: opening this winter, is a is a cooperative project of the Häusler Contemporary Gallery with James Turrell. During his visit to Lech in September 2014, Turrell was fascinated by the unique high mountain landscape and chose the "Tannegg" site in Oberlech as the best place for a very special underground skyspace. The "Tannegg" is a small hill above the top station of the Schloßkopfbahn, which is easily accessible by a hiking train in the summer and winter and also from the ski run to Oberlech. At 1,780 meters it offers a spectacular panorama. More info: https://www.lechzuers.com/skyspace-lech.
Sport Park Lech: Where you can do all kind of activities for fitness, cycling, tennis and all ball sports (badminton, volleyball, football, handball, ping pong), as well as a 10Pin Bowling, climbing, bouldering, slacklining and a wellness area where to relax and a café where to recharge your batteries. More info: http://www.sport-park-lech.at/en/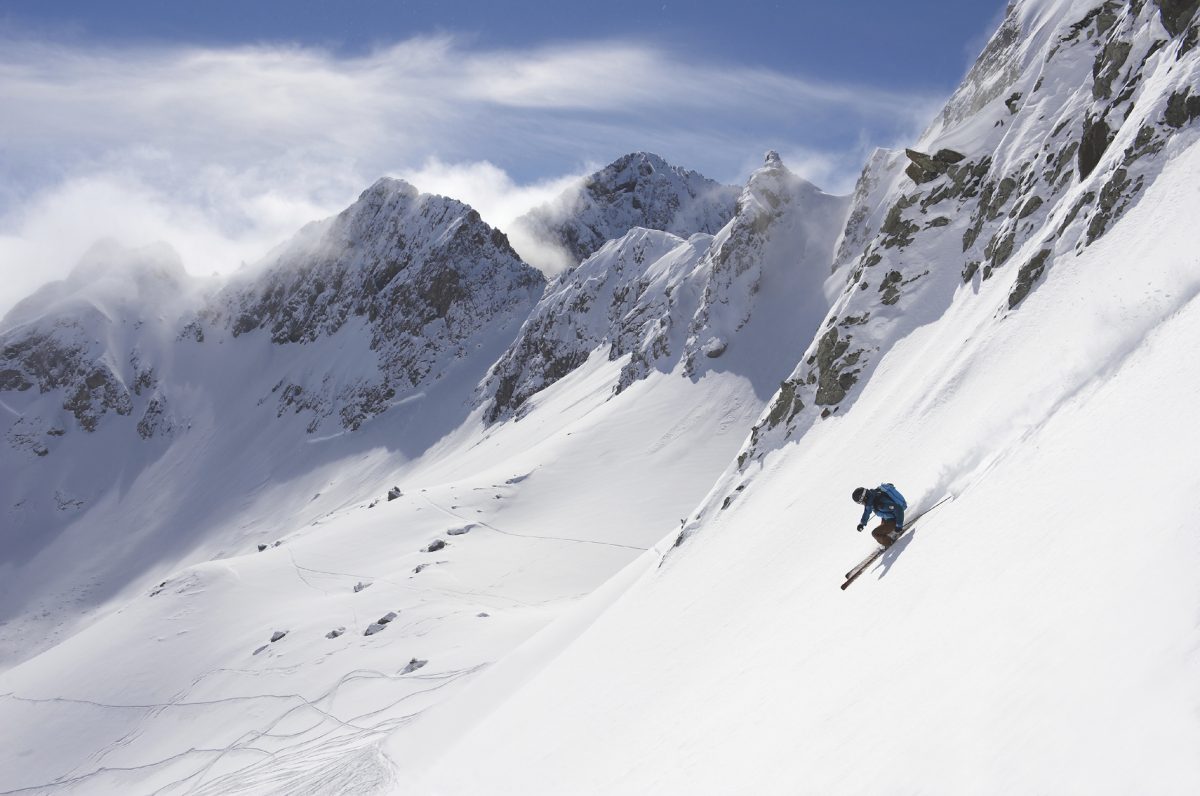 The skiing:
The combined Arlberg has 305 km of ski runs, 200 km of high alpine deep snow runs and 88 lifts and cable cars. Plus, there are lots of rustic huts and Alpine refuges to stop for a bite. The free local and ski buses always are convenient if you don't want to ski from one place to the other and you want a ride to your accommodation.
"The White Ring" is the legendary ski circuit is a must do: 22 km of ski slopes and altitudes of 5,500 meters on the circuit.
The White Ring race is a cult race attracting professionals and amateurs alike. It is considered the 'world's longest ski race.'  The record is still held by former racer and owner of the Montana Oberlech Patrick Ortlieb with the time of 44:35:07 minutes during the first White Ring race.
But not all is for the tough and those with endurance. Lech can be enjoyed by all types of skiers and boarders.
If you are a beginner: Head to Weibermahd, Oberlech, Schelgelkopf or Petersboden.
Intermediates will enjoy Steinmähder and Zürs.
Advanced can go to Madloch and Langer Zug.
Experts have "Skiroutes" as Osthang and Südhang.
Lots of expert skiers like going to Lech for all the terrain the Arlberg offers. Lorraine Huber, one of the top stars of the scene who took Freeride World Champion 2017, prefers to train in her hometown of Lech.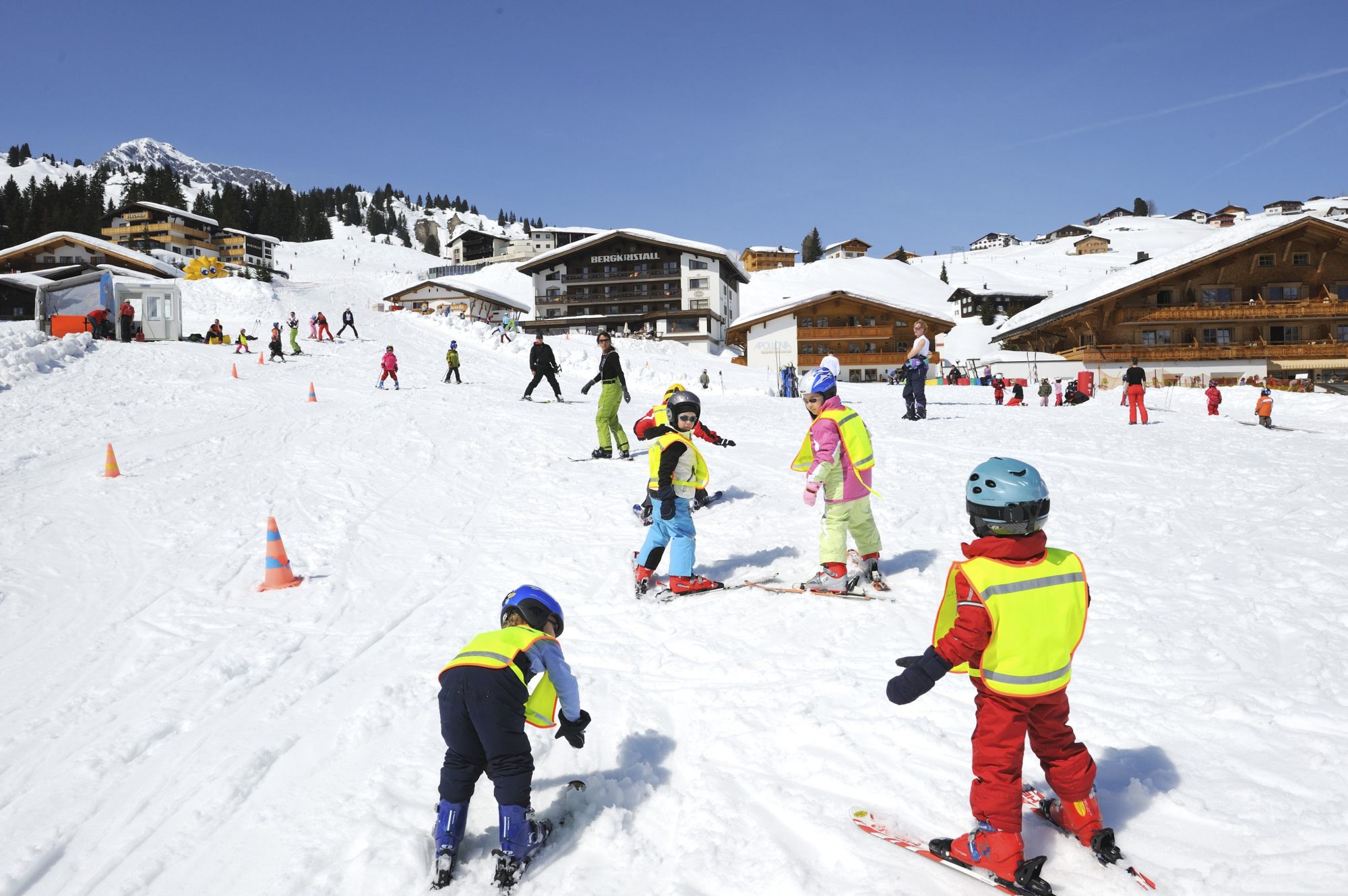 All ski schools below offer mountain guides.
Heli-skiing:
Lech Zürs is the only resort in Austria to offer packages for heliskiing. You can choose between two spectacular peaks: the "Mehlsack" summit is idea for experienced skiers, while the "Schneetäli-Orgelscharte" is recommended for intermediate skiers – and is particularly attractive in the spring on the hard pack snow. Heli skiing packages are for up to four people including the ski guide and can be booked directly through the ski schools of Lech and Zürs.
Lech offers for those wanting to venture off-piste a Snow and Safety Conference where all latest findings on avalanche protection are discussed. More info can be found here – www.snowandsafety.com and at www.lechzuers.com/freeski-freeride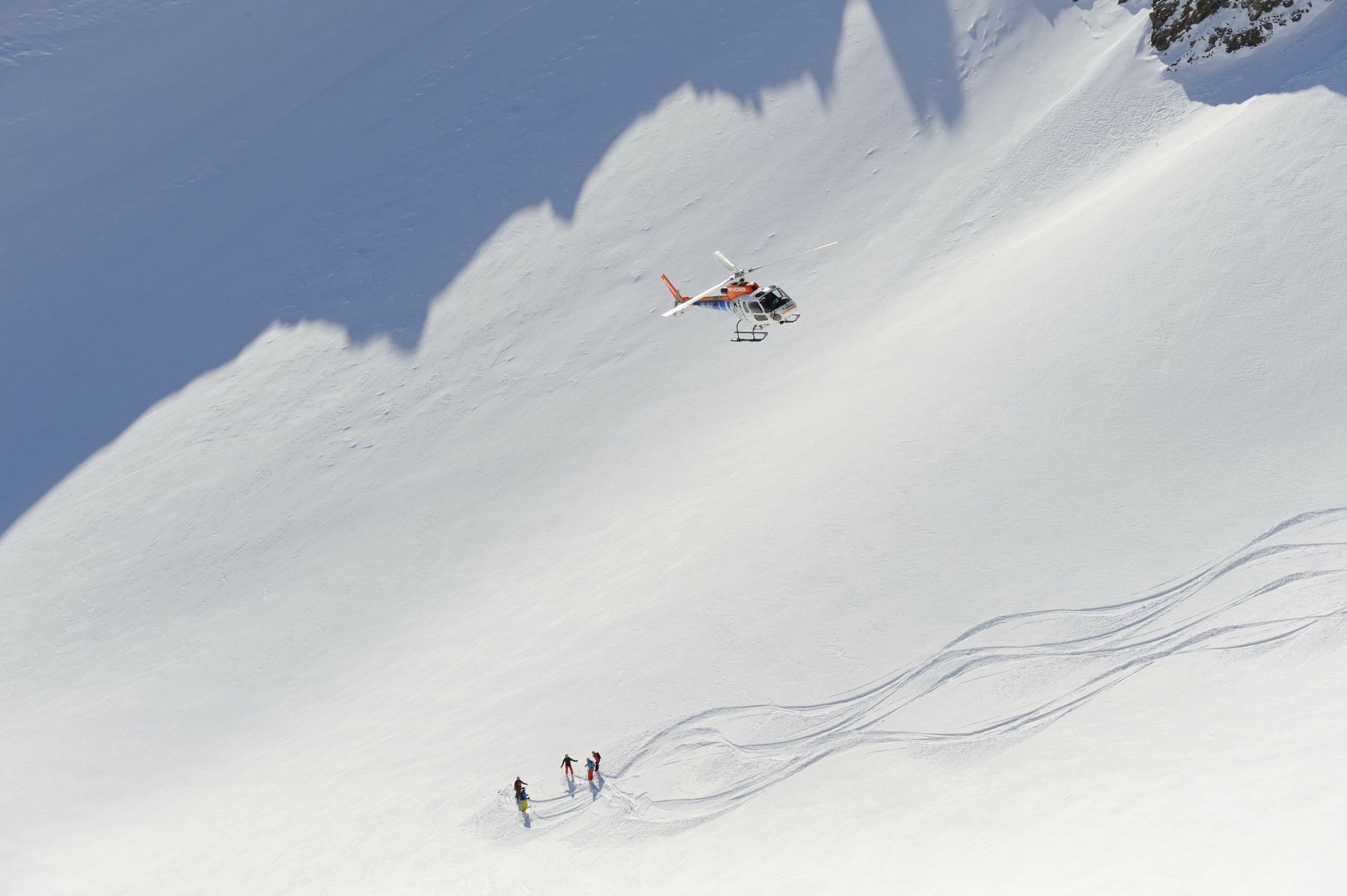 Those youngsters preferring the park would be happy at the Snowpark Lech.
Lech Snowpark is a mecca for snowboarders and freestylers. It opens in the beginning of December, offering 17 obstacle courses covering an area of 36 hectares, which are prepared daily and divided into Fun Run, Rail and Pro lines. There are options for beginners, advanced and professional here. The Fun Run has easier obstacles and is right for beginners. Those seeking a thrill will find the challenging Pro line fits the bill.
The "Close to Heaven" freestyle competition, where the best freestylers compete, takes place each year in March and is a fixture in the diaries of all freestylers and snowboarders.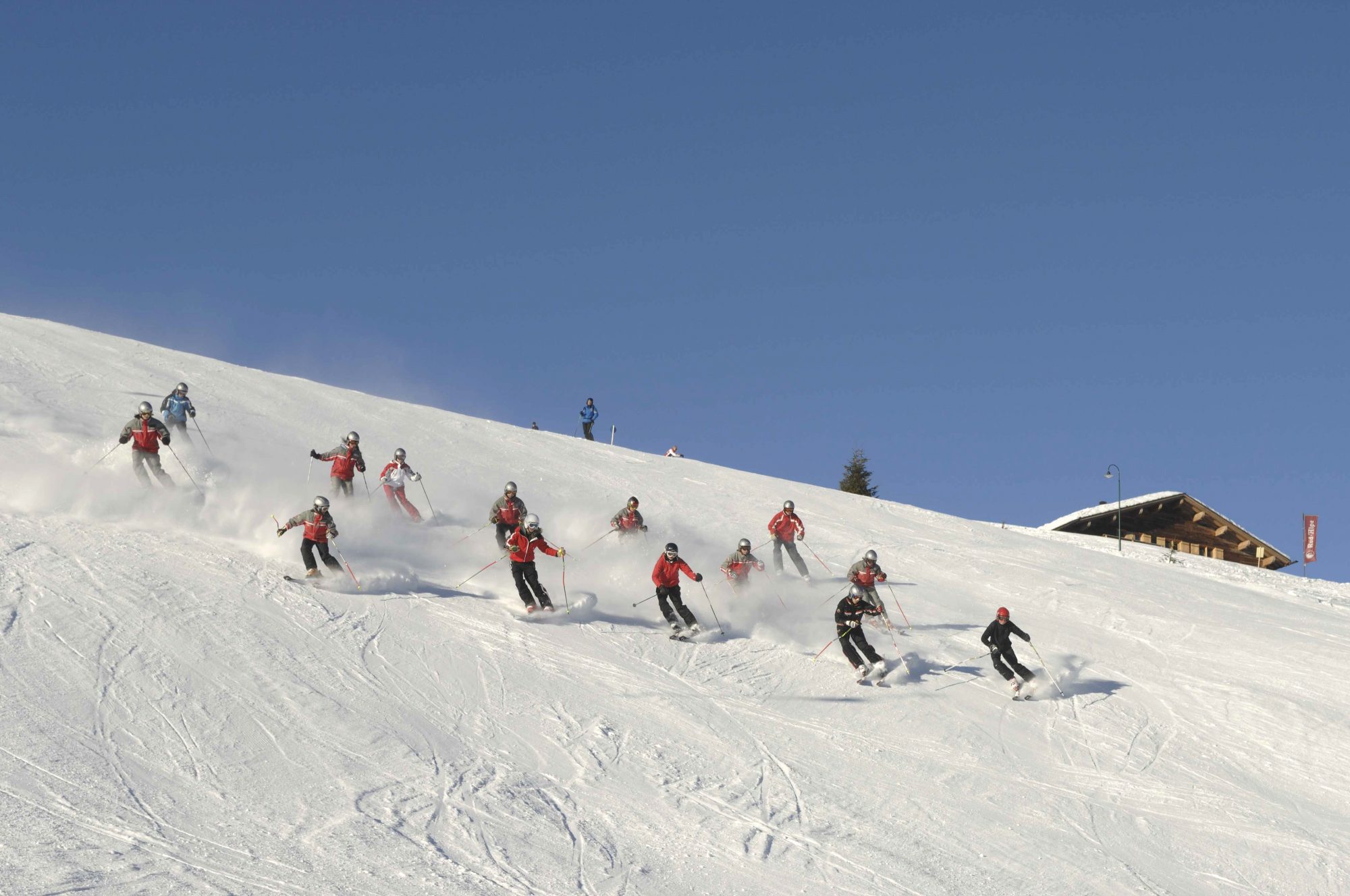 Ski schools: 
Here is a list of the different ski schools of Lech – All are good, and I guess what would make you decide is which one is closest to your accommodation for their meeting point!
Skischool Lech: www.skischule-lech.com
Skischool Zürs: www.skischule-zuers.at/
Skischool Oberlech: www.skischule-oberlech.at/
Snowsportschool Omeshorn Alpincenter Lech: www.alpincenter-lech.at
Skischool Exklusiv: www.skischule-exklusiv.com/
Snow-Sport-School Wiesele-Zürs: www.schneesportschule-wiesele-zuers.com/
High Zuers Ski Guides: www.highzuers-skiguides.at
Arlberg Alpin Freeride- & Outdoorcenter Lech: www.arlbergalpin.at/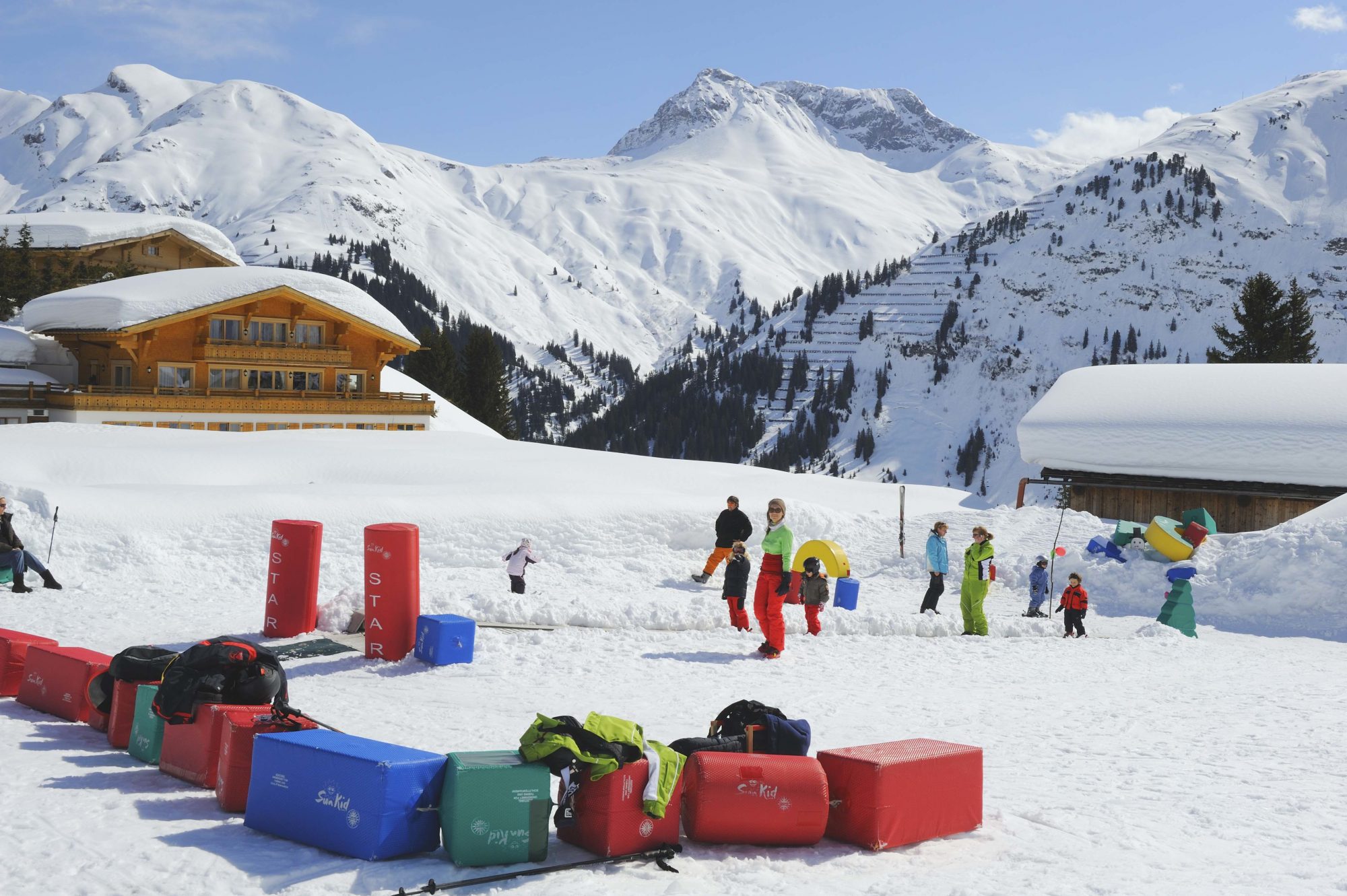 Mountain Guides contact: all the ski-schools named above offer mountain guides
Kids' club Lech-Zürs-Oberlech: for kids up to 5 years old.
Snow, play and ski Lech kids' club: Skiing children that are potty trained – children aged 3 to t.
Little Zürs: Skiing children potty trained aged 3-5, Playing children 2-3
Babysitters are also available
Also, remember that you can pre-book your ski school lessons with the CheckYeti app. It is really fast, you look the resort, you see the different offers, see if you want group or private, check the different instructors that are best for what you are wanting to achieve and reserve online, so you know that when you arrive in resort you do not need to worry about organizing your lessons. More info https://www.checkyeti.com/en/winter/austria/lech/certified-ski-schools-ski-instructors
or downloading the App store on your mobile.
The Mountain Stats:
All together Ski Arlberg counts with the following numbers
88 state of the art lifts and cable cars
305 km of marked ski runs
200 km of freeride and deep powder slopes
Base Area: 1450 m
Bottom of Lifts: 1280 m
Top of Lifts: 2646 m
The "Run of Fame" is Arlberg Ski circuit with 85 km of downhill runs, and an overall vertical drop of 18,000 meters.
The Hall of Fame is a unique monument to the legendary Arlberg celebrities. It has been built at the Flexenbahn cable car mountain station.
Not to miss: Skiing "The White Ring", the most legendary ski track in the Alps. It will take you from Lech to Zürs to Zug and Oberlech. For skiers it represents half a day challenge with about 22 km of ski pistes, 5,500 m in difference of altitude and a sightseeing tour of easy to middle-difficulty slopes with viewing platforms at the Rüfikopf and Madloch.
Rental shops:
Lech:
– Strolz- Renta a Ski, ski service, rental and lockers – Ski-Service Strolz.
-Strolz – Rent a Ski Rüfiplatz: ski service, rental and lockers
-Strolz ski rental – Filomenapassage
-Pfefferkorns ski and snowboard service – Sporthaus Pfefferkorn
-Sport Alp ski and snowboard service – Sporthaus Pfefferkorn
-Sport Alp ski and snowboard service- Jagdhaus Monzabon
-Rent at Sigi – Romantik Hotel Krone
-Skibex ski service and rental
-Intersport Arlberg skiservice and rental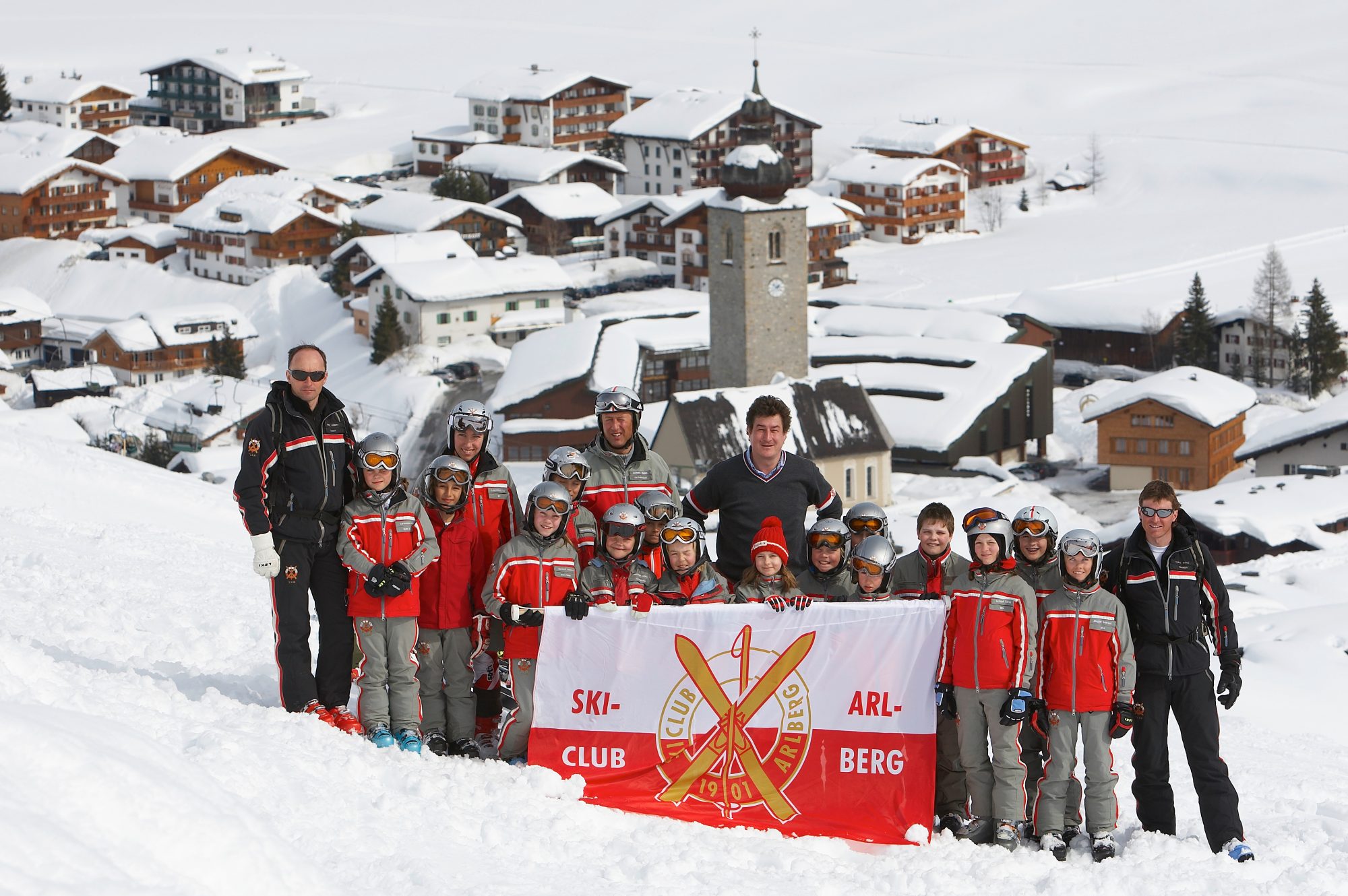 Oberlech:
-Walch ski service and rental – Burg Hotel
-Ski rental Huber – Hotel Sonnenburg
Zug:
-Ski rental and service Marco Ender – Hotel Rote Wand.
Zürs:
-Friendly Brándle – Haus Zürsersee
-Ski service and rental Strolz "Rent a Ski" opposite Posthaus
-Sportboutique Stroz – Zürserhof
-Ski Toni – Sporthotel Lorünser
-Sport Falch – Sporthotel Edelweiß
Online reservation:
-Sporthaus Stroz: www.strolz.at
-Sporthaus Pfefferkorn: www.sporthaus.pfeffer-korns.net
-Sportalp Waldhart: www.sportalp.at
-Walch Skiservice: www.skiverleih-oberlech.at
-Sport Huber: www.sporthuber-lech.at
-Fullservice Zug: www.fullservice-zug.com
-Fullservice Zug: www.fullservice-zug.com
-Friendly Brändle: www.sportbraendle.at
-Skibex: www.skibex.at
-Intersport Arlberg: www.intersport-arlberg.com/lech
Eating on-mountain
These are our recommendation of good spots for eating on the mountain.
Rud-Alpe: https://rud-alpe.at/
Der Wolf – Die Skihütte: https://www.derwolf.ski/de/skihuette-in-lech/
Balmalp: http://www.balmalp.at/
Kriegeralpe: http://www.kriegeralpe.com/en/
Panoramarestaurant Rüfikopf: http://ruefikopf.at/
Skihütte Schneggarei. http://www.schneggarei.at/
Trittkopf BBQ Station: https://www.ski-zuers.at/de/trittkopf-bbq-station/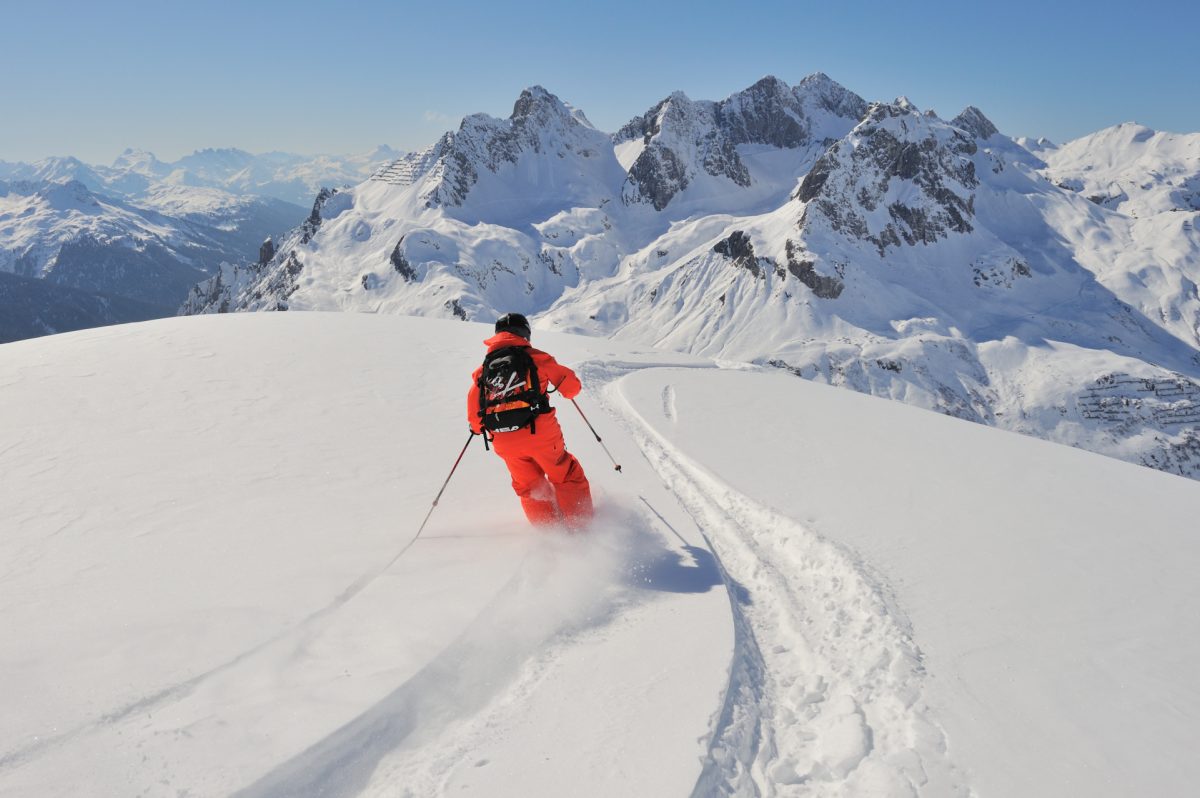 Where to stop for après-ski on-mountain:
Balmalp: http://www.balmalp.at/
Schlegelkopf Restaurant: https://schlegelkopf.at/
Burg Ice Bar, Oberlech: https://www.burghotel-lech.com/en/culinary/burg-ice-bar
Where to go for après-ski in town:
Skihütte Schneggarei: http://www.schneggarei.at/
Krone Ice Bar: https://www.romantikhotelkrone-lech.at/kulinarik/terrasse-piste-arlberg.html
Tannbergerhof: https://www.tannbergerhof.com/en/cuisine/apres-ski-in-lech.html
Pfefferkorn's Ice Bar: https://www.pfefferkorns.net/eisbar/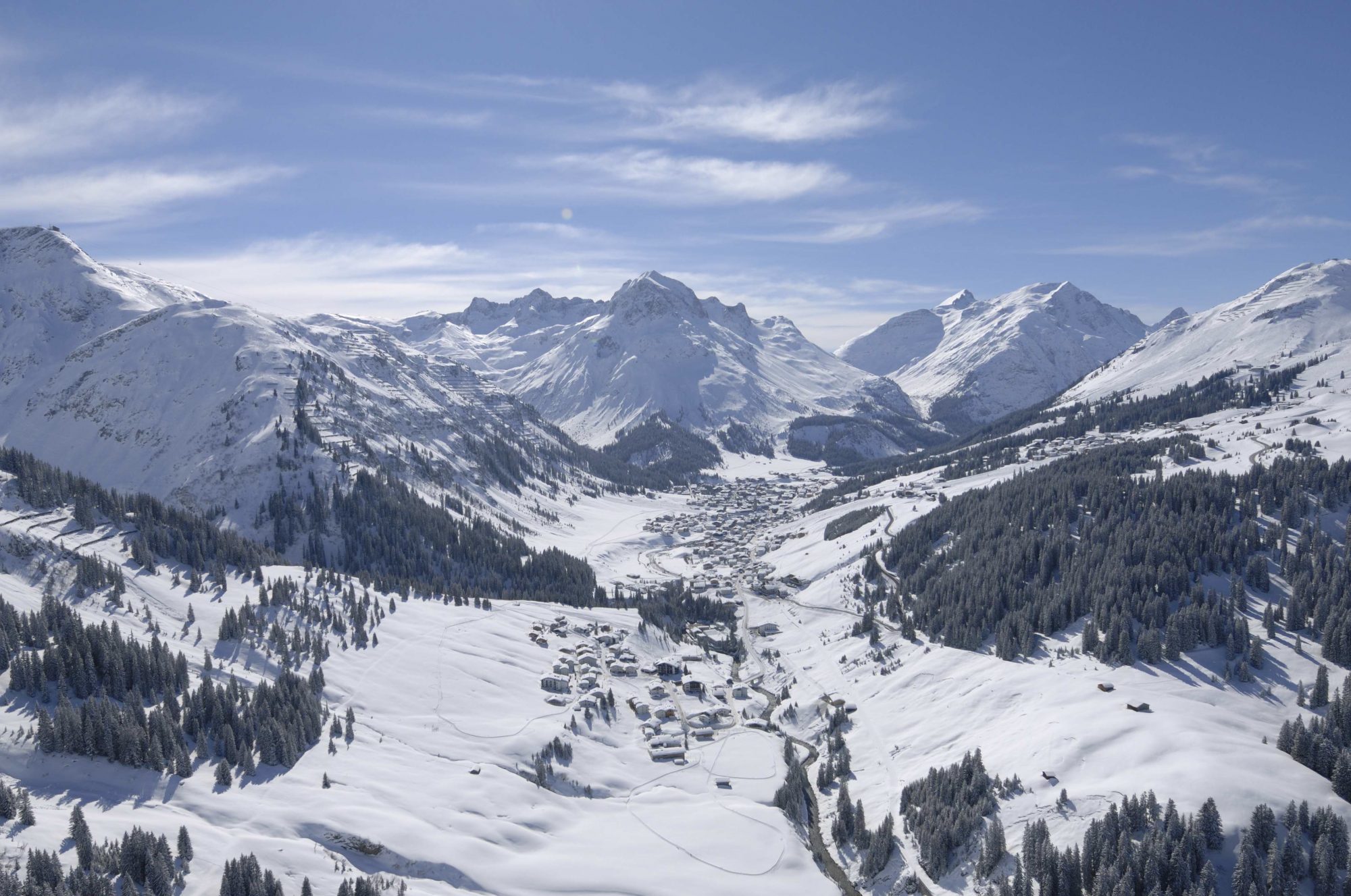 Places to eat in town:
Here is a link of all restaurants in Lech and Zürs, but the ones I would recommend are the following
For fondue and Austrian specialties, the restaurant at the Arlberg Hotel – die Stube
The Aurelio's Gourmet Restaurant is a treat to your senses. Try the Griggeler Stub aim Burg Vital Resort as well, the Post Stuben (at the Gasthof Lech), the Berghofstüble at the Berghof Hotel, and the fabulous Kaminzimmer at the Kristiana.
Lech: https://www.lechzuers.com/restaurants-lech/
Zürs: https://www.lechzuers.com/restaurants-zuers/
Where to go for a bit of a dance or a late night cuppa:
Archiv: https://www.facebook.com/archivbar/
K.Club at Hotel Krone: http://k-club.at/
s'Pfefferkörndl Pepper Club: https://www.pfefferkorns.net/sushi-shihsa/
The Cottage Pub: https://www.tannbergerhof.com/en/hotel/the-cottage-pub.html
Lech in the summer:
If you would like to have a relaxing time in the mountains, with lots of summer activities, life at a leisurely pace, having lots of places where to eat and enjoy the vistas, look no further.
From hiking, to mountain biking to golfing, all is accessible for everyone!
Lech Card – the passport to leisure:
This is great if you are planning to stay in Lech for more than 2 nights – you can buy a Lech Card for stays from just 3, 7 or 14 days. It grants you free travel on the cable cars and lifts, free travel on the local Lech bus, free adventure program for kids up to 14 years old, including geo-coaching, scuba diving, children's climbing and canyoning; and guided walks for the young and old. This card also offers discounted leisure activities such as relaxing in the forest swimming pool, going to the Walswermuseum and Huber Hus museums.
Gruner ring or the Green Ring: is one of the themed trails in Lech during the summer – this trail allows you to have magnificent vistas of Lech and its mountains and it has three stages that gives you an insight into the modern mythology. The trail passes by lakes, through valleys to waterfalls and up to high Alpine terrain such as the Madlochjoch. The routes have different levels of difficulty, with something for both casual walkers and more ambitious and experienced hiking enthusiasts.
This themed trail was designed by sculptor Daniel Nikolaus Kocher and the writer Daniela Egger. Kocher has created inspiring installations and figures while Egger has written enthralling stories. Geographical features, field names and mythical creatures served as an inspiration to them both to populate the mountains of Lech Zürs with mythical creatures.
The legends of the Green Ring lead the way through previously unknown, interesting and unusual areas that are often difficult to spot with the naked eye. The artworks and carefully selected resting places help hikers to sharpen their senses for the hidden beauties found in the Lech Zürs region. The mixture of literary delights and outdoor sculptural installations are a source of wonder to everyone, big and small, young and old alike.
Where to sleep:
Gasthof Lech: I've written already a post of this hotel – a 5* Relais and Chateaux, on the main road of Lech, owned by the Moosbrugger family. Very charming hotel, visited by different royal families in Europe, all decorated in wood and tartan-wool lined walls – it is a delightful place where to stay. A new spa has magnificent views of the Omeshorn, the typical peak you see in Lech. The spa has an in-out pool, sauna with a window with a lovely view, jacuzzi, hammam, lots of relaxing areas and massage rooms.
32 years old Tyrolian David Wagger is in charge of the cuisine. The Wiener Schnitzel of the Post is the best considered outside the Austrian capital. Also, the Beef Tartare is renown.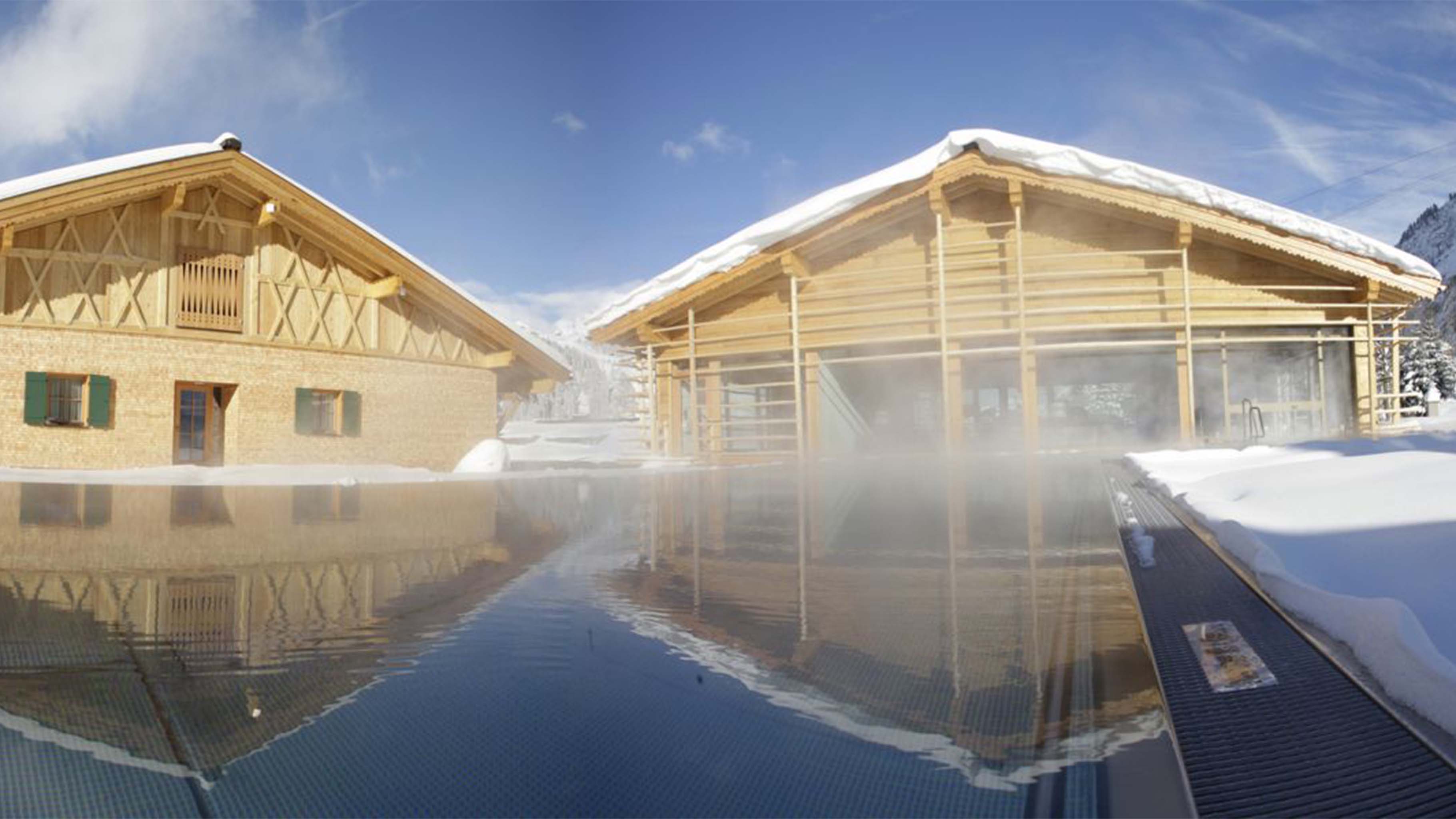 Reserve the Gasthof Post Lech.
Kristiania Lech – the luxurious house of Gertrud Schneider it will always surprise you. Tuck a bit out of the hustle and bustle, overlooking Lech village, with only 29 rooms and suites, a lovely décor, nothing is too much for your host to offer if you stay there.
With five options for food and drinks:
the Kristiania Restaurant offers traditional Austrian dishes, fused with contemporary lounge music.
Kaminzimmer offers a warm, cozy settling with a wood-burning fireplace, offering Fondue specialties and Raclette, and for later in the night, you can get one of the finest cigars, cognacs, brandies and whiskies while watching the magnificent white landscape outside.
The Lobby Lounge "Kleine Halle" is a relaxed meeting place for a casual coffee, breakfast in the morning or après ski cocoa or elegant dinner in lounge style in the evening.
Rote Bar- a bar for getting an elaborated cocktail or a small taster from the hotel's cuisine. A Steinway grand piano accompanies the afternoons and the views of the "Rote Wand" mountain fill the ambiance.
Terrace: get wrapped in down covers on the deckchairs to enjoy the sunshine and a leisurely lunch, drink, tea or coffee on a magical setting – usually from February until after Easter is the place to be!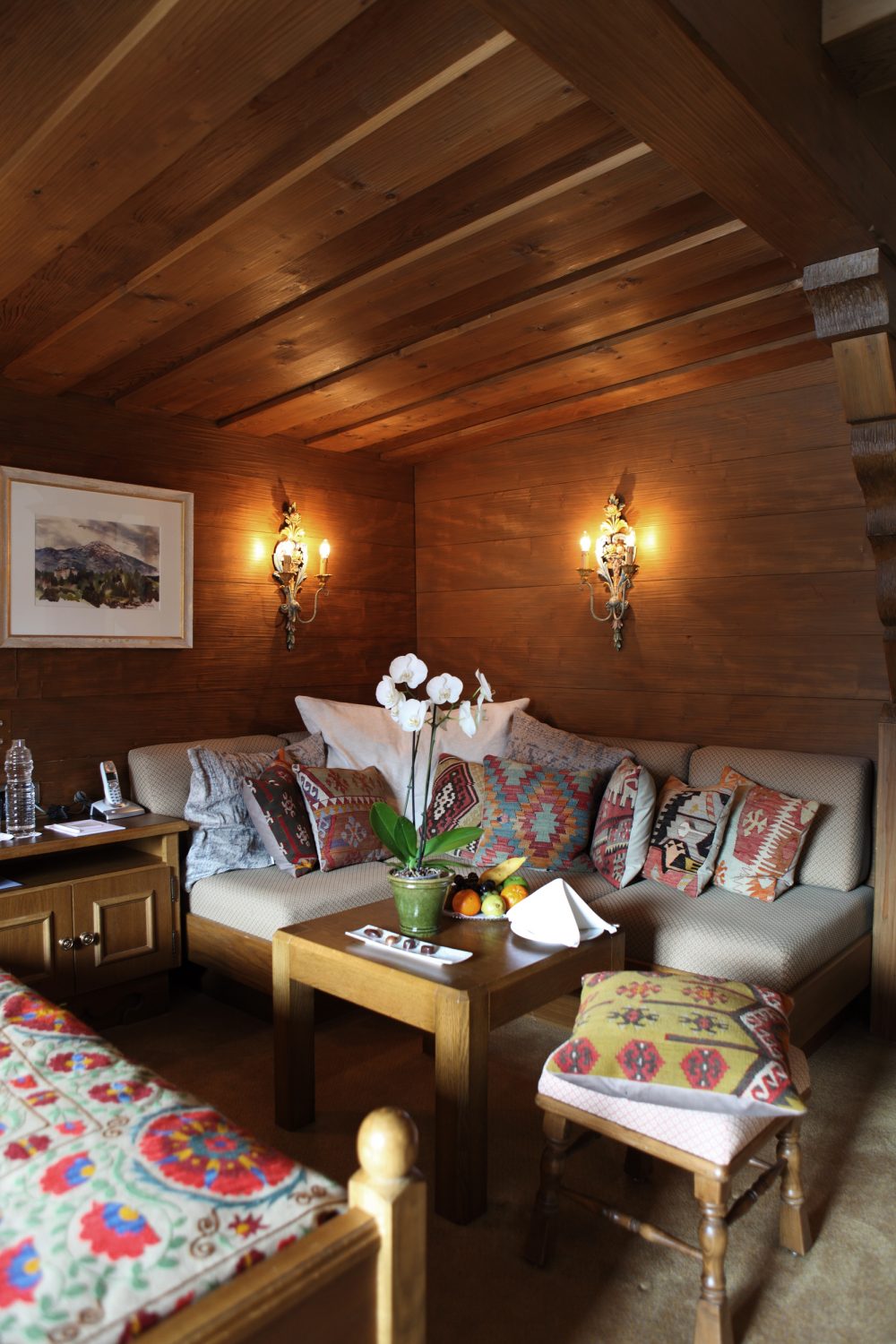 Reserve the Kristiania Lech.
Hotel Arlberg– An impressive 5 stars hotel, also on the main street, just across form the Gasthof Post Lech – lovely décor, the place chosen by Lady Diana when she was alive, and I can understand why! Lots of wood and lovely furnishing decorates its interior – it is a place you will not want to leave to go skiing as it is so nice. It is connected with the Strolz rental shop – the one that looks like a 5 stars hotel-, by a tunnel and then you are off and on the slopes.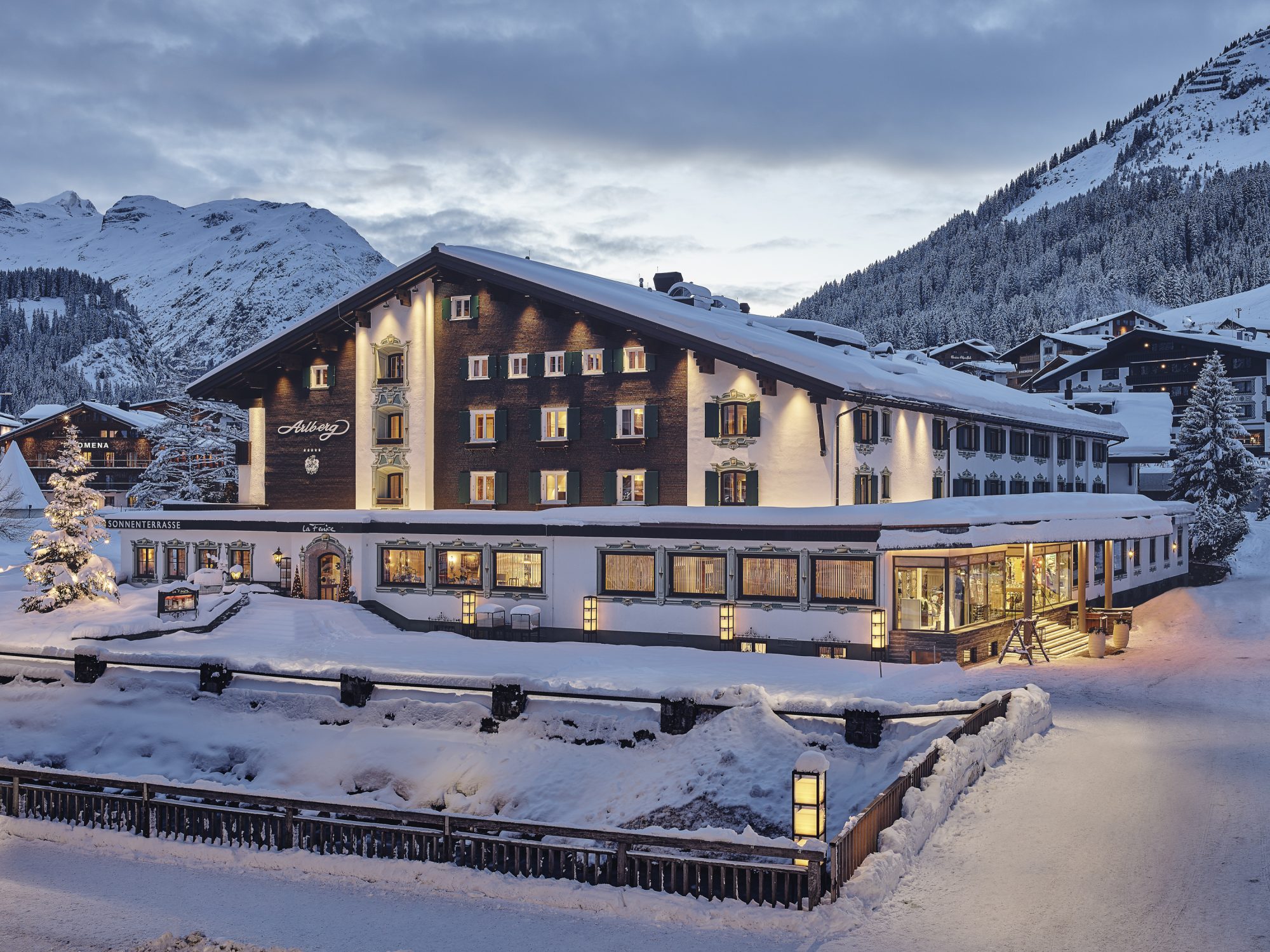 51 rooms and suites from chalet chic designer dens to textured Alpine luxury. The restaurant serves breakfast and dinner. Chef Patrick Tober is in charge of the culinary delights this hotel has to offer.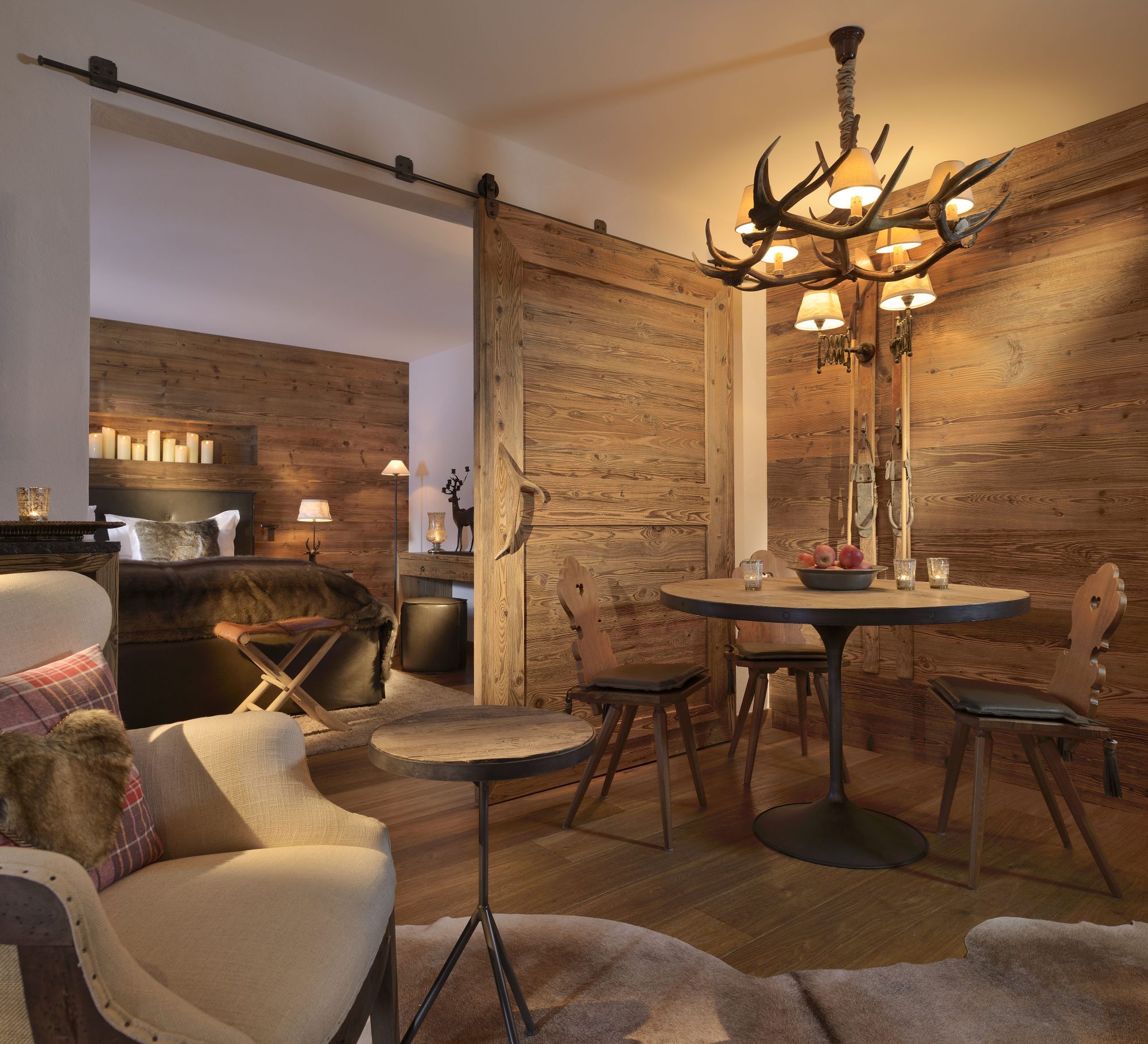 Italian restaurant La Fenice offers an evening option with "mare" and "monte". The Walser "Stube" offers Austrian specialties and Fondue in a cozy ambiance. The other food and beverage options are the Bar and Lounge, and outside Terrace and the wine cellar.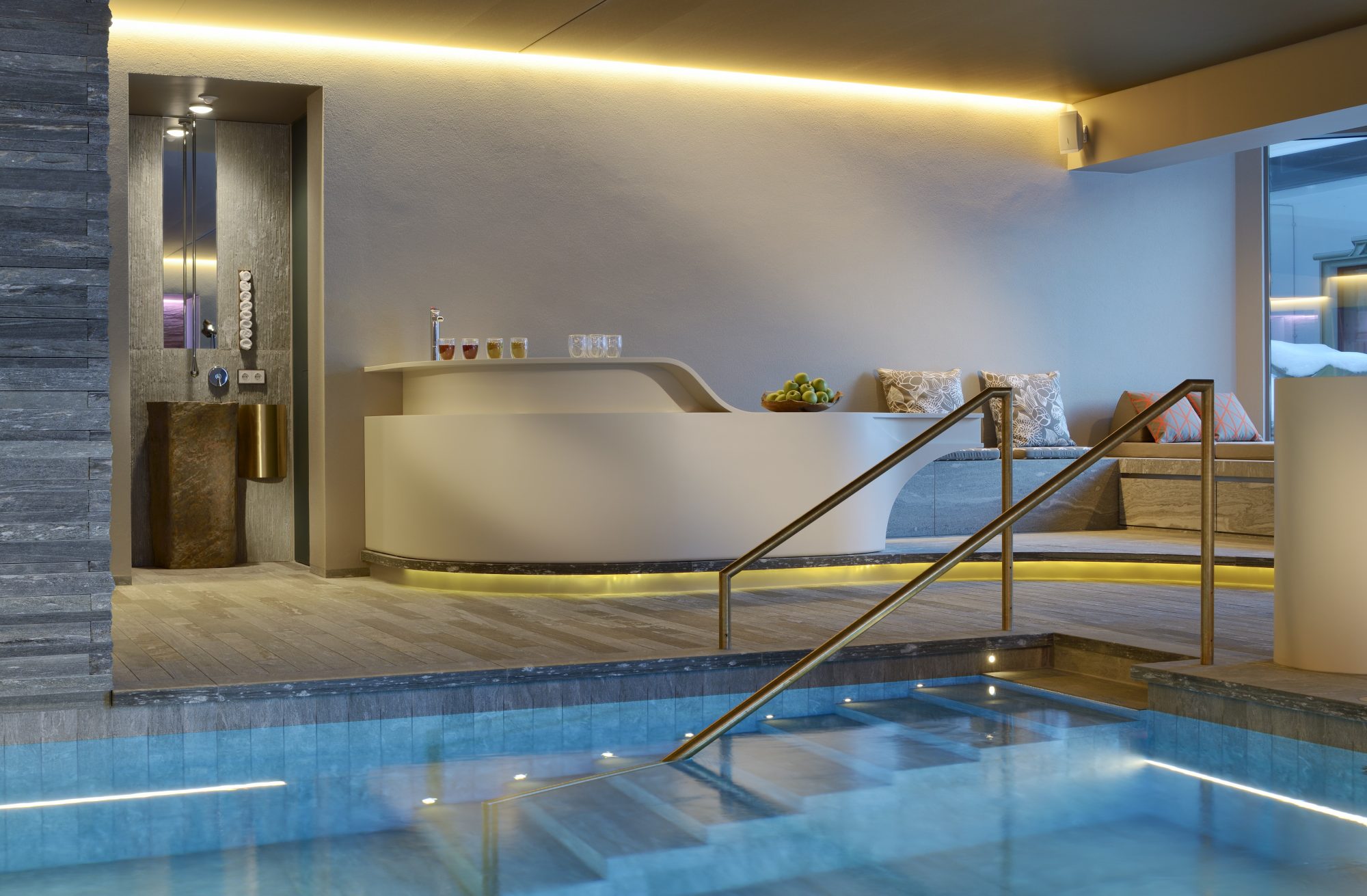 The spa has various treatment rooms, an indoor pool, a spacious sauna and steam area, a yoga studio and gym and several relax lounges.
Book your stay at the Hotel Arlberg Lech
Hotel & Chalet Aurelio – a 5* Superior hotel, located a bit up from the main road, it has a chalet ambiance. It just was awarded "The World 's Best Ski Boutique Hotel 2018".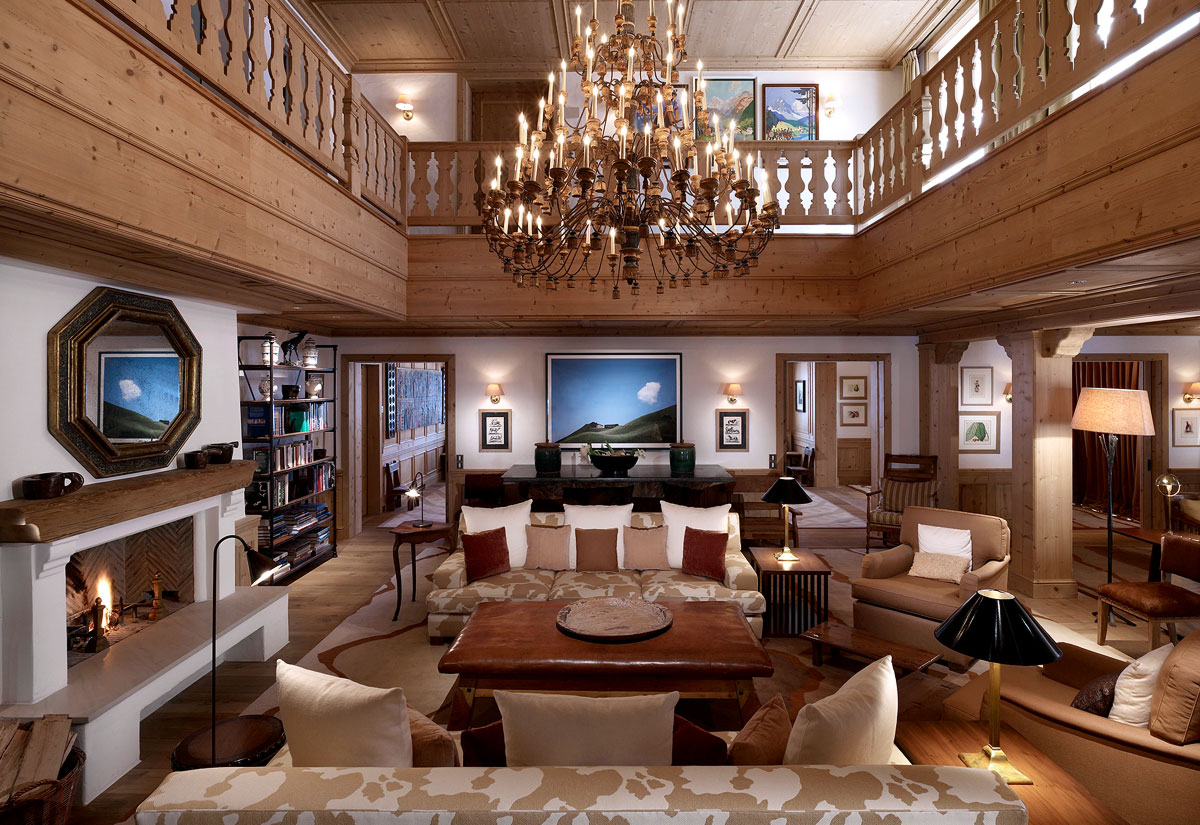 The hotel has rustic chic wood panelled rooms with lovely balconies towards the mountains.
The hotel is connected to the Chalet, that can be rented up on its own for up to 16 people.
The thermal suite features sauna cabins, aroma salt steam rooms, herbal baths, vital sensory showers, cooling down experiences, a snow atrium, relaxing areas and a vitality bar stocked with fresh fruits, teas, and healthy snacks. There is also a fitness area and an indoor swimming pool of 23 meters.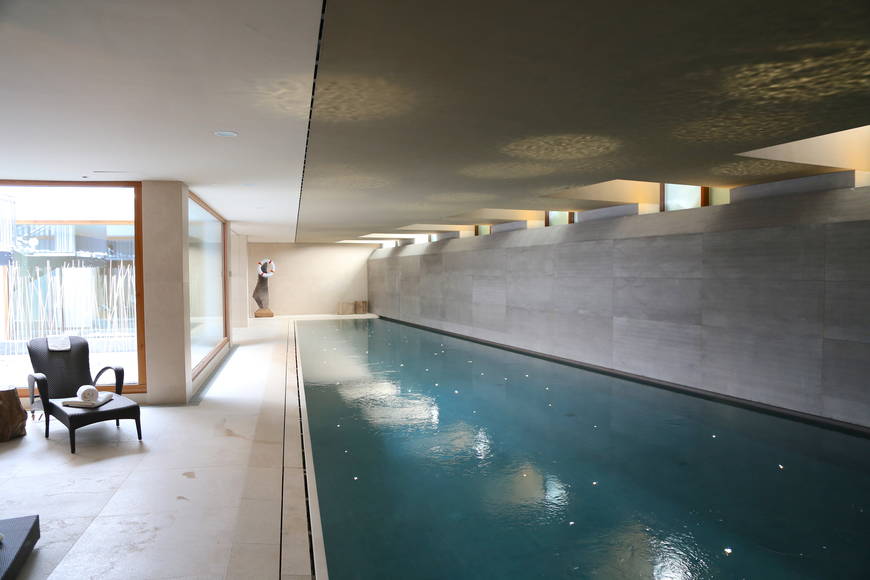 The Chef de Cuisine Christian Rescher and Markus Niederwanger have been awarded 17 points Gault Millau.
The restaurant Aurelio's offers lunch dishes or a little snack in the restaurant or the sun terrace.
The Gourmet Restaurant Aurelio's offers an à la carte menu of traditional and modern Austrian and International dishes.
The sun terrace offers lunch and drinks with stunning views of the mountains.
Book your stay at the Hotel & Chalet Aurelio.
Almhof Schneider – opened since 1929. Its owner, Gerold Schneider, a fourth-generation hotelier is in all the details. Sophisticated décor, wood-panelled rooms and Alpine charm oozes everywhere. With a new spa reopening this season, using bush hammered and sanded Austrian limestone in all water-exposed areas. The dry areas are made of oak: floors, ceilings and walls. The Spa has a palestra and a gym- a fitness room and a room for yoga, Pilates, etc, and a relaxation space with a crackling fire.
A smoker's and billiard lounge with low-lit atmospheric lighting; a library which can be used as a meeting room; a cinema in the ground floor; a state-of-the-art children care and playrooms for teenagers; this is heaven for those families that want to be sure that their little and not-so little ones are well-cared for in a safe environment. Kids can eat in the library at the end of their day and not have to stay still during their parents' long dinners.
The vinotheque has more than 25,000 bottles of European wines, curated by Josef, Almhof's longtime head sommelier and "Sommelier of the Year 2018" (Gault Millau).
Book your holiday at the Almhof Schneider.
Burg Vital Resort – a 5* Superior hotel located in Oberlech focused in the wellbeing and nutrition of its guests. Rooms and suites are furnished with natural materials and with great attention to detail. Wood paneling walls with lovely soft furnishings are found all over the hotel.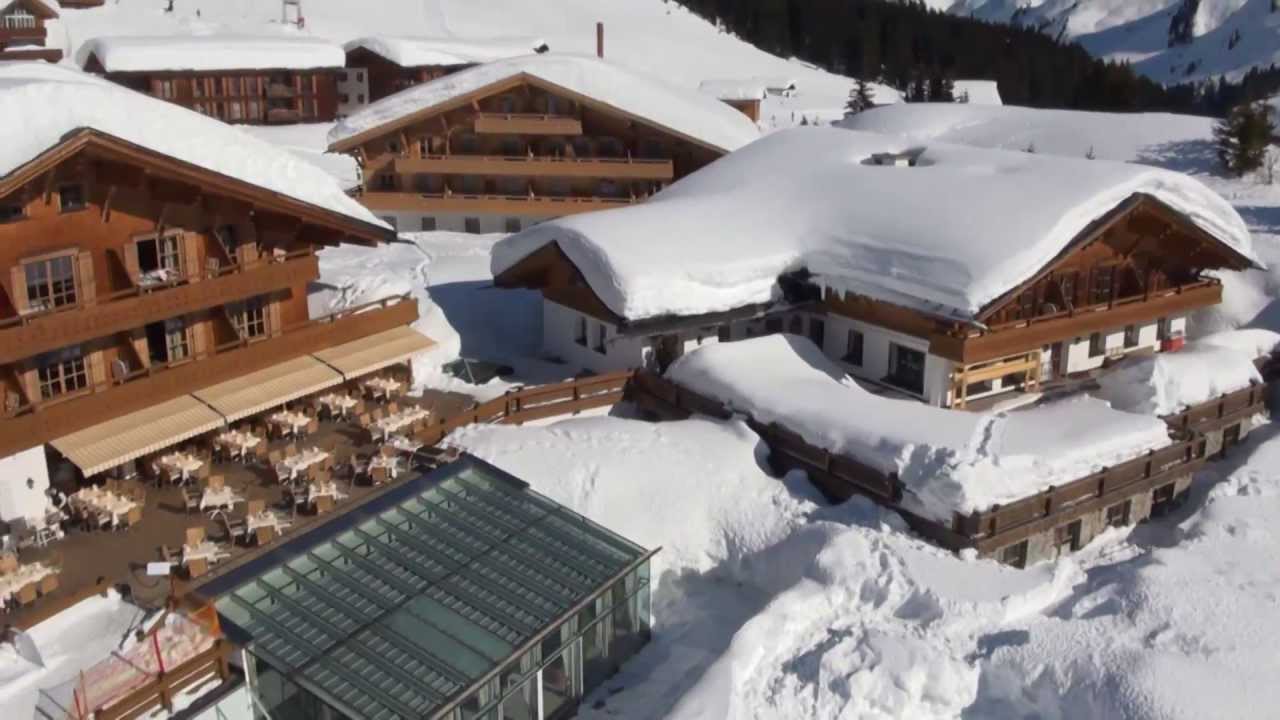 Executive Chef Thorsten Probost uses natural finished products, herbs and spices to combine a culinary trip with his precious knowledge of medical and nutritional science.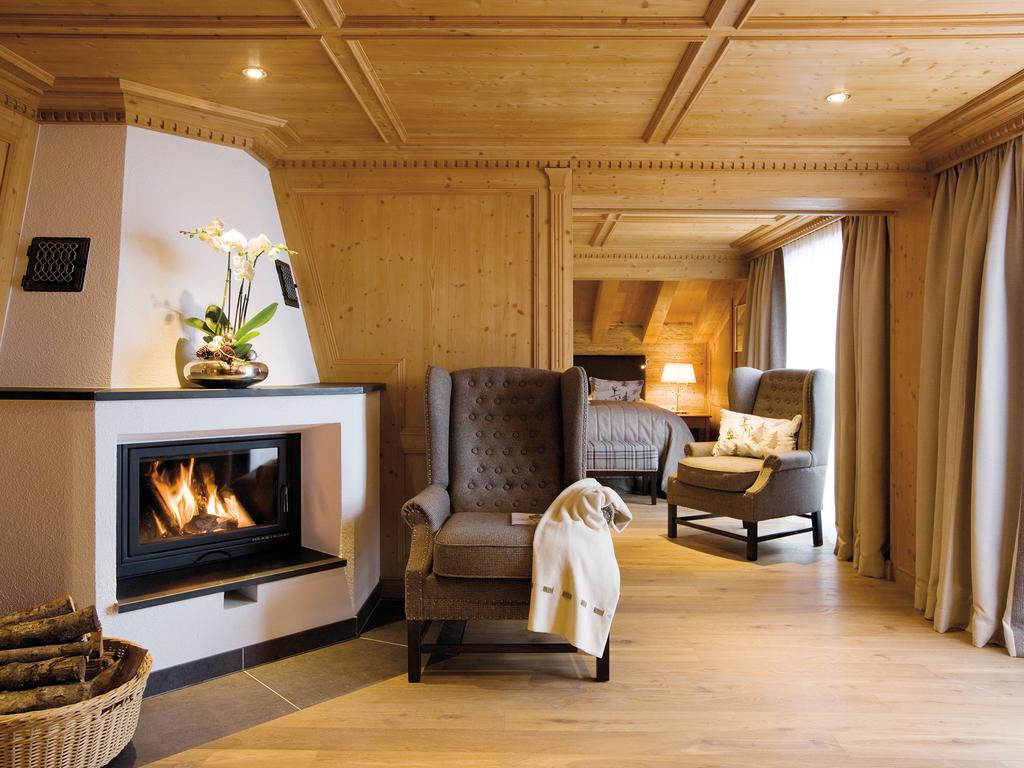 Indoor and outdoor pools, a modern gym with state-of-the-art exercise machines, resting rooms, Finnish block sauna, herbal sauna, steam bath, Clay House, Open-air room, Sole Flotation tank and Himalayan soft sauna are some of the things you can enjoy in this magnificent spa.
Book your stay at the Burg Vital Resort.
Romantik Hotel "Die Krone von Lech" – 5* – The hotel has been in the records since 1741, being a lodge for travelers tackling the then arduous route over the Arlberg.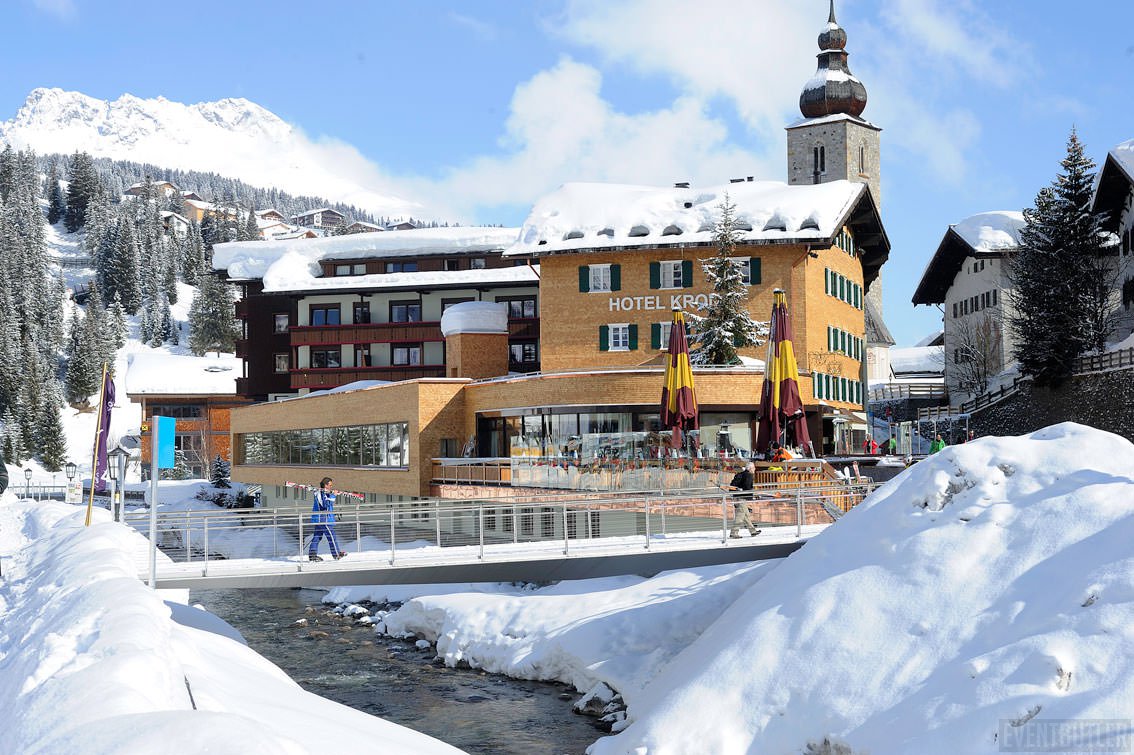 The Pfefferkorn family has been running this hotel for five generations. Its location ski in/out is great and it's one of the après-ski special points for all those who want to see and be seen having a great time and sharing their anecdotes of the slopes.
A spa of 1200 m2 offers a pool, sauna area, gym and superb treatments.
There is a choice of three restaurants – the Panorama Restaurant (for hotel guests only); the à la carte restaurant "Der Runde Saal" and the Krone Stuben. There is also a Café Terrace, an Ice Bar, a bar, a Cigar lounge and a wine cellar. The hotel's gastronomy has been awarded 2 Gault Millau toques, 3 stars, 85 points in the à la Carte Gourmet Guide and 3 forks and 92 points in the Falstaff Gourmet Guide.
Rooms with nice classic décor, some with views to the pistes, and some have been refurbished looking a bit more modern cozy-chic style.
Reserve your holiday at the Romantik Hotel Krone.
Hotel Montana Oberlech – a 4* Superior from former ski racer and champion Patrick Ortlieb and his family in the sunny plateau of Oberlech. It is a favorite for families that choose it for its ski in/out location and the easiness of having everything at your feet.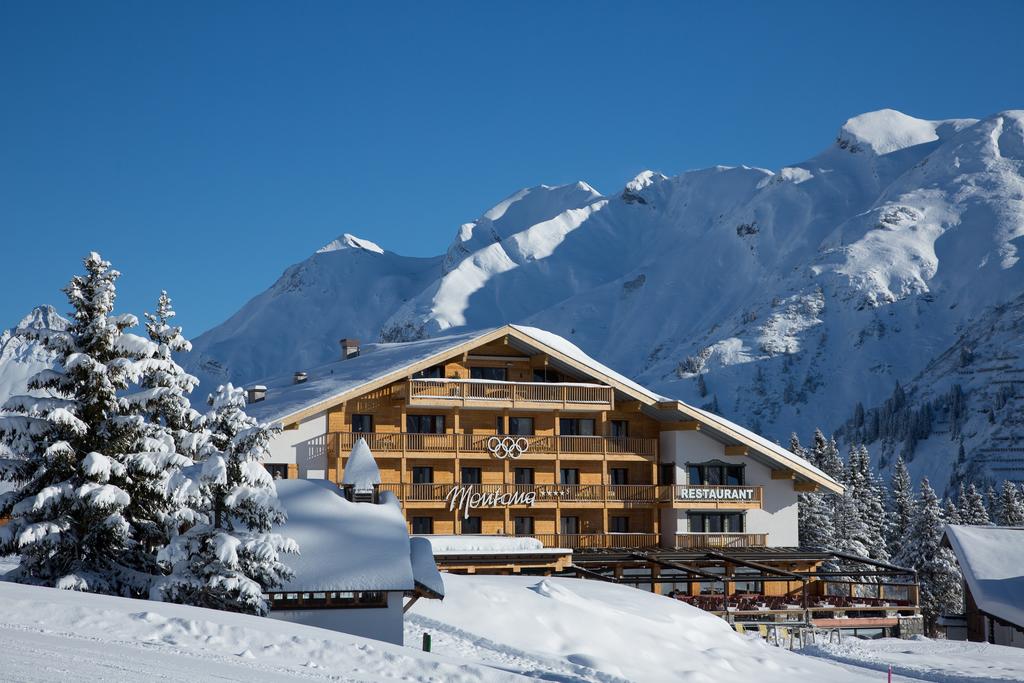 47 Cozy rooms and suites and also a chalet 20 meters away connected to the hotel that offers spacious hotel apartments.
A lounge area and bar are the place where to have an aperitif. The sun terrace invites you to lounge in the sun and have a long lunch to recover your legs before going back to ski!
The spa offers Sauna, Solarium, infrared cabin, salt steam bath, Kneipp (naturopathic) facility, a swimming pool, fitness room and massage. The hotel offers child care in the Oberlech Kinderland.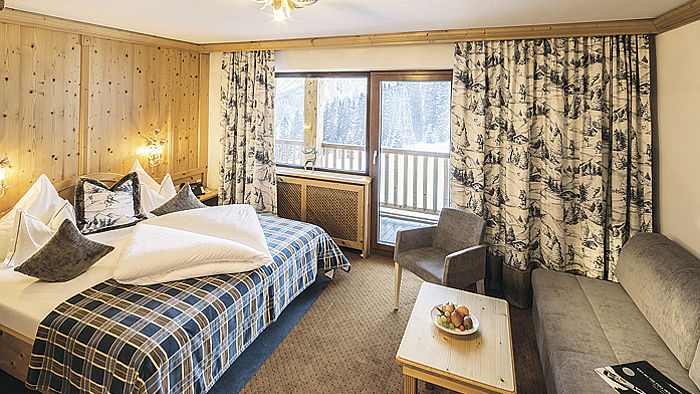 Book your room at the Hotel & Chalet Montana in Oberlech.
Der Berghof – A 4* Superior hotel located tucked in just off the main road in Lech, with amazing views of the Omeshorn – this hotel has a very renown bar – which serves out-of-the-box drinks with a kick, and an excellent restaurant under the eye of Chef Gerhard Spanring. There is also the quaint "Berghof-Stuebe", the Sun Terrace and the Lounge.
The hotel is a boutique hotel, under the supervision of Isabelle and Stefan Burger, with beautifully decorated rooms with lovely colour palettes, a state-of-the-art spa with biosauna, Finnish sauna, "Schwitzstube", Steambath, Infrared cabin, cold water basin, footbath and a solarium.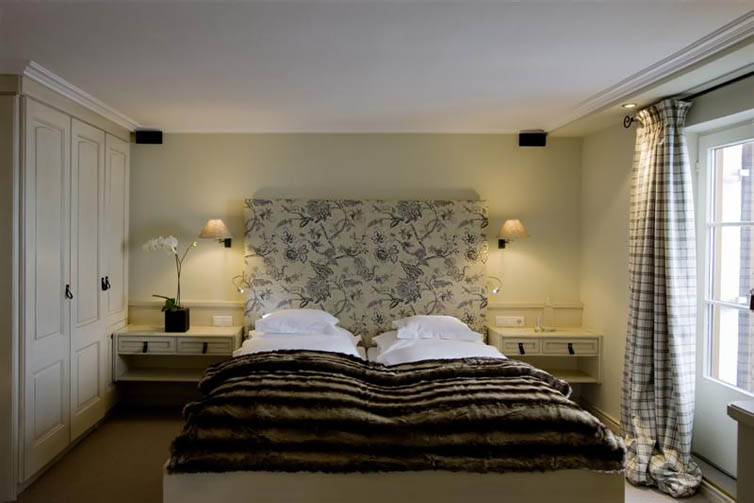 It has a beginner's surface lift next to the hotel for those taking their first steps on the snow.
Book your stay at Der Berghof.
The-Ski-Guru TRAVEL can organise your bespoke trip to Lech, and all other locations, including booking your Eurotunnel trip, lodging, lift tickets, rentals, ski school, and all you need for an excellent vacation. Go to https://www.the-ski-guru.com/travel and upload your information. Or you can check our accommodation search tab and see lots of hotels and self catering options to choose from.
If you fancy staying in the Italian Alps by the Mont Blanc, I have a ski property for rent when not using: Il Cuore della Valdigne in Morgex, just outside Courmayeur
Being in the middle of Morgex, just 10' outside Courmayeur, 3 minutes from the Pré Saint Didier terme (natural hot springs) and 20' from La Thuile, and to the other side, 25' to Aosta and the gondola of Pila, the chalet is located in a great strategic location for going skiing, cross country skiing (in Arpy, Val Ferret or Cogne), mountain biking, snow shoeing, winter walking, white water rafting and relaxing in the hot springs.
The apartment has two bedrooms and two bathrooms with showers in two floors, a living room with a double-sided chimney that also opens to the dining room. The wooden kitchen with the slate kitchen top is a delight, with all you need if you fancy doing a big meal. If you don't, no worries, you are a stone throw away from many bars and restaurants in Morgex: Mont Blanc Café, Café de l'Archet, La Locanda, Trattoria da Bepe, and if you fancy something much more deluxe, the renown Casa Quinson, all within two blocks from the apartment.
The apartment has a garage box for one car, it can be a high car with a roof box but is a bit tight. Our C4 Grand Picasso makes it in just!
This apartment is for four, but can accommodate up to 6 passengers, with one extra bed on the double twin bedroom that can be pulled out, and a sofa bed in the living room.
It has lovely details as lots of wood and stone, the roofs of the living room and kitchen and shower room in the first floor are made of pan-de-bois, and the ones of the second room have lovely beams.
It is located 200 m from the bus stop to Courmayeur, Pré Saint Didier and La Thuile and 100 m from the bus stop to Aosta/Pila.
If you want to holiday in this home, click here.
View on Airbnb  Il Cuore della Valdigne in Lo Ponton
You can start thinking about your trip, by reading the articles on the Planning your Ski Trip tab.  Or how to pack for your family ski trip.  If taking your furry friend abroad to the continent, read about the new Pet Travel Scheme update from DEFRA. Or our last news on equipment as seen at the London Ski Show. Also, the new range of skis of Black Crows, one of our favourite brands. Lots of snow makes you wonder how the resorts deal with the avalanche danger. Here you can read the interview to Coco Torres, former Head of Operations of Las Leñas, in Argentina, as how they dealt with avalanches at the resort. 
Or perhaps you may choose to read the Ski Resort News, Ski Passes News, and the Must-Read Guides to Zermatt,  Courmayeur, Val di Fiemme and Crans-Montana. Coming soon will be the guide to St Anton. Or  watch an amazing heli flight over the Mont Blanc Massif. Also see tips on how not to be scammed when booking a ski chalet.
You can also read what's new at Les Trois Vallées and the last article on what is new at the Tirol ski areas,  in 3 Zinnen Dolomites ,  in Adelboden, Lenk and Kandertal, in Gstaad, in Chamonix,  in Georgia's Gudauri Resort and in the Skicircus Saalbach Hinterglemm Leogang Fieberbrunn. And how the US Ski Team has chosen Alpe Cimbra to train for the following four ski seasons as their European home. And Saalbach is getting ready for the Ski World Cup.
Or check how Cairngorm Mountain might not run its funicular this coming season and how that can affect the region. And the terrible storms and gails that provoked havoc to Trentino Alto-Adige and Belluno provinces in Northern Italy.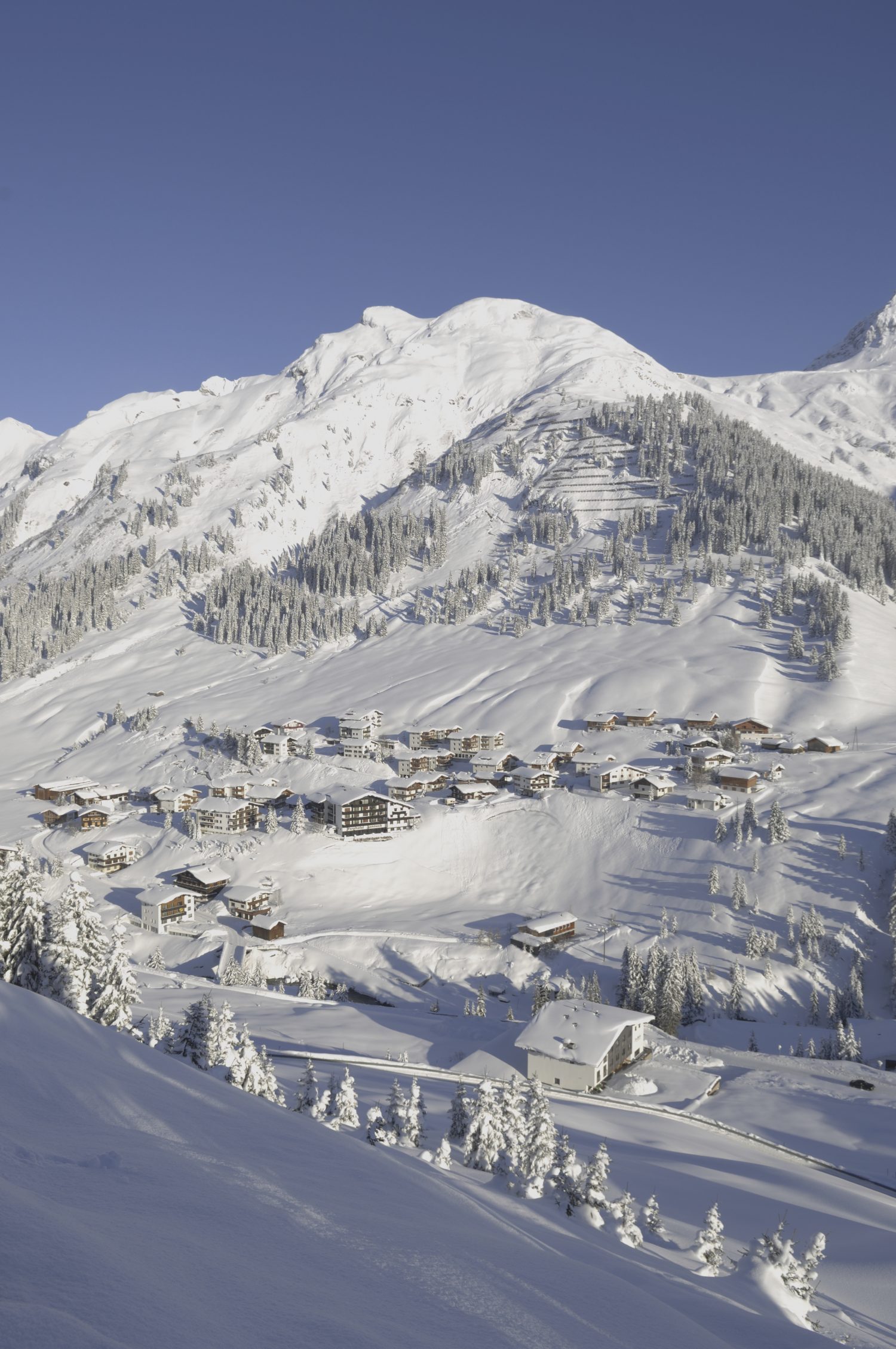 Cortina D'Ampezzo is getting ready for this winter and the 2021 World Ski Championships.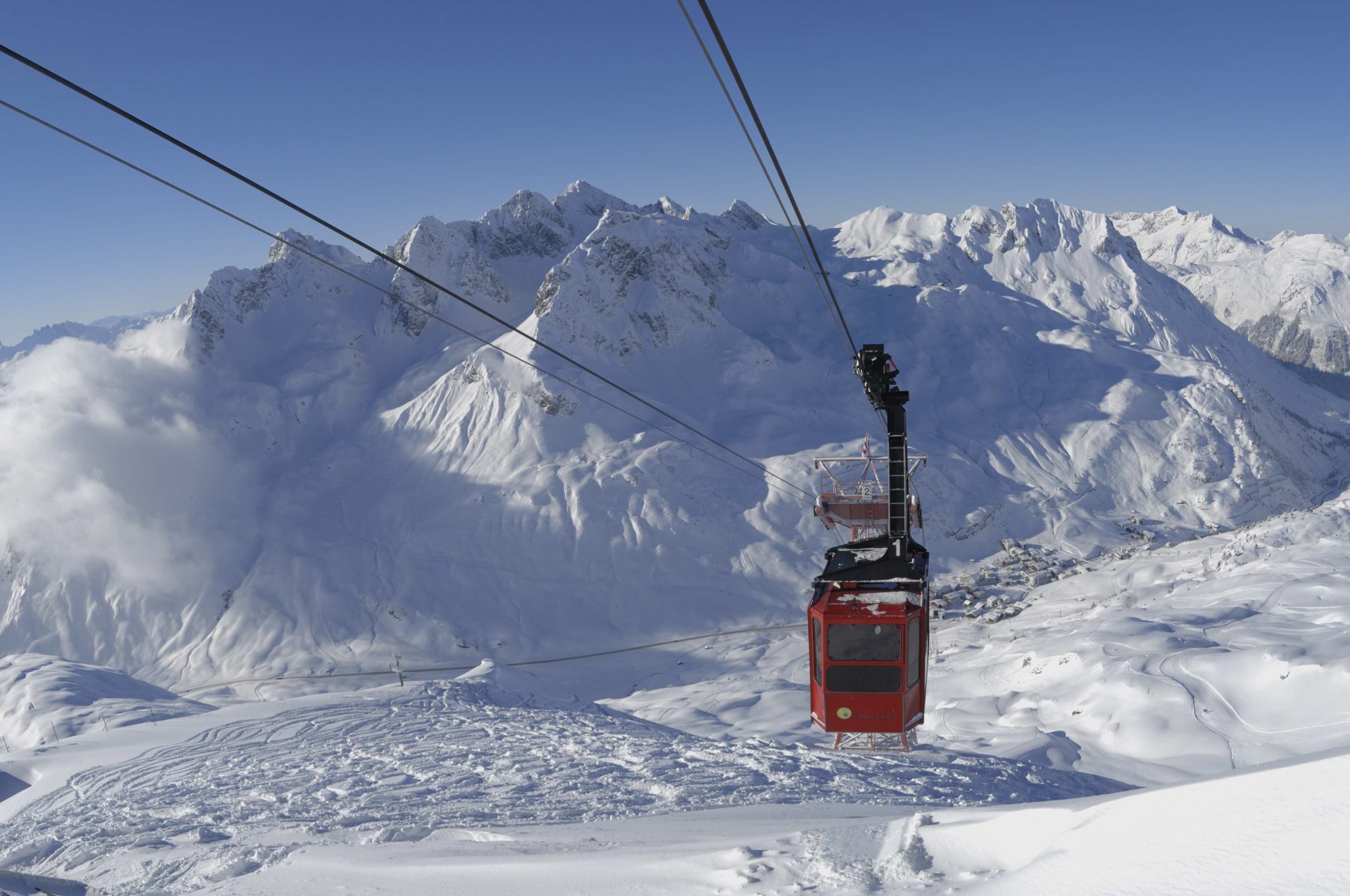 If you want to salivate and think of snow, see our snow report from last weekend here. Or see how Aspen Snowmass has started its snowmaking operation.  Aspen Mountain has already opened, as well as Snowmass Mountain has opened on Thanksgiving day. Sierra Nevada has also opened this weekend with the best snow base ever in its history.
You can keep up to date on how are the sales for the EPIC and IKON passes are doing here. Read how Emma, the first Digital Mountain Assistant, is launched in Keystone now and will be rolled to eight other resorts this season. And even read about the new incorporation to the IKON Pass: Valle Nevado. Here is also a post on the South American resorts.  
Or check out how now with the EPIC Pass you can ski in Europe, specifically in Les Trois Vallées and the resorts of Skirama Dolomiti in Trentino's Italy. Or see our review of L'Héliopic Hotel Sweet & Spa if thinking in staying in Chamonix this winter.
Featured Image: Lech Zürs Tourism – Arlberg. Photo by Sepp Mallaun. Must-Read Guide to Lech. 
Please follow and like us: