Snow Cracks in the Central Zone of Chile: "This is a situation that should not be overlooked"
From Avalancha Sport
One of the postcards that alarmed all lovers of the mountain were the cracks that appeared in some sectors of the central zone of Chile where users in social networks recorded this event that can cause an avalanche.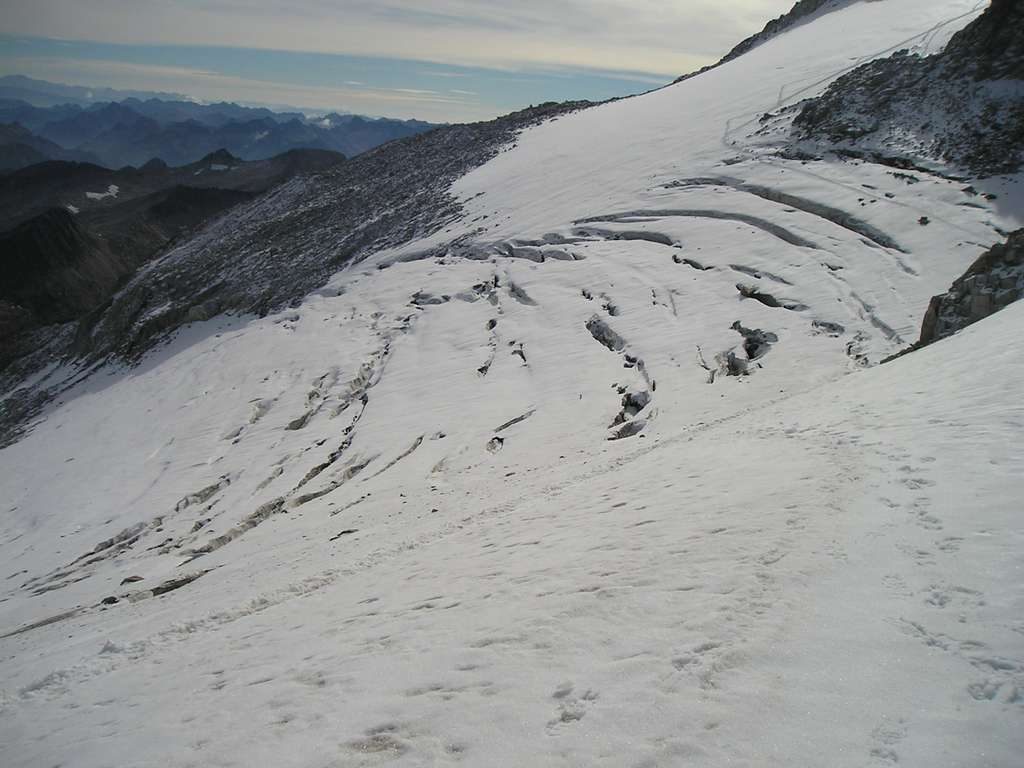 In this context and after this situation, Avalancha Sport spoke with Diego Pizarro, Mountain Risks Specialist and Instructor of snow and avalanches of the National Association of French Snow Studies (ANENA), who said that this phenomenon is not unusual at the beginnings of the season.
"My impression is very likely that this happened because there was an intense rainfall with little wind and very low temperatures during that period," he began.
"Regarding the fracture observed in the registry, it shows a delicate situation that should not be overlooked. Cornice cuts originated spontaneously or naturally in general are unusual and have to occur more towards the end of the season, so having these observations less than a month into the season is an additional warning signal ", he added.
Regarding the dangers that may exist, the specialist noted that "in this case it should be that the cornice does not collapse on its own or by human intervention in the coming days or weeks," warning that "with a new snowfall the registry of this fracture might be covered and in the future it will be more difficult to manage the risk ".
About what should ski resorts do when having these types of anomalies within their areas, Diego Pizarro, recommended that "we must sectorize the area as soon as possible, use Colihue beacons and a rope that can be quickly zoned. In addition, we should disseminate a delimitation alert on the danger area ".
"Then a follow-up and ideally a good record of it that will help predict an increase or decrease in the IRA (avalanche risk index) in the area. Also have the IRA to inform the community about the evaluation of snow conditions so they can continue enjoying skiing in a better and informed way," he added.
The snow expert delivered recommendations to be able to go out and enjoy the freeride. "Skiers and riders have to always be alert to signals, avoid ground traps, always carry rescue equipment and know how to use them; avoid small groups (less than 3) and very large (more than 5), inform yourself before choosing the terrain to ski or ride and have plan A, B and C".
More information: Avalancha Sport
You can read the day up skiing to Valle Nevado by our pro skier Chino Martinez. If interested in climate change, see how it has 'helped' only for now some resorts in North America. And does the snow in resorts on the Northern Hemisphere correlates with that on the Southern Hemisphere? You can see our South American long-range snow forecast from SnowForecast.com.
You can search for your own accommodation in the snow for your next ski holiday through our Accommodation Search tab.
The-Ski-Guru TRAVEL is a CONCIERGE service that can help you organise your bespoke ski trip to the Americas, Alps or Japan, including for those going from Britain to Europe, helping you book your Eurotunnel trip, and for all trips: lodging, lift tickets, rentals, ski school, and all you need for an excellent vacation. Go to https://www.the-ski-guru.com/travel and upload your information – this page will be updated soon with more travel ideas. Check our amazing Ski Safari in the Dolomites , stay at the San Lorenzo Lodge White Deer in the Val Pusteria of Sudtirol, in the Hotel Petrus in Riscone, for skiing Kronplatz, or check our offer to Obergurgl-Hochgurgl and Sölden to ski with your family. Maybe you want to come on my group to ski with other like-minded skiers in Courmayeur in January 2020, staying at the Gran Baita hotel?
You can start thinking about your trip, by reading the articles on the Planning your Ski Trip tab.  Or how to pack for your family ski trip.  If taking your furry friend abroad to the continent, read about the new Pet Travel Scheme update from DEFRA. Self-drive skiers also need to plan for Brexit. Check out our tips for driving to the mountains.  If flying and renting a car in Europe, beware of the extra charges they will pass to you if you want winter tyres, snow chains or ski racks. If driving, check the winter tyres news for Europe and North America. You can see how our last family ski holiday was not as expected, even though one plans it to be a success, but how we could do the most of it. If you want to get better before getting to your next ski holiday, here is a quick guide to indoor skiing and dry slopes in the UK.
Featured Image: Snow cracks. Photo: Anders Jilden. Unsplash. Snow Cracks in the Central Zone of Chile: "This is a situation that should not be overlooked."
Please follow and like us: