A Day Trip to Valle Nevado from Santiago City
HURRAY!!!!! Finally the wait for winter has finished. Valle Nevado is OPEN!
Report by Chino Martinez – Professional Skier
Saturday 29th June, 2019
After weeks of waiting for our best part of the year  – YES! 'WINTER" has arrived!
As a ski fanatic living during the winter in Santiago City, what I do all day is look up at the mountains and check how much snow accumulation there is on top!
From Santiago you can see the top of all the ski areas, and at this time of the season, we all get nervous about when we are going to start skiing and where, first!.
From the city to the ski areas you can drive up early morning in one hour or less, if you do so before hitting traffic jams. You will need a 4WD car with winter tyres and/or chains onboard.
I received a phone call from Pablo on Friday evening telling me to get ready as we were going to go up the next morning and were all set, 4WD truck, chains, cameras, drone, filmaker- we were ready to go!
6:45 am on the Saturday and we were ready to go.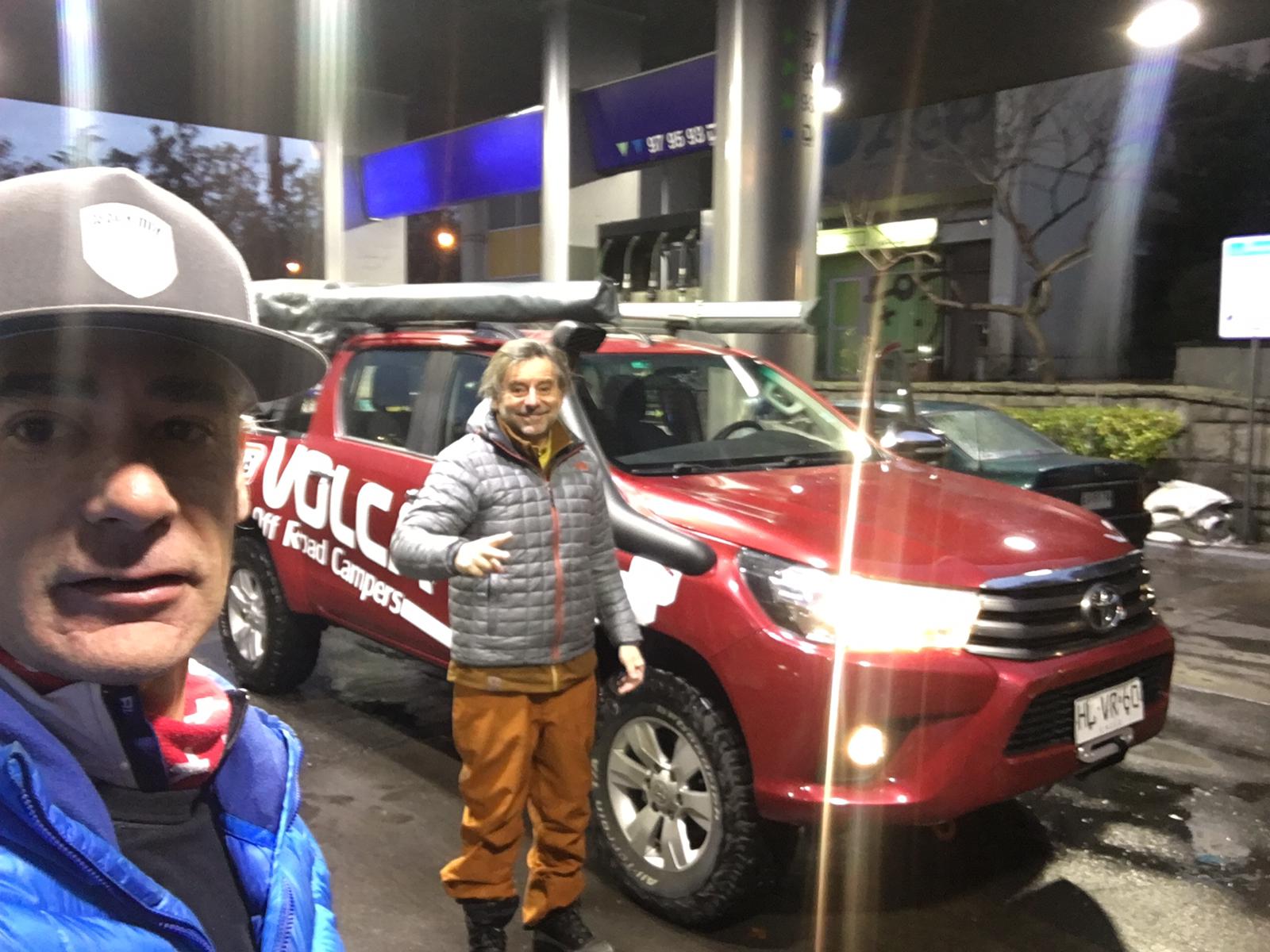 We've started our trip to Valle Nevado with Pablo, the driver, Xavier, the film-maker, Roberta the TV show presenter and myself – the skier.
The road up was not in good shape as we had a storm the night before during all night and lots of rain came down the city. It was at 1.500 m of altitude that we started to see some snow.
Early morning traffic was not that bad, we started with a dark and rainny night in the city but as we are climbed up the turns, we found better light but more snow.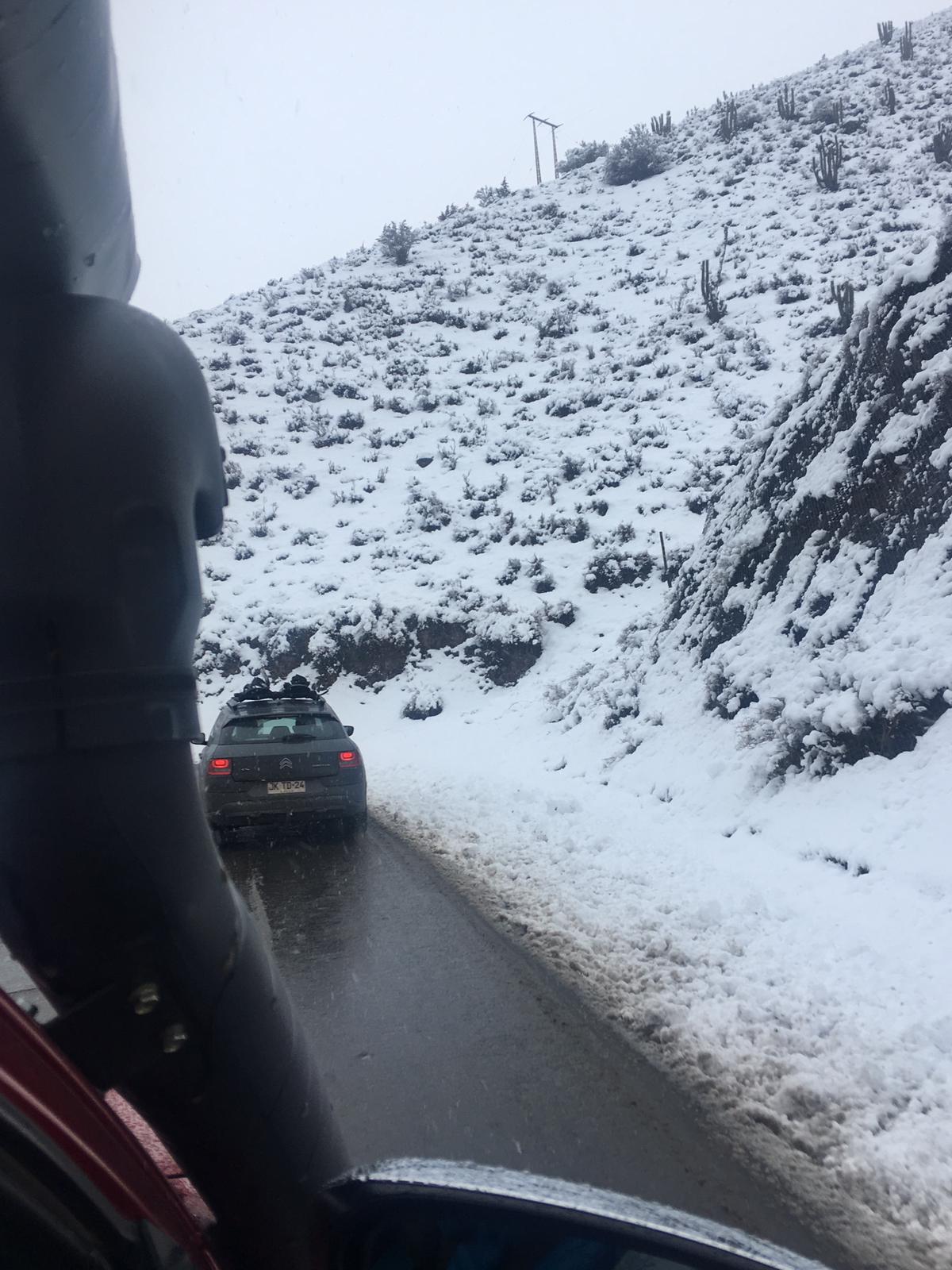 From Santiago to the first little town of Farellones you have to negotiate 40 steep switchback turns.
Once in Farellones you take the only road that takes you to Valle Nevado where you find more steeper turns!
SNOW SNOW SNOW, at this time all you can see is white and rocks, no more trees, as the treeline was left down. A storm was on its way.
From Farellones you have to start counting more curves – starting again from number 1 to number 30 hairpin very steep turns.(see the sign Curva 1 Altitud 2400 m.)
By then you understand how high you are because your ears start popping and your head starts feeling it.
There is a great sky is on its way, good snow but a little stormy!
A couple of more turns and we found a big sign saying "ABRIMOS! VALLE NEVADO WE ARE OPEN".
Almost there! You can tell because the snow accumulation is nice and there is powder snow all over, big machines working on plowing the road for cleaning the last turns all the way to the Hotels.
The next sign says: "Valle Nevado Altitud 3000m", YEAH we are up there!
The first hotel you can see when arriving is the Puerta del Sol hotel with the typical architecture of Valle Nevado, brown wooden walls up to 18 floors. The ski resort was designed by the same people that made Les Arcs.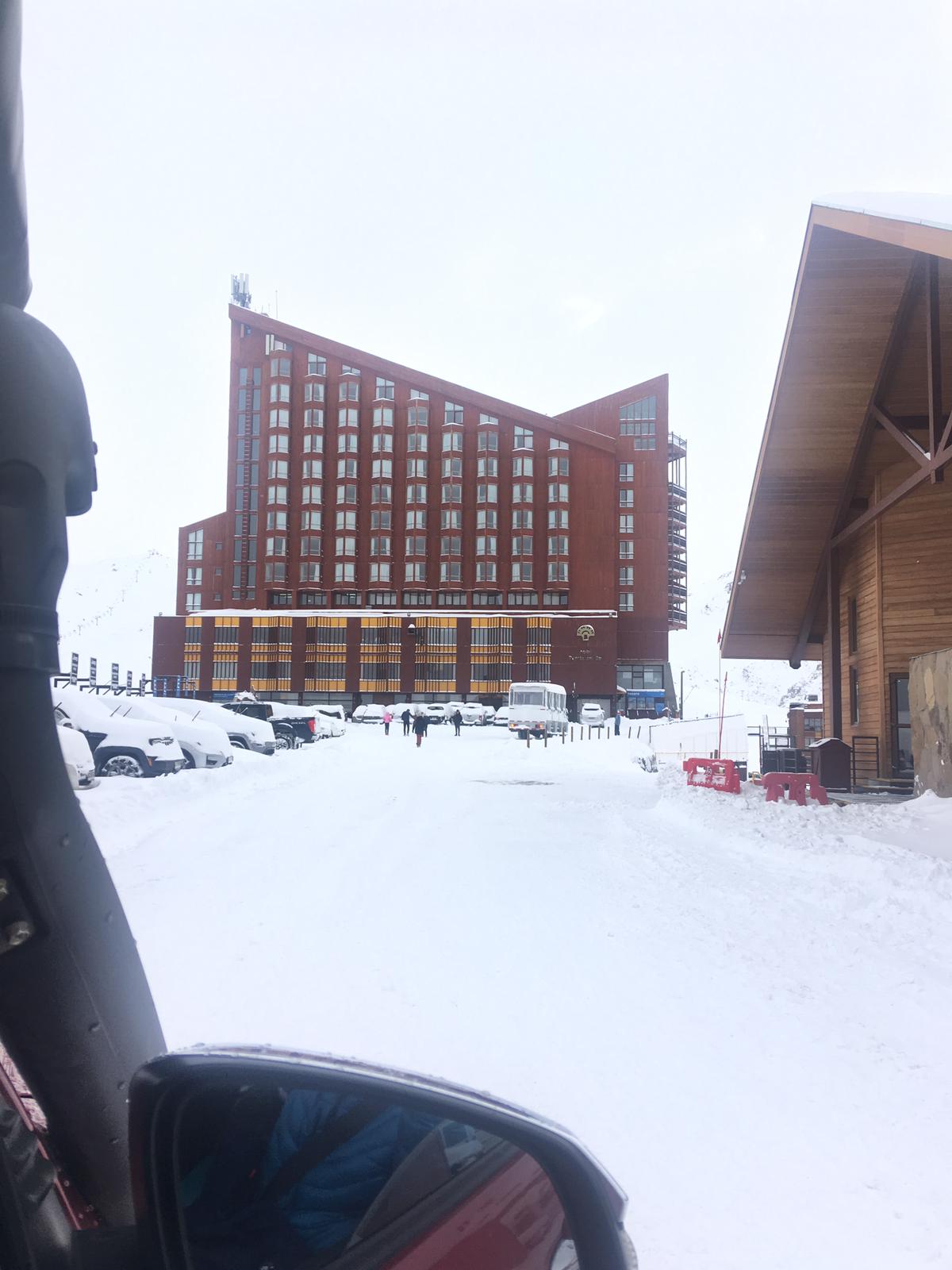 Before starting our day skiing and filming, we went to warm up to La Leñera, a very nice place to have a morning coffe and scrambled eggs. It has a very rustic feeling and a great atmosphere.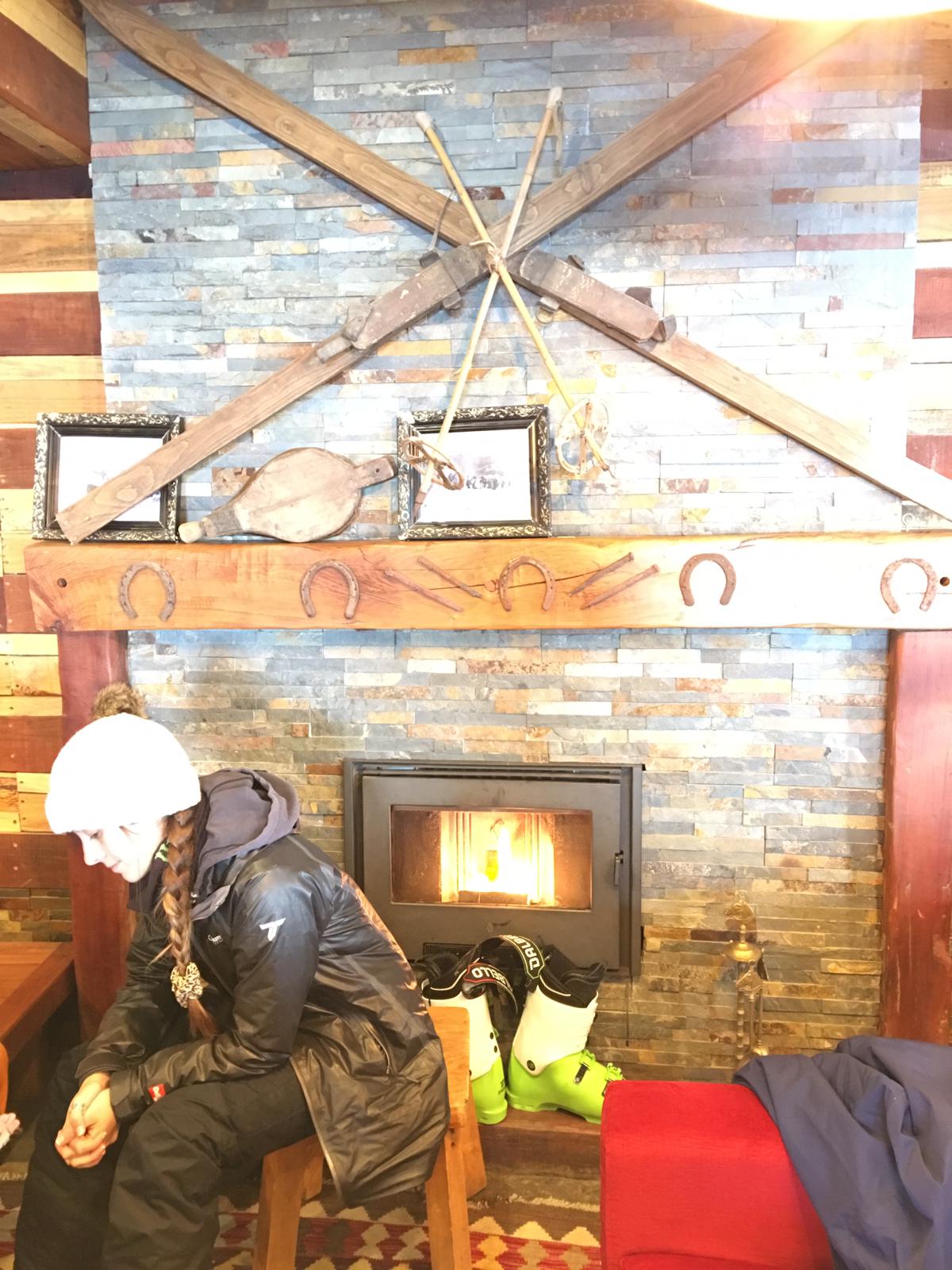 By 8:45 we were ready to go skiing and film some of our great runs down the slopes.
The mountain is not 100% open, but it will be soon. We had snow coming down all day, and the four of us were happy skiing all day long.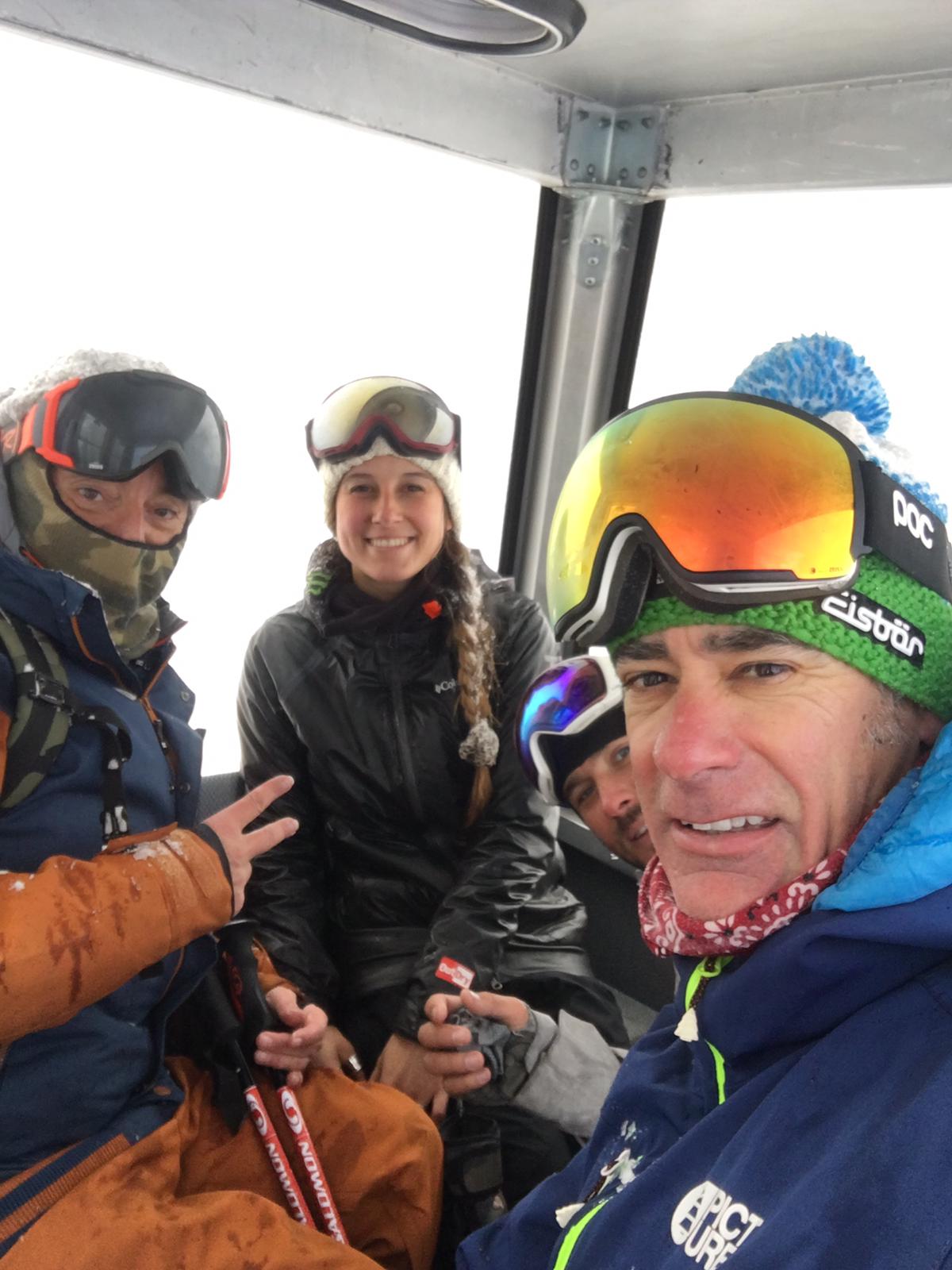 We have been skiing most of the day on the lower part of the mountain due to high winds and the big snowstorm.
By 4 O'clock we were all ready to go home and happy campers!!!
Thanks Valle Nevado for a great day!
For getting Chino Martinez to guide you to your next ski adventure, visit White Trips. 
For a bit more on South American Resorts click here. Here you can have some tips on Driving to the Mountains. This past weekend also Chapelco and Cerro Catedral have opened.
You can search for your own accommodation in the snow for your next ski holiday through our Accommodation Search tab.
The-Ski-Guru TRAVEL is a CONCIERGE service that can help you organise your bespoke ski trip to the Americas, Alps or Japan, including for those going from Britain to Europe, helping you book your Eurotunnel trip, and for all trips: lodging, lift tickets, rentals, ski school, and all you need for an excellent vacation. Go to https://www.the-ski-guru.com/travel and upload your information – this page will be updated soon with more travel ideas. Check our amazing Ski Safari in the Dolomites , stay at the San Lorenzo Lodge White Deer in the Val Pusteria of Sudtirol, in the Hotel Petrus in Riscone, for skiing Kronplatz, or check our offer to Obergurgl-Hochgurgl and Sölden to ski with your family. Maybe you want to come on my group to ski with other like-minded skiers in Courmayeur in January 2020, staying at the Gran Baita hotel?
You can start thinking about your trip, by reading the articles on the Planning your Ski Trip tab.  Or how to pack for your family ski trip.  If taking your furry friend abroad to the continent, read about the new Pet Travel Scheme update from DEFRA. Self-drive skiers also need to plan for Brexit. Check out our tips for driving to the mountains.  If flying and renting a car in Europe, beware of the extra charges they will pass to you if you want winter tyres, snow chains or ski racks. If driving, check the winter tyres news for Europe and North America. You can see how our last family ski holiday was not as expected, even though one plans it to be a success, but how we could do the most of it. If you want to get better before getting to your next ski holiday, here is a quick guide to indoor skiing and dry slopes in the UK.
Featured Image: A Day Trip to Valle Nevado from Santiago City. Photo: Valle Nevado on a beautiful night. 
Please follow and like us: