The avalanche risk due to massive snowstorms have again prevented the access by road and rail to Zermatt ski resort. SWI – swissinfo.ch informs that Andermatt and Davos are also affected.
The police of Valais has asked everyone not to travel unless necessary in its territory. The Insitute of Investigation of Snow and Avalanches had elevated the danger of avalanches to the maximum level (5 "very high") in all the north Cordillera of the Swiss Alps. A combination of very heavy precipitations and winds up to 130 km/h in the mountains have created a very insecure scenario for travel.
In the low lands, very big precipitations have considerably increased the risk of flooding and mudslides.
If you need to travel in the mountains, you can check our tips here.
The risk of avalanches (in the picture black and red, is level 5, the maximum) by this morning.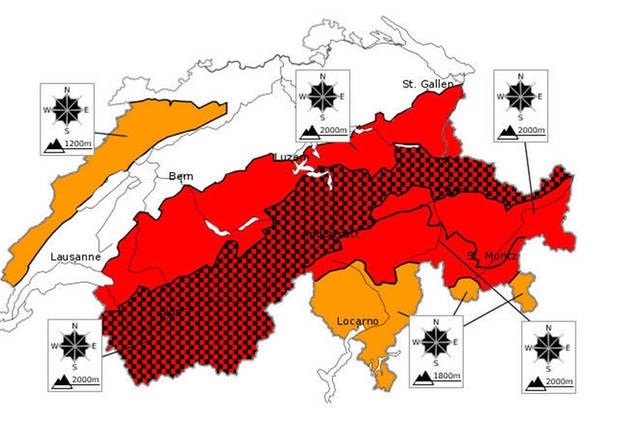 Now is not the time to go skiing off-piste please – you can check another grim article we covered on avalanche deaths in this region in Switzerland here.
Continue reading "Zermatt, Andermatt and Davos affected with massive snowstorms."