Zermatt's latest attraction, the "Matterhorn glacier ride", is set to open at the end of September. The world's highest 3S cableway, combining the ultimate in design sophistication with maximum comfort, will serve Europe's highest cableway station. The new 3S cable car ride built by LEITNER ropeways will enable visitors to reach the Klein Matterhorn, a popular destination for excursions, 365 days a year. The making of the "Matterhorn glacier ride" is a story as extraordinary as the ride itself. A total of 38 companies from Switzerland and Italy have been involved in Zermatt Bergbahnen AG's largest-ever construction project. With the project due to be completed in an incredible 600 working days, they are turning the vision of the "Matterhorn glacier ride" into reality.  Zermatt Bergbahnen AG and LEITNER ropeways worked together with Swarovski to produce a very special premium product: a state-of-the-art ropeway technology in Pininfarina design meets premium crystal finishing, and provides an as-yet unrivalled level of finishing and design.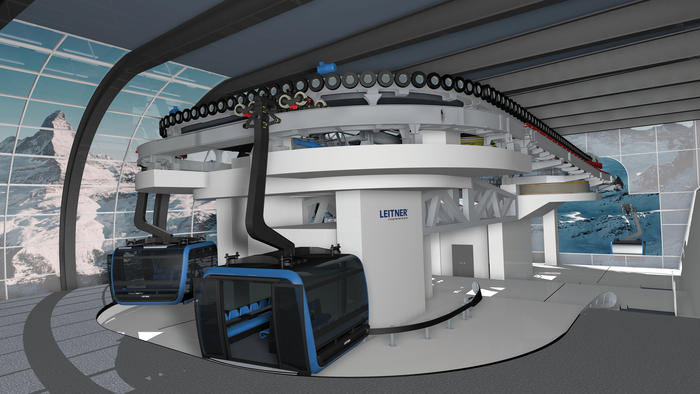 Europe's highest construction site
145 people from 38 different companies have been involved in the biggest construction project in the history of Zermatt Bergbahnen AG. From September 2018, the 3S (three-cable system) cableway will transport up to 2000 passengers an hour to Matterhorn glacier paradise (Klein Matterhorn) – 365 days a year.
The Klein Matterhorn usually has daytime temperatures as low as minus 30 degrees, wind speeds reaching 240 km/h, heavy snow and dense fog.
Continue reading "Leitner presents the "Matterhorn Glacier Ride" the world's highest cablecar, located in Zermatt designed by Pininfarina and showcasing Swarovski crystals."