The Mad Rush of the Last Days to get out of Britain in Time before Lockdown
What a couple of days.  As Omicron made its way with exponential vigour in the British Isles- more so in England, and Boris Johnson was saying that a tidal wave of infections were looming upon us, all European countries started to freak out and make it more difficult- if not impossible, to travel for Christmas. Therefore, we had a mad rush during the last days to get out of Britain in time before lockdown.
This article may contain affiliate/compensated links. For full information, please see our disclaimer here. 
It was Thursday morning and I needed to get into my computer early due to my work. It was then when I've seen one pop up on the News of my computer, with Sky News saying that France was cancelling travels from UK starting on Saturday. Our ticket was for crossing the Eurotunnel on Saturday morning. The story was being developed, so I've figured out that it was really fresh!
A French minister has been hinting that more restrictions were going to be done to the UK, as the UK was imposing more severe restrictions to French. But within the twiteratti world of tourism gurus, nobody was seeing this- they've thought that maybe the antigen tests were going to be requested 24 hours earlier, as Italy has recently done, or maybe a PCR test would be asked- which was still going to be difficult, as you need to get the result quite quickly if you want them for travelling. You can get PCRs fast, but they tend to be more expensive.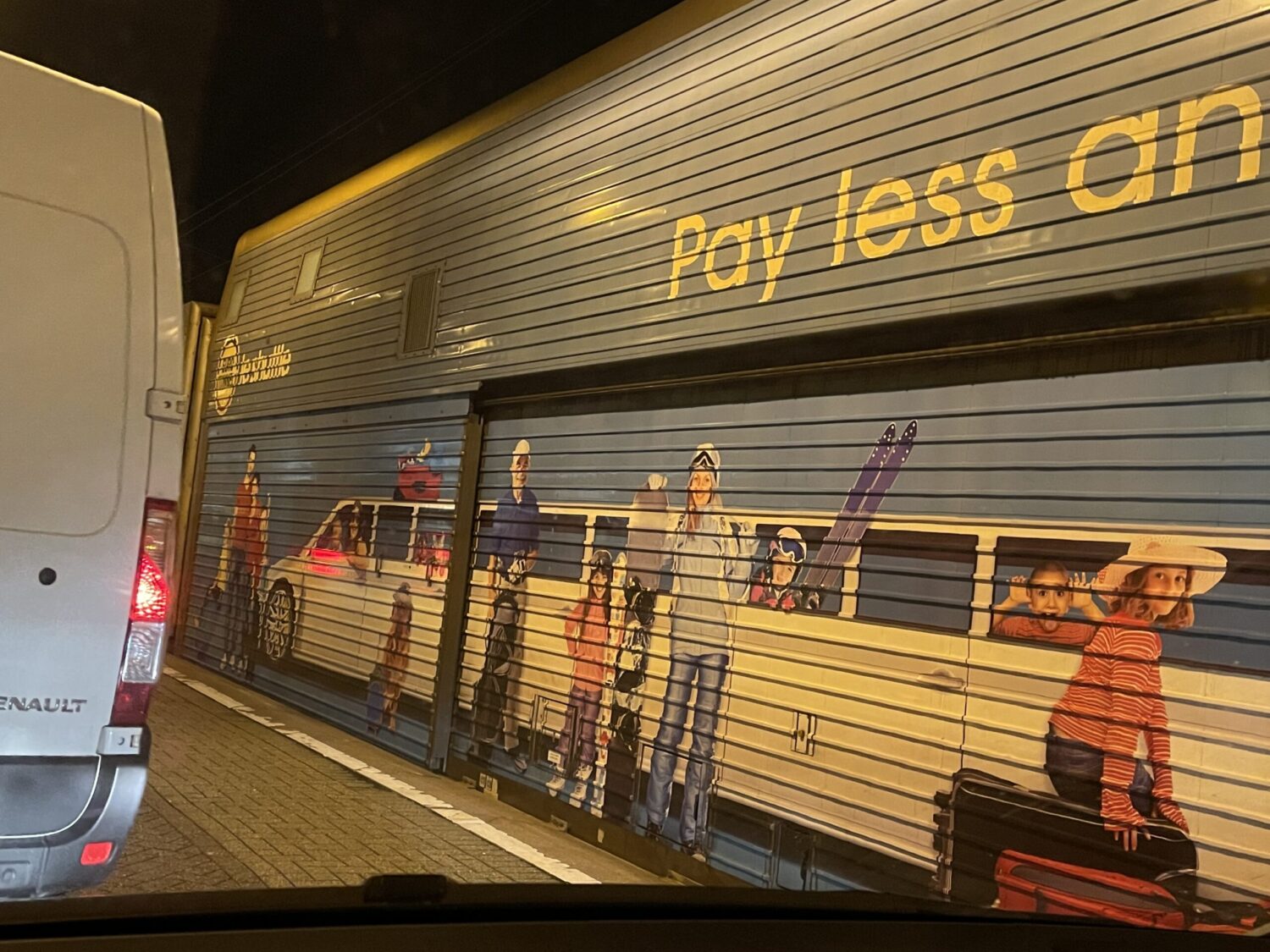 But this was the crude reality- the same was happening pretty much, that happened last year. I've grabbed my computer and took it to bed, while my husband was seeing I was trembling. Got into my Eurotunnel reservation, and as I have a trade account, I needed to ask for any changes via email. I've figured out that it was going to be impossible to expect an answer in time now, as Eurotunnel will have a lot of people wanting to change their tickets, so I went ahead and bought a new one way. Now, I should have bought a return ticket, but I did not think that at the moment, but that is for next time. (I could finally talk with Eurotunnel once in France, and buy the return ticket, as if you have your outgoing portion as a no-show, the whole ticket gets cancelled!)
I've moved all towards the next day- so then I needed to start moving with all. I've did the paperwork that France asks you to do a bit earlier and was loaded on the Eurotunnel portal- just did the Covid tests to all, sent them to C19 Cerulean and changed my ePLF for our entrance to Italy one day earlier. Called Chrystelle from the Ibis Styles in Chaumont, where we always stay- and told her to move our reservation for Friday. She was asking if Bojo got crazy and lock us down, and I've told her that it was Macron the one locking us out!
So it was a matter of packing and getting ready.
Day One of Travel: The Mad Rush of the Last Days to get out of Britain in Time before Lockdown
Off we woke up at 2 AM to be out of the house by 3 with dog et all, and went to Eurotunnel. It was the first time using Ozzy's EU passport to travel- we used it to come in, but was wondering if it was going to work ok to go out- it all went like a breeze- basically, if you have one of these passports, have the rabies vaccine written on the passport (with the sticker) and also given the shot in Europe, you will be fine! If you do it in the UK,  you will need an Animal Health Certificate for the trip (and costs GBP 180-230 per trip- instead of the EUR 20 that costs for the life of your pet having an EU passport!)
We were put in an earlier train, so we crossed by before 7 AM to Calais. The drive was pretty smooth- a long stretch of it with dense fog, but we'd advanced and were at 1 PM at the Ibis Styles Chaumont Centre Gare.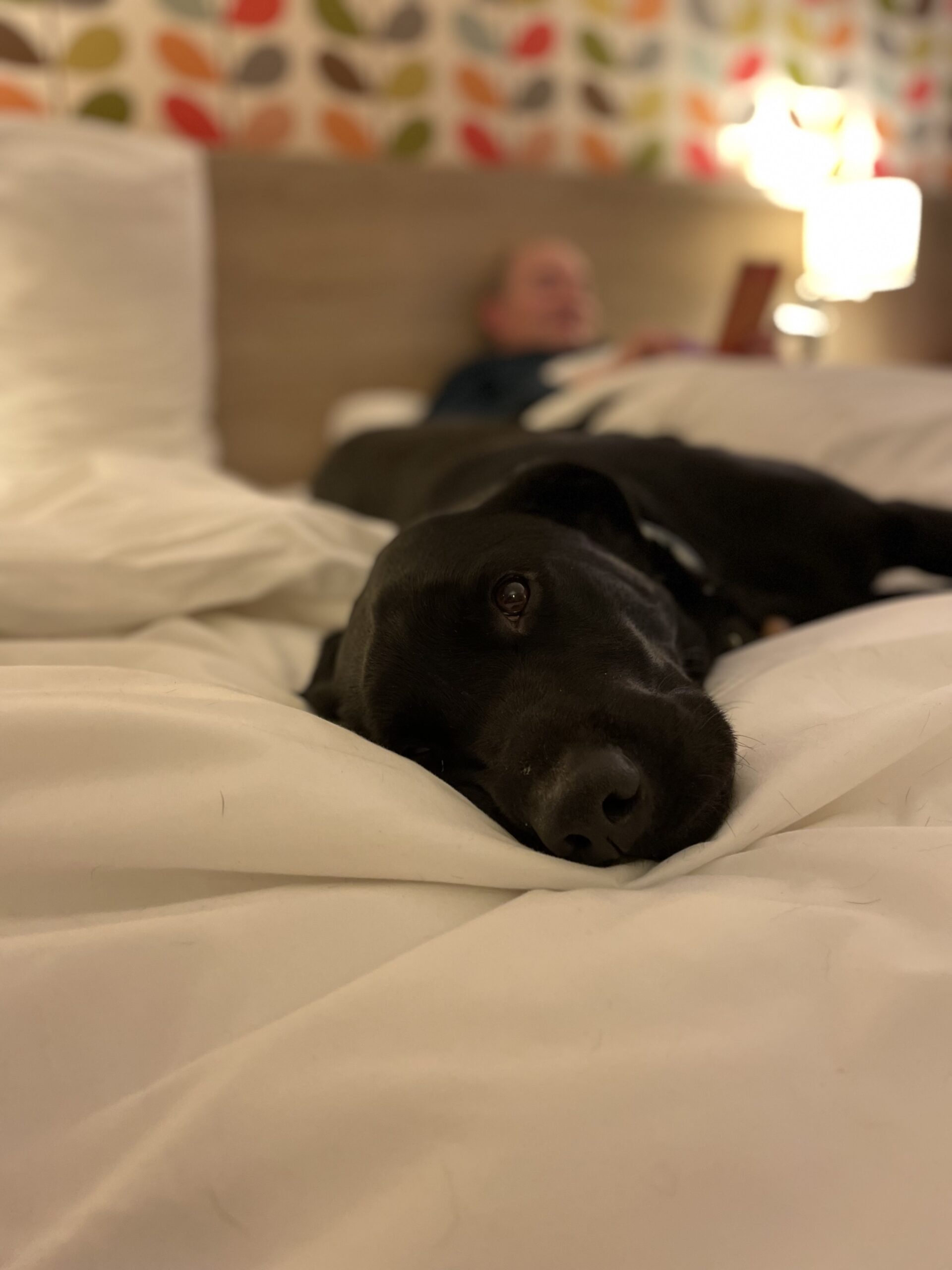 The boys were a bit hungry, so took them to the 'Frenchy Food" which is a joint that they like,  and got them a couple of chicken burgers and chips. Then we went back to the hotel, took Ozzy for a walk and had a well deserved nap. That night we got some sushi from Buddha Zen, which is magnificent and went back to sleep. I do like the beds in the Ibis Styles, they are super comfortable, and what we need after so much rush around!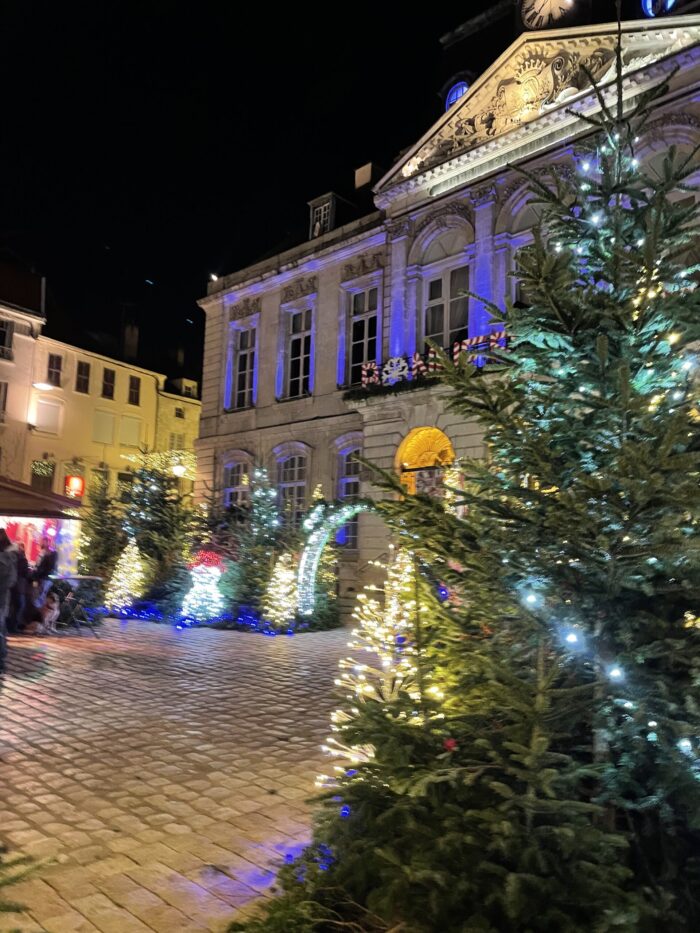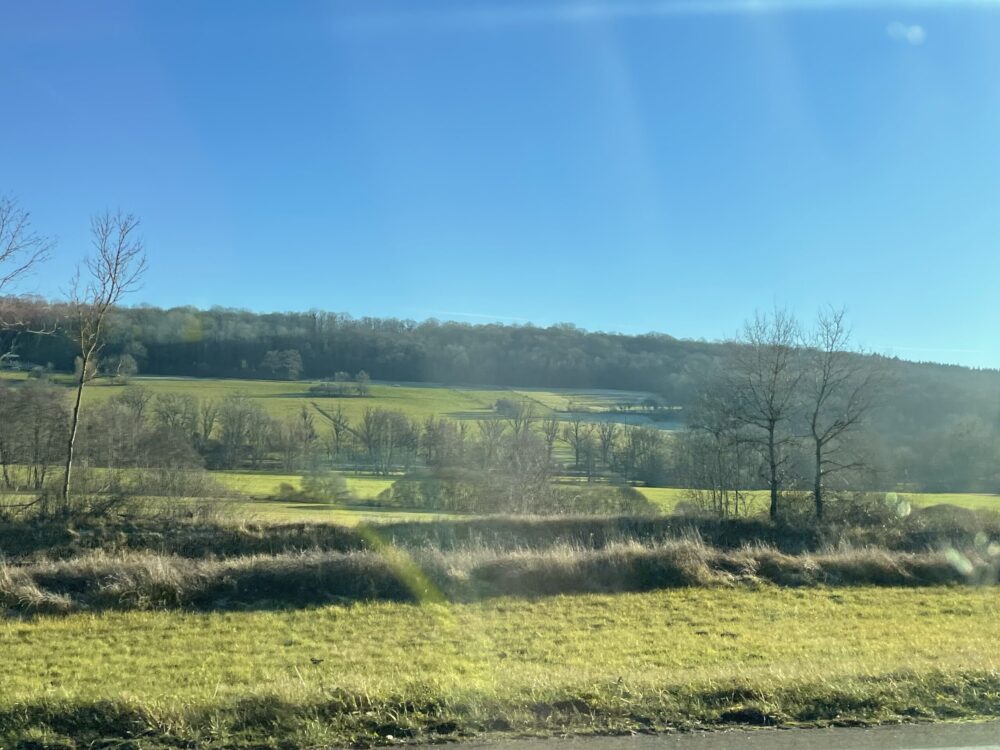 Day 2 of Travel: The Mad Rush of the Last Days to get out of Britain in Time before Lockdown
Second day started, and we were back on the road. We always like to do a bit of Route Nationale from Chaumont to the A31 connection (before Langres) as that is a beautiful road. We put some petrol on the car and then went to the A5-A31 and A39. The road was pretty easy and we stopped after turning to the A40 at the Aire du Lac- a lovely stop with views over the Lac du Sylans. This is just when you start getting in all the viaducts- basically, when the road starts to be really interesting, at least for my taste!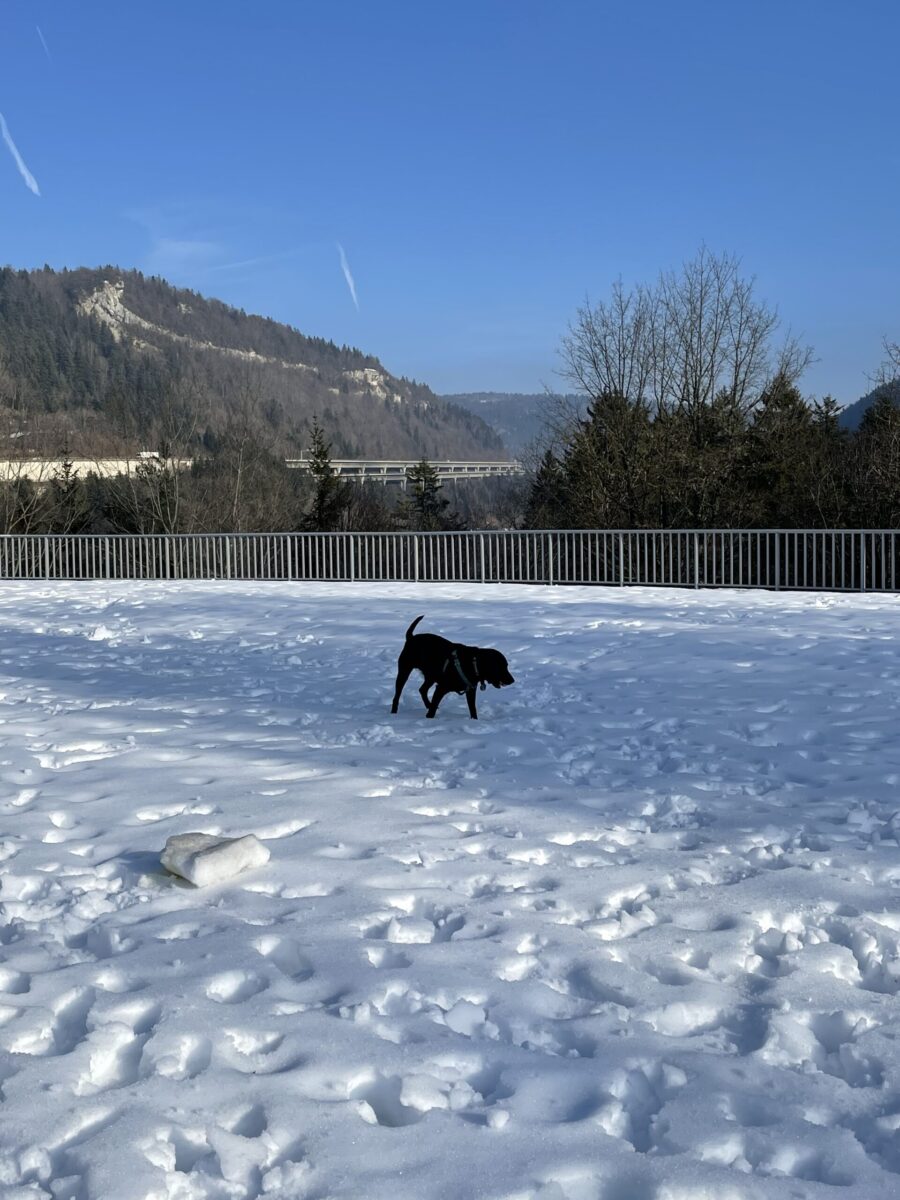 It was covered in snow, and it was freezing. Ozzy managed to have a chase of his ball that was drowning in the snow each time it was falling. My boys were not interested (teenagers- one is not really, but acting as one)…and my husband and I were so excited with the views and still pinching ourselves of our luck to have made it out of Britain in time!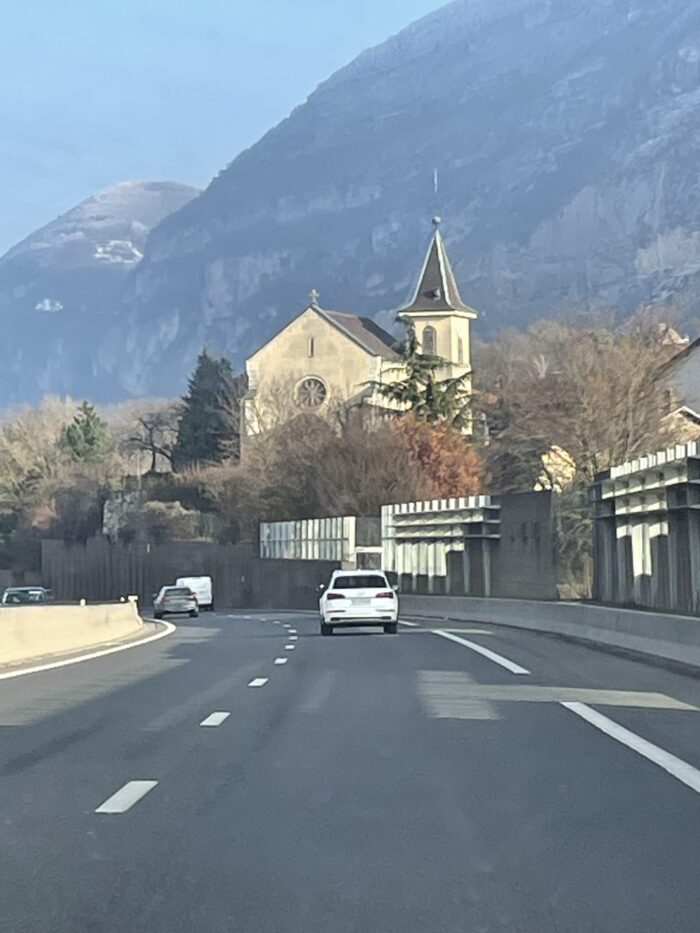 I bought  some baguettes for us plus some sandwiches and croissants and pan au chocolats so we survived just fine!
The rest of the road was good, not too busy at all. It has snowed tons,  so much, that when we arrived to Les Houches -(part of the ski pass of Chamonix Mont Blanc), you could see it has been snowing loads and sideways- and that it was pretty cold, as the snow froze sideways on all bridges and the road signs!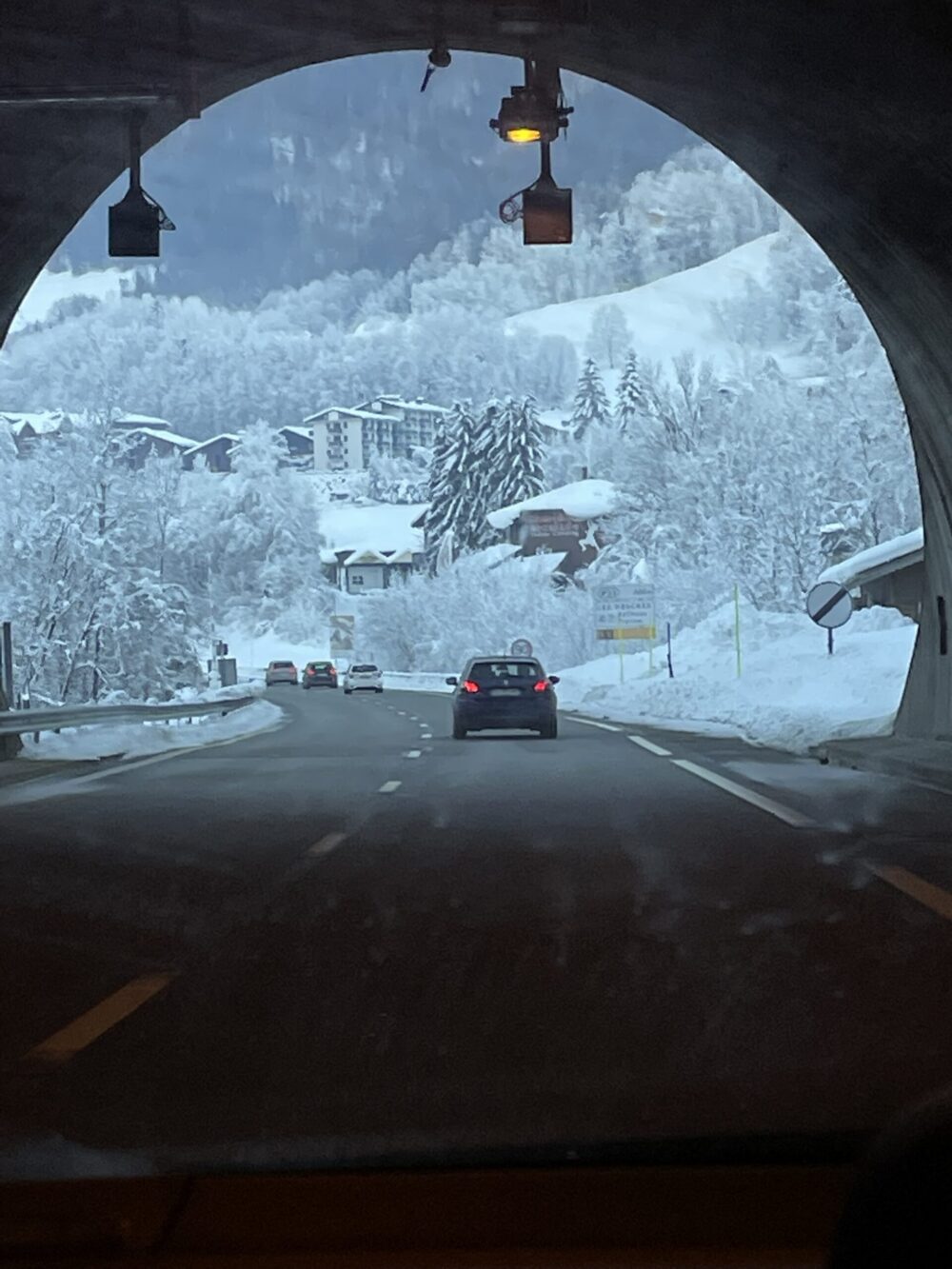 Off we turned to get into the Mont Blanc Tunnel and suddenly we had to stop by the half hour sign. It was pretty busy to cross. There were big signs that you were needing to have a negative Covid test (for us Brits, it was one done in the last 24 hours). I had brought some extra tests for Italy in my bag from the UK from C19 Cerulean. You just do them yourselves, take a picture of the test with the test number and the passport of whoever had the test done of the family and send all the info online. Then before 12 hours, you get the email with the certificate and a QR code to show to whoever needs to see it.
We were sure that we, as Brits, were going to be stopped to show tests, passports et all, but nothing happened! Nobody was asking tests… so that was it! We got into the Mont Blanc Tunnel- 11.7 km long, where you can drive from 50 to 70km/h and you need to leave two blue lights between your car and the one in front of you. Sometimes, as it has been having repairs,  (at least for this trip and our last two trips in October and August!), you have to slow down to 30km/h.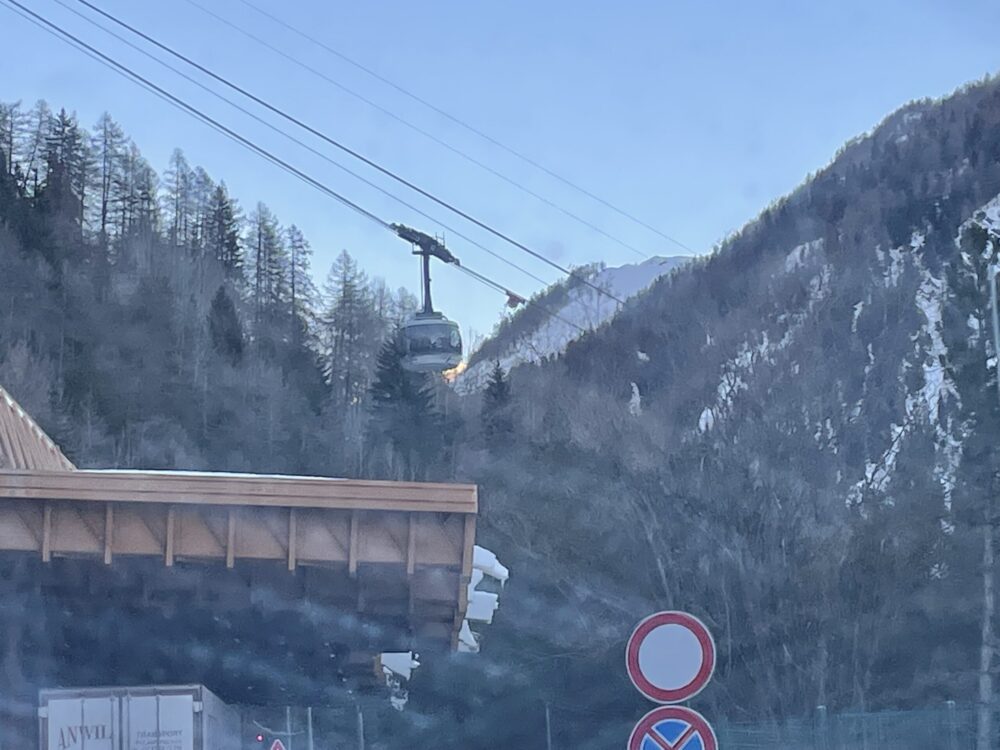 We were expecting the Carabinieri to come and point us with their guns and ask for identification and tests, but we drove, we salute and we continued! We were, as always, ecstatic! We made it!
We passed through the lovely town of Courmayeur surrounded by the impressive peaks and with views of the Catena del Monte Bianco and drove 10′ down our home in Morgex! Obviously, I forgot to put the heating on, after so much paperwork and stress  of tests and passing borders. So our home was cold, but we do have lots of wood and a chimney, and warmed it within a couple of hours! We were going to have a White Christmas after all.
Start planning your next trip!
You can search for your own accommodation in the snow for your next ski holiday through our Accommodation Search tab. Or if looking to stay in the heart of the Mont Blanc Valley in the Aosta Valley, check Il Coure della Valdigne review here. This is our own family home in the mountains, that I am renting out when not using, you can always write me a private message if interested to info@the-ski-guru.com
You can book directly through Airbnb  through this link
Or check Booking.com on this link.
If you want to take your family skiing and you don't know where to start, read here. And search for your ski transfers from all airports to the Mountains here. And for those that are like me, that are lazy to cook, you can get your food, even gourmet mountain food delivered to your home with Huski.
If renting equipment (skis or snowboards)  check our agreement with Skiset– you can get up to 50% off ski or snowboard rental rates. I have been using them for years every year when I go to America  and Europe and they are great!
Already selling some alpine design items for your house. #bringthemountainshome with The-Ski-Guru HOME and put a smile in your face. These are hand-paintings done by me, applied to cushion covers, coasters and mugs.
Featured Image: Driving to the Mountains. Photo: The-Ski-Guru. The Mad Rush of the Last Days to get out of Britain in Time before Lockdown.
Please follow and like us: