Our Half Term Ski Safari Trip to the Aosta Valley
So this was the time of the year, when we go with two family friends driving to the Alps. This is our half term ski safari trip to the Aosta Valley.
I am super lucky to have a place in the Alps and being able – now again – after the pandemic, to go back all year round. We left a bit earlier than usual, waking up at 1 AM to leave at 2.15 AM, as I have booked our crossing with Eurotunnel a bit late. Rates where too expensive to leave at 6.20, so we tried a 5.20 AM departure.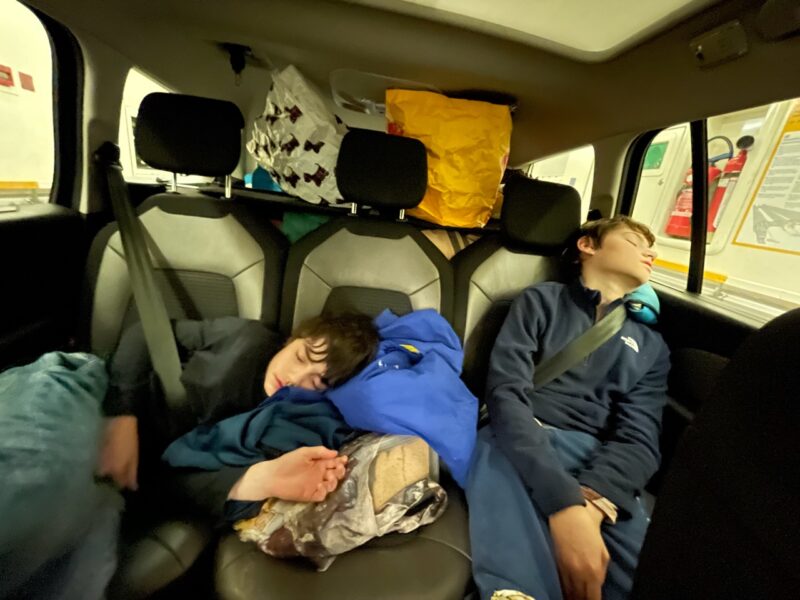 It was not bad at all. But, after the first day of driving, done by my husband, we
were exhausted
. I don't drive but I do the copiloting- if that is a word! And try not to fall asleep during all the trip. The idea is to keep my hubby awake!
No-one was at the Eurotunnel terminal and we left one hour early. The weather was good and we did it to Chaumont, to our first pit-stop by 1.30 PM, local time.
In Chaumont, as usual, we went to the Ibis Styles Chaumont Centre Gare– a super family and dog friendly hotel. It's manager, Chrystelle, is always there to greet us, the boys get sweets (they feel so comfortable there, that they serve more than they should!). Then, we went to our room for a well deserved nap.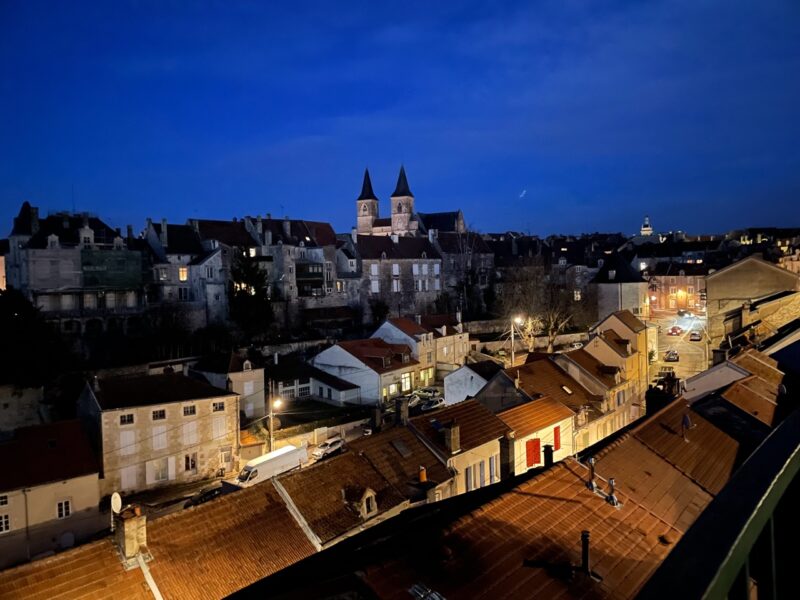 Half sleeping, we've watched some Winter Olympics, and then went out with the dog for a walk before dinner. Our dog does not behave well if staying at a hotel room alone. The boys did not fancy eating out, so we got them some food. There is a local joint they love, called Frenchy Food. They were happy as Larry staying in with Ozzy.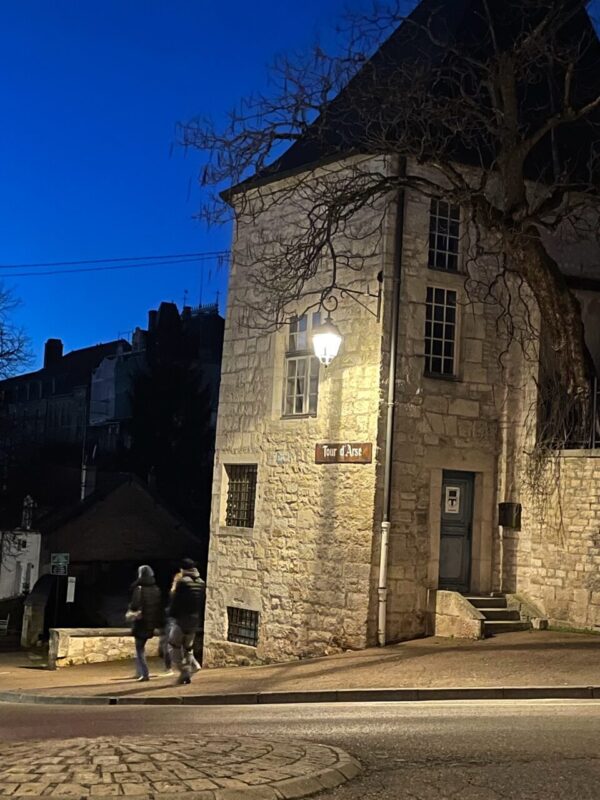 Meanwhile, went out to our favourite restaurant in Chaumont. We tend to always go there. We had dinner sometimes at the hotel, which is good too. There are lots of restaurants in Chaumont, but being a Saturday night, all was busy. This is a small joint called Le Jardin, that is on an road off the main road where the hotel is. The chef is the one that serves you- it is a tiny place. But food is good and cheap! We always finish talking to the people of the table next to us- we both try to babble our French… the wine does help!
We went on to have an early night and woke up the second day for the nicest day on the route.
After breakfast and after buying some goodies for the car, off we went. We always do a bit of route nationale- where we charge diesel, as it is cheaper than doing so in the motorway.
The early morning sun hit the undulated terrain-
really
lovely to see first thing in the morning. Then we joined the A31 and A39 down to Bourg -en- Bresse, following the A40, where we had our first stop at the Aire-du-Lac. This is a lovely spot, always sunny -but cold this time. It is great for stopping for a wee and a sandwich. It is one of the 'aires' without food services. We carry our food and a thermo with coffee, so we avoid stopping at the serviced 'aires'.
From there it was sailing through- no traffic at all! Our friends went all through the day before, and they had some 'bouchon' (traffic) around Geneva! But then, it was a Saturday, that is a change day for ski resorts. As Italians like to refer to, for the Mont Blanc Tunnel as 'Sabato Nero'.
We went through the Mont Blanc Tunnel in no time! As usual, nobody asked us for anything!
I guess the personnel of the tunnel have the Passenger Locator Form
electronically
stored
. But, nobody asks us for tests- still, I prefer to do them,
just
in case some day someone asks!
This time I've remembered to put the heating in advance, so our home in Morgex was warm when we've arrived.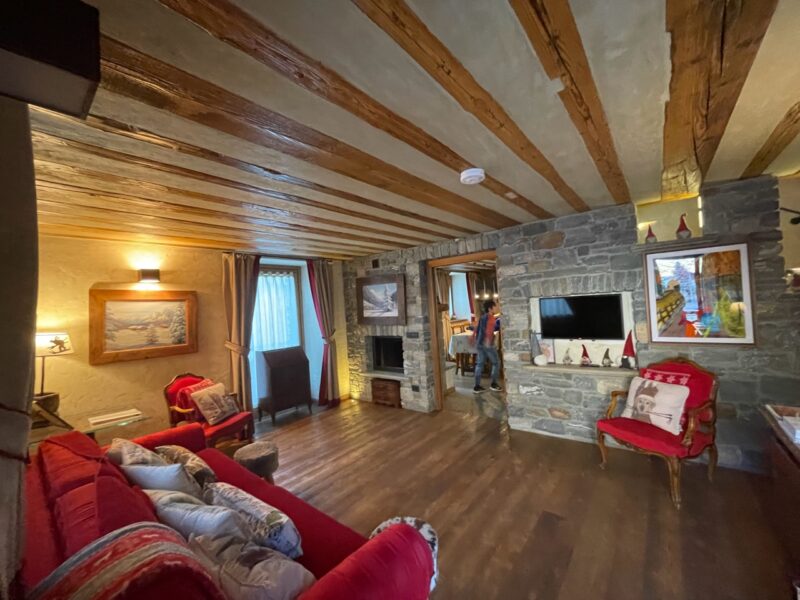 That night the boys wanted to go with our two families friends for dinner at Pizzeria Millenium. This is a lovely pizza joint in Pont Suaz,
just
out of Aosta, passing the bridge of the A5 motorway.
For many years we've stopped in a house up the hill from Pont Suaz, that was
perfectly
located to go to the Aosta-Pila parking lot
. That is how we've found Millenium. It has a play area underneath and the boys still love going there…which is great!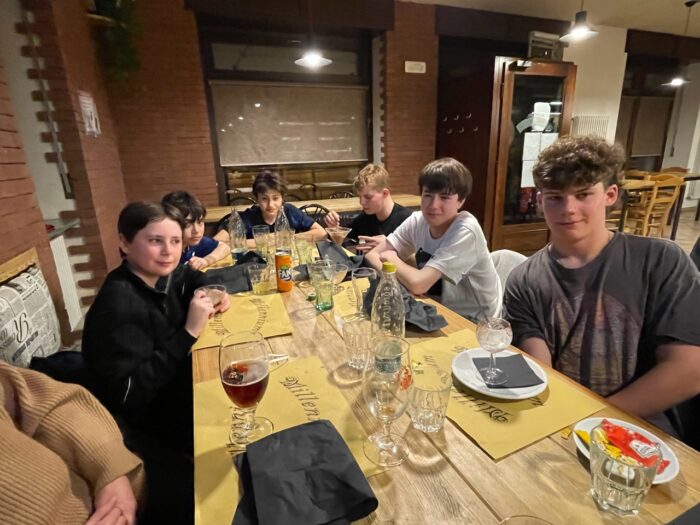 We've met our friends and had a lovely dinner- now it was time to go back home and get some sleep to go skiing the next day!
Monday started and we were going to ski with our friends, so off we left for Pila. It takes 35′ through the SS 26 – the state road.
You can go a bit faster through the A5 motorway, but it is pricey for a short distance, and is full of tunnels- for me it is a bit claustrophobic
. I love the landscape through the state road. You can see lots of castles and churches perched up on top of the different mountains. Lovely mountains with lots of personality abound, and vineyards everywhere. Here is the home of the Blanc du Morgex et La Salle, the highest vineyards in Europe- by the Monte Bianco!
We arrived to the parking lot and it was pretty empty.
The Italians are not having their Carnival until later this year, which was a blessing for us- as usually half term can be
really
busy
. Having grown skiing in Las Leñas and Portillo, I got used to skiing on empty slopes…
Compared to our last day of skiing in the end of 21, the snow was great. The Italian Alps
really
did not get too much snow this year at all. Last year, the last day was too crowded, and it has rained before we went, so there was no grip in the snow at all! But now, the snowcat groomers had done a lovely job! There was not too much snow for off-piste, but getting older as I am, and lazier, this was fine!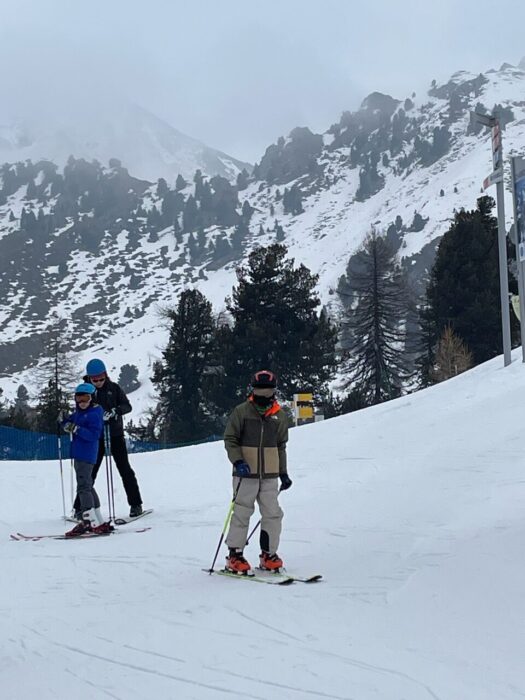 We had a quick stop at La Baraka for a panini, as my eldest is always hungry. Then we've continued skiing – a bit with our friends, a bit with some of them. We've finished having a drink at the Yeti Bar, in front of the cablecar. Pila was closing its lifts pretty sharp after five. You could tell that it was not that busy, if not you have also a bit of a leeway before you have to go down.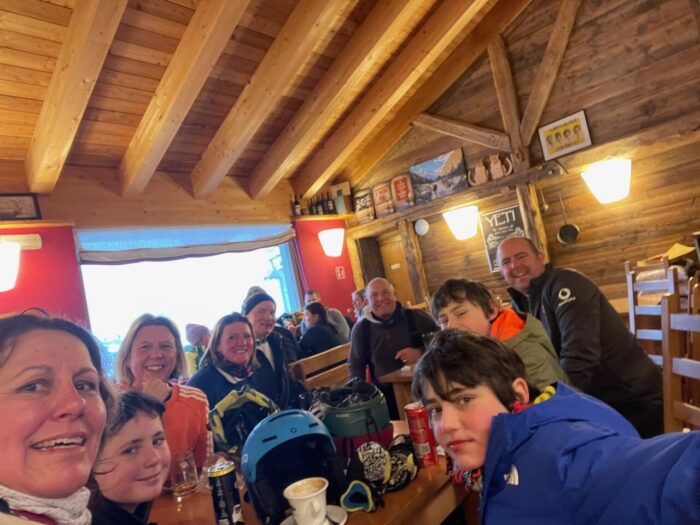 That night we had a nice dinner at home, enjoying some time our flat. After a great sleep, on Tuesday we were going to La Thuile.
We took our dog for a walk- as we do each morning, to the lovely hamlet of Pautex. There is a cycling piste and a big open space. Our dog loves the place- we get him tired chasing his ball, and then he has a rest while we ski. We tend to ski half days, as it is not fair on the dog if not!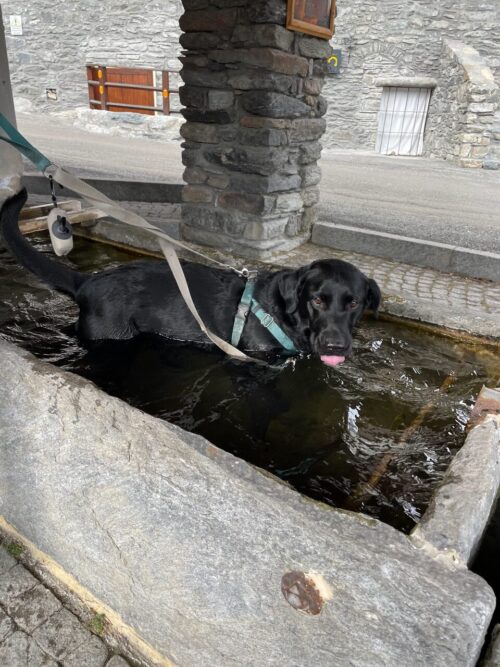 We went towards Prè-Saint-Didier and up the '
tornantes
' (hairpin turns) to La Thuile. La Thuile is only 20′ from us, so it is a great place to go from Morgex.
It was windy…. very windy. What happens with La Thuile, is that they only have one bubble chairlift (if I am right).
Therefore
, in the majority of the lifts, you do suffer the cold! But the skiing was so good! Snow was fresh, even if blown at places, and we had a lovely day! As we are going late, we did not stop for lunch, but for the occasional hot chocolate- that is thick and delicious!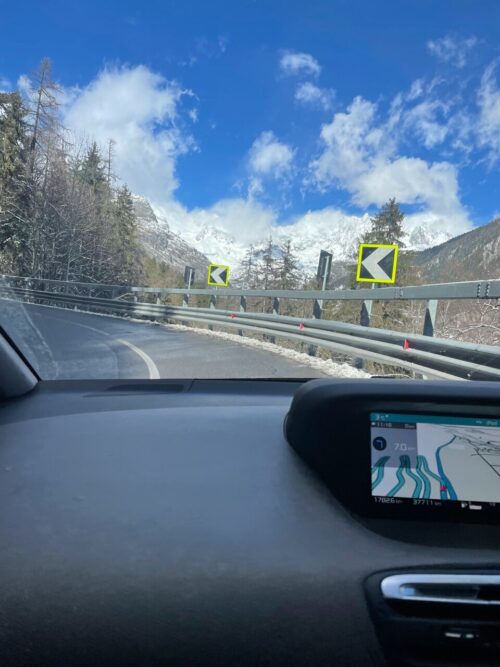 We stopped again when coming back up from the bottom. This was after doing red 6 with my boy and our friend Patrick and his kid Charlie, as it was freezing!
My husband was going with the other boys that were going down black 5, but he lost them, so he had been skiing on his own for a while
. He called me to see where we were, and we've arranged to meet at the Foyer bar. There is where we got our second hot chocolate!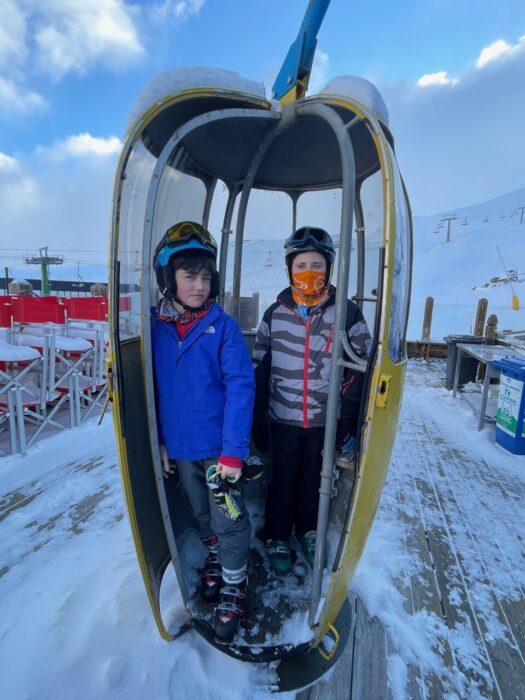 My little one wanted to go back again red six to the bottom. This is a lovely red that is tricky at places, a bit icy, a bit narrow, but beautiful views all the way down. I was ready to go to the cablecar to go down as I
was tired
, but he insisted. And he wanted to take a Poma surface lift up before we went down, so we had a longer way down… With his eyes he always convinced me, so we went with Chris and him up and then all the way down.
Everyone was already down having an
aperitivo
al fresco. It was pretty
fresco,
as later I could tell when trying to take my boots off. They
were frozen
and taking them off was torture!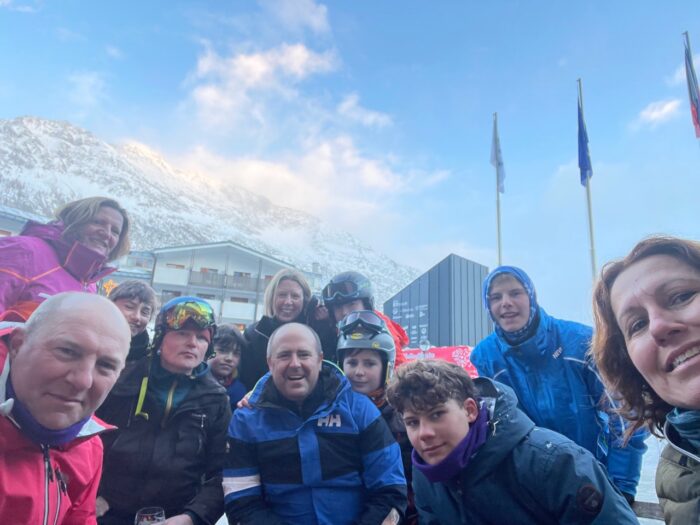 Wednesday was another day for Pila. We went out with Ozzy and then up to Aosta again. The parking lot was a bit busier today- after all, all kids at school in Aosta have ski club on Wednesday and go skiing. How cool is that! Up the lifts, we've decided to ski the less busy runs- down red 2, red 4, red 6-7-9, 13 and 14. Then a quick hot chocolate at Lo Baoutson – by Couis 2 lift, and down to the base area before the gondola closed!
That night we went to our local Da Beppe in Morgex- a lovely family restaurant around the chalet that has good food for great prices
! It is great because they have a TV on the room and is like having dinner in someone's living room!
Thursday was the day we wanted to use to go to Cervinia. Online the Cervinia website does not offer half days. But talking to my friend that works there, he told me that you can buy them at the ticket offices.
So we went out to take Ozzy, and we saw the lovely lady of the little farm that came to give us a gigantic goose egg ! Then she took us to see the stable where the Piemontese sheep and goats stay for the winter. They are so cute! I could have taken better pictures if Ozzy was not trying to jump on top of them! Cervinia is the furthest of the resorts we have from home. Courmayeur is the nearest, at only 10 minutes from the house.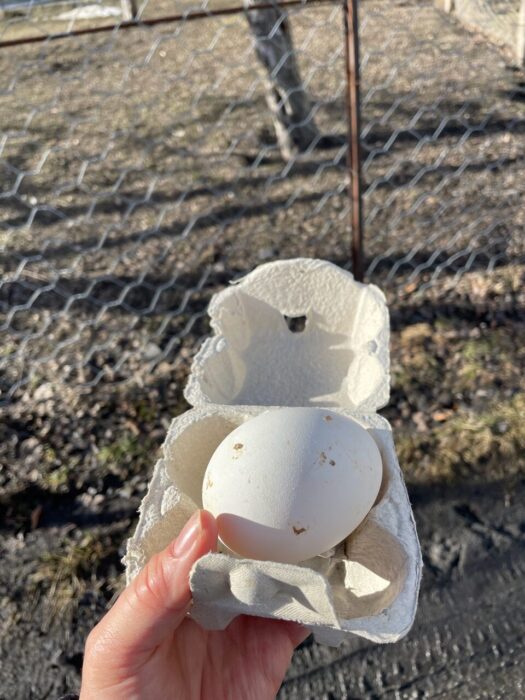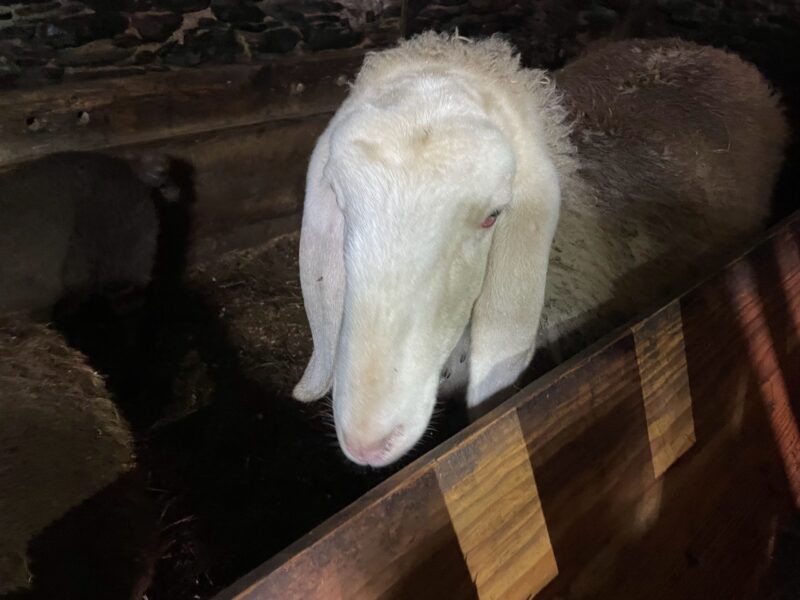 Cervinia is about hour and a half,
maybe
hour 18′ if going through the motorway, which is what we did. The road up to Cervinia is lovely. We went through Châtillon, which looks lovely to go and walk through it.
I do like better the looks of Valtourneche- and you can take a little gondola up to the resort of Cervinia, but we drove up to Cervinia
. We have been before in the summer some years ago when we went for a short trek. The weather turned into us so we
just
had a short walk up the mountain and back into town!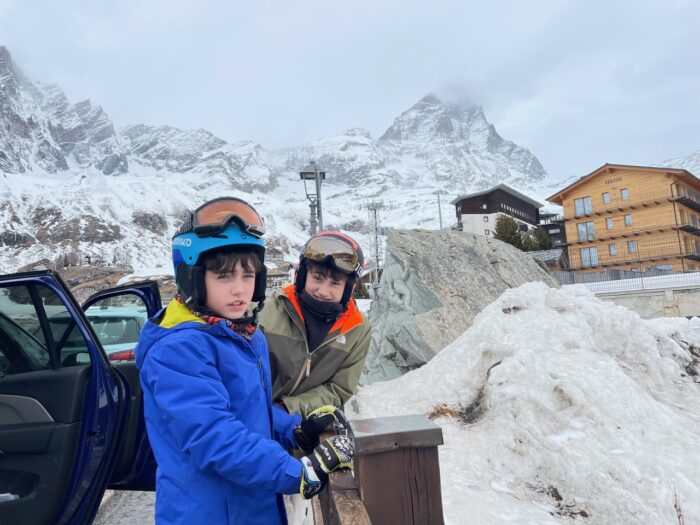 Now we parked again across from the golf club, and walked through the town to the lifts. We were on the left side of the mountain, as seen from the bottom of the lifts. Took the super fast sextuple from the base and the second fast lift up to the top – and it was a blizzard. It reminded me of skiing in Las Leñas.
There are no trees, all above treeline. It was skiing down, stopping with the wind and waiting to be able to see something again! I've noticed there were lots of Brits in Cervinia- as there were not so many in the other resorts. We've stopped at the Chalet Etoile in Plan Maison for a quick hot chocolate and to look at a ski map – without the wind! I've painted this restaurant in one of my art projects from outside with a cheeky ibex skier…
We wanted to take a gondola up to Plateau Rosa but we could not see it from there.
We finished going down towards the other base and taking up the gondola again towards Plan Maison but a bit to the side
. The idea was to take the gondola to Cime Bianche.
When we've arrived to the gondola structure- something like a seventies kind of building, everyone was staring at the ski map
. At that moment they've started to close all the mountain. Winds were too strong, so it was not safe anymore to run most of the lifts!
We were about to get to the high speed lift up to Theodulpass when a liftie closed it on our face. Then we took the little surface lift on the side. The boys were telling me that it looks boring- but I've told them, better boring than nothing! And it was empty- so we did a couple of laps there seeing if more terrain was to open.
But then I've started seeing the chairlifts going backwards- never seen something like that
!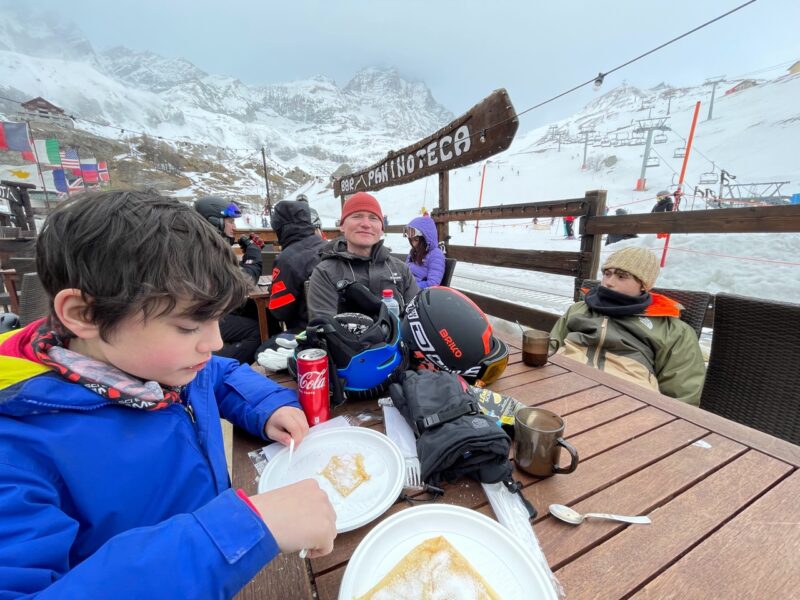 We went down minding that we could not take any other lifts- towards the base area where we arrived. It was funny how everyone was staying still with the gusts of wind. We made it to the base and got some burgers on the Ice bar at the base area- they were
really
good- if not a bit pricey! But after all, Cervinia is a more expensive resort- if I compare it to Pila or La Thuile. Courmayeur can be more expensive too- but it does not seem so much…
maybe
being near Milano helps the higher prices.
We came down the mountain a bit earlier, which was good to see the scenery and also because I needed to work at home for a bit.
Then, after walking the dog and taking showers, we went back to Aosta for dinner again at Millenium Pizzeria
. The goys love the place and we were doing it more for them, because we
were tired
!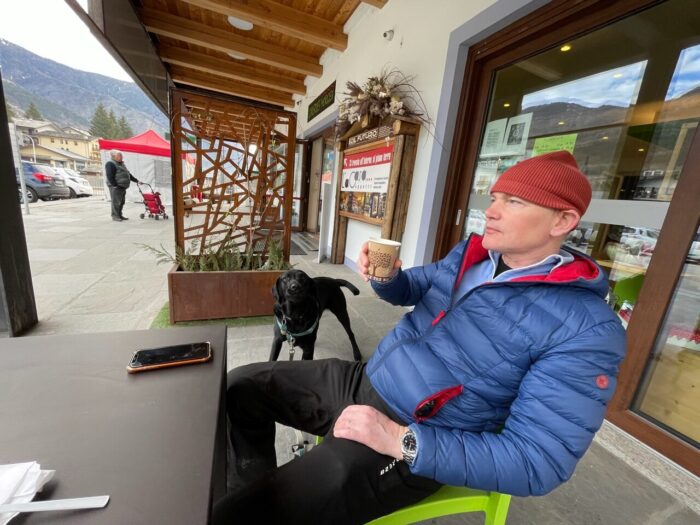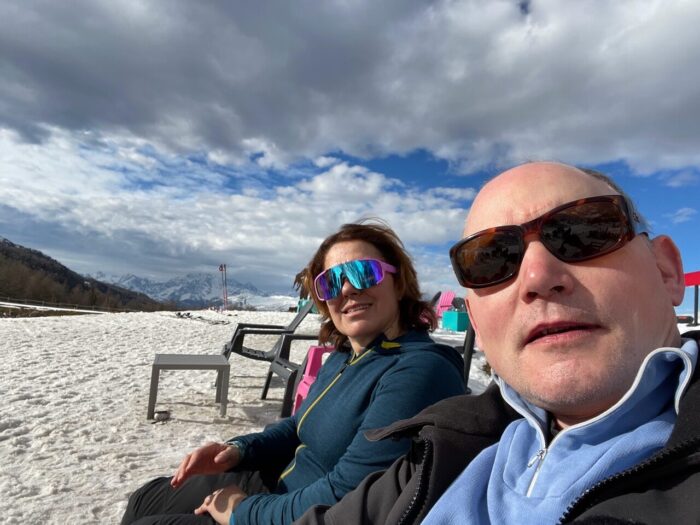 We went back home
quickly
to take Ozzy out, and then we had a meeting with the guys of the Gran Baita Hotel in Courmayeur, to talk about the upcoming Mountain Travel Symposium
. This is my day job, the one that pays my bills!
It was a great meeting, more with the lovely display for aperitivo, and the Aperol Spritz looked like mini bath-tubs
!
We went back home and got some pizzas from La Locanda in Morgex, as my little one was demanding to eat one! And we went for an early night as tomorrow was going to be a long day.
Saturday we woke up, finished organising the bags, buying the last bits and bops for the trip, and off we left. The trip was not as busy as we were anticipating, but it was long. We made it to Reims past 7 PM. We
were knackered by
then. The room at the Mercure Reims Cathedrale had a great view to the river Vesle. It had a main room with the king bed, plus a second one with a sofa bed.
This is perfect now that our kids start to be a bit older, as they do make noise, and sometimes we want to relax and sleep and not hear them chatting non-stop
!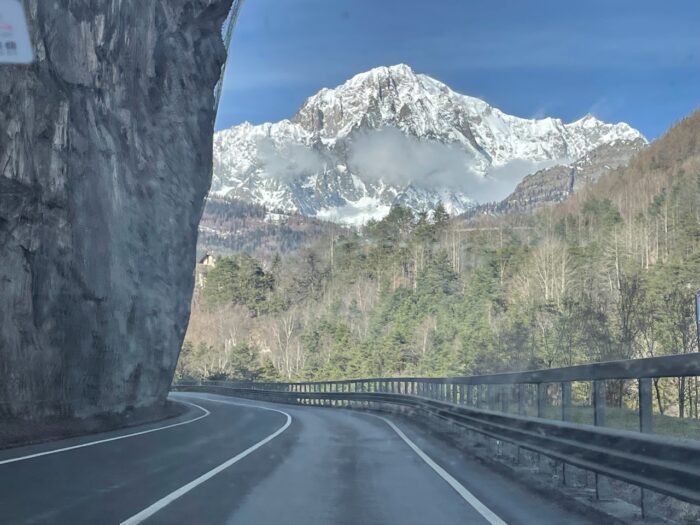 We went out with Ozzy to pick up some food. It was
really
windy
as to
stay eating outside as we did in December, October and July. We
just
bought some food and went back to the hotel. Ozzy is great for leaving him at our place in Morgex or at home, but is lousy at hotels. He starts barking and crying. We would be
persona-non-grata
if we leave him behind!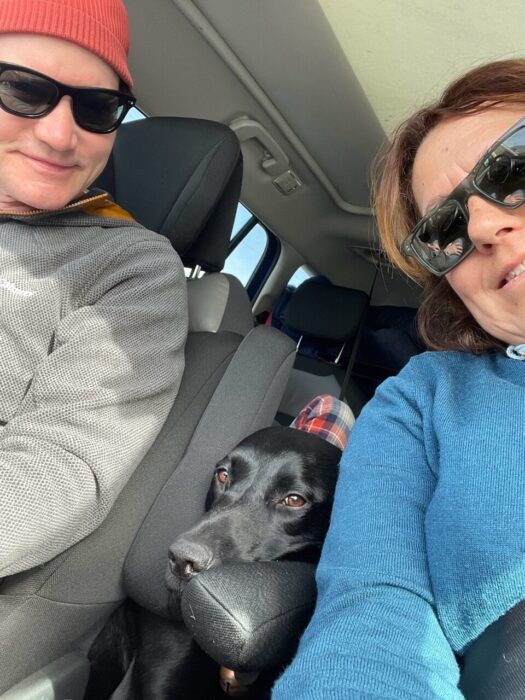 The next morning we woke up and went for a stroll through Reims, the chatedral, and all its' surrounding area.
We had our Eurotunnel a bit later than usual, so we had a chance to have breakfast on the street and walk a bit before going back to the hotel to check out
.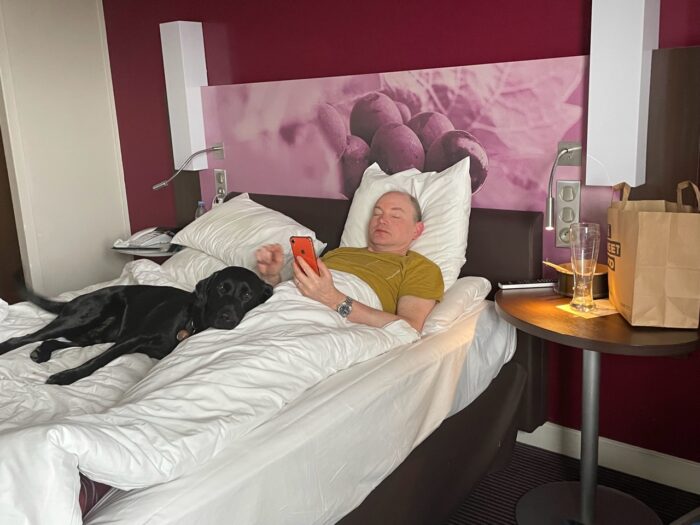 The last part from Reims to the Eurotunnel in Cocquelles take around 2 hours and a bit. We always charge the diesel tank near the hotel, so we have a full one. Plus we don't have to stop in the motorway, that their prices are ridiculous! Rates for diesel went up since we were in December/January!
As usual, in Eurotunnel, it was busy, but the traffic moves.
We did the paperwork for Ozzy, then wait for our letter to
be called
and the zig zag queue with the cars to go through French and UK migrations
.
Now back home and thinking where we are off next? Thanks to my day job, the place is Vail. And we'll then drive to Aspen and Crested Butte, both towns where I lived when younger. I want to show my boys how skiing in Colorado is. It will be a great experience!
Start planning your next trip!
You can search for your own accommodation in the snow for your next ski holiday through our Accommodation Search tab or browse hundreds of half term ski holidays on SNO.
Or if looking to stay in the heart of the Mont Blanc Valley in the Aosta Valley, check Il Coure della Valdigne review here. This is our own family home in the mountains, that I am renting out when not using, you can always write me a private message if interested to info@the-ski-guru.com
You can book directly through Airbnb  through this link
Or check Booking.com on this link.
If you want to take your family skiing and you don't know where to start, read here. And search for your ski transfers from all airports to the Mountains here. And for those that are like me, that are lazy to cook, you can get your food, even gourmet mountain food delivered to your home with Huski.
If renting equipment (skis or snowboards)  check our agreement with Skiset– you can get up to 50% off ski or snowboard rental rates. I have been using them for years every year when I go to America  and Europe and they are great!
You can check all my soft pastels mountain paintings in my shop. I work with commissions, and you can get my original art, or giclée prints and cards, plus some homeware here.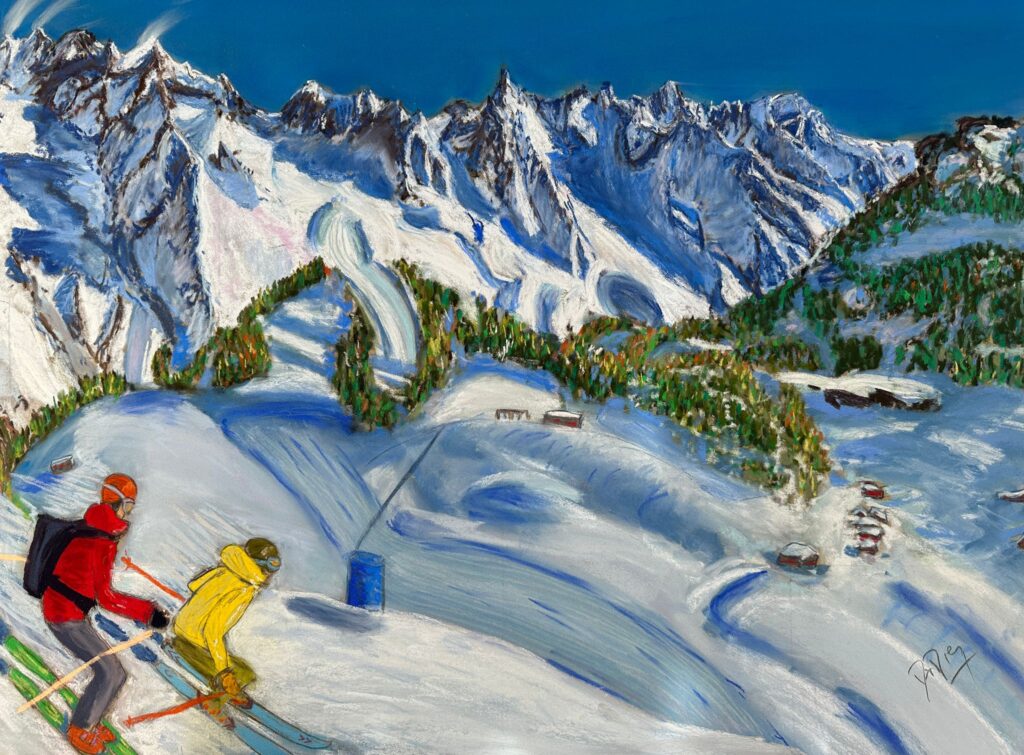 Please follow and like us: