Skiing, prior to WWII, was a privilege afforded only by the elite few who stayed at some of the most elaborate Victorian hotels spread across the Alps, in between spending time on the slopes.
However, post 1950, things began to change dramatically as the sport got embraced by a wider group of people, especially the British, who were hungry for some outdoor fun after spending years of life in austerity because of the conflict.
In 1953 the travel industry began running ski parties where groups of Britons were invited to travel with the host to the Alps, but the idea of installing a chalet arose only in 1958 when one Colin Murison Small came out with a brochure offering comfortable, though not luxurious, accommodation including catering with wine at dinner at no extra charge.
The price was not only a bargain, but what was more important was the friendly atmosphere which the young Britons truly enjoyed. Additionally, the helping hand offered as they battled with unfamiliar ski equipment and the lift systems, endeared them to the ski chalet concept in no time at all.
The employment of charter flights in the 60s changed things for the better even further because of simplifying logistics. The weekly schedules of the chalet were perfectly adapted to planes arriving with one group and leaving with the previous guests, keeping both the chalet beds and airline seats always full.
What is a self-catered ski chalet holiday?
A ski chalet holiday is basically a winter vacation spent in a ski resort where the style of allotted accommodation is in a chalet. While chalets have been booked by the British for decades for snowboarding or skiing, it is not essential.
For a majority of the guests it is the charm, ambiance, facilities and the attractive location of the chalet which have made them such a sought after commodity. In Swiss terms, chalet means a wooden house with overhanging eaves, typically found in the Alps.
A British concept, the ski chalet holiday has become the preferred choice of skiers from this country for many reasons. This type of accommodation offers a wonderful way to go skiing and at the same time enjoy a perfect vacation among family, friends or colleagues, or if you wish, with other like-minded skiers. Most Brits prefer to book their ski chalet holidays with reputed providers such as Ski Vertigo in order to get amazing deals and hassle free vacations. 
Ski chalets are found mostly spread across France but can also be found in Italy, Switzerland, Austria and North America which are hugely popular with the Brits. Catered chalets are usually less expensive than hotels and this is why they have become the number one choice for British skiers to the Alps.
In addition, the chalet accommodation is also offered on a self-catering basis to allow the guest to make meal arrangements of one's choice, whether it is in-house dining or eating out in any restaurant.
So what's the difference?
Unlike lodges and hotels where one might stay in, a chalet is a typically designed traditional Alpine structure that can sleep between 6-14 people who are attended to by the chalet hosts. The environs are made as homely as possible to allow one to unwind in a comfortable setting.
A fully catered ski chalet board includes breakfast, afternoon tea and an evening meal with unlimited wine.The food is prepared by the chalet hosts who strive to provide a wholesome and filling meal at all times.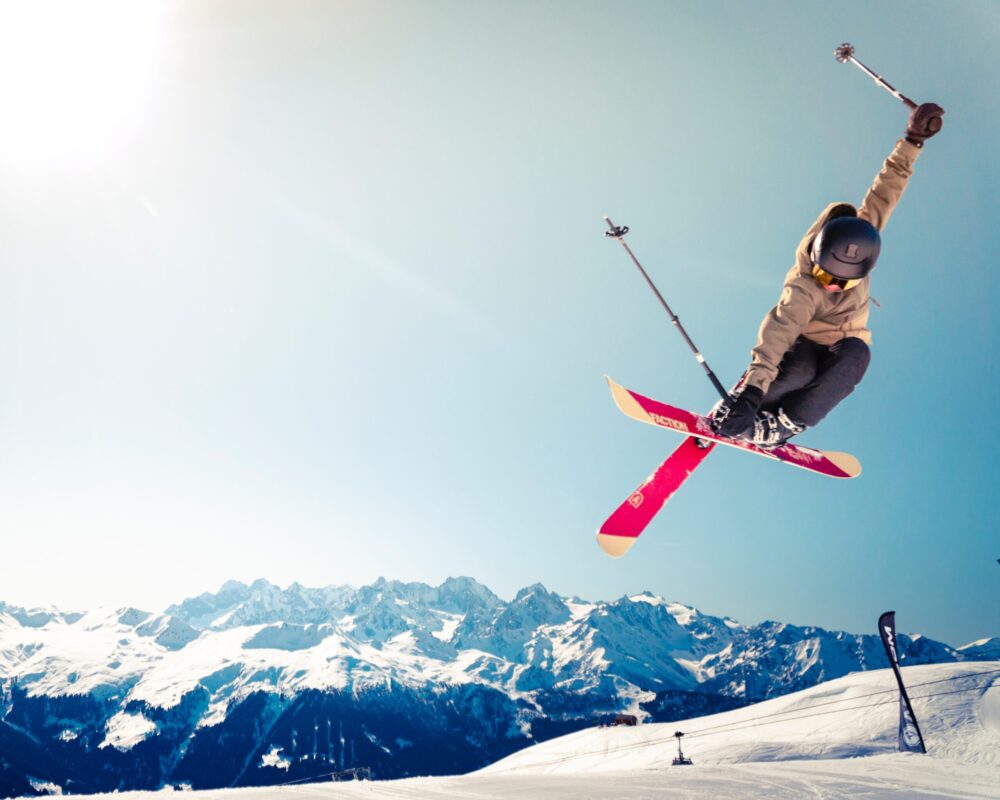 Why do Brits love them?
Choosing the perfect accommodation on a skiing vacation can be equally important as the time spent whizzing up and down the powdered slopes. While hotel rooms are an option, it doesn't really give that cohesive community feeling.
One can experience the ultimate stress-free vacation in a comfortable and immersive atmosphere only by staying in a ski chalet. Nothing gives a sense of true feeling and cosiness in an ever changing scenery than a ski chalet.
A ski chalet stay allows for a complete alpine experience and a sense of being away from it all enhanced by the cosy mountain vibes that one looks forward to on a skiing holiday.
Ski chalet holidays come in a range of budgets in a selection of self-catered chalets spread across France, Austria, Switzerland to pick from a diverse range of styles and sizes and cost somewhere between the price of a hotel room and a self-catered apartment.
Some of the popular chalet locations in the French ski resorts are in Chamonix, Val d'Isere, Val Thorens, Alpe d'Huez, La Plagne and Tignes to name a few all within striking distance of most destinations of the United Kingdom.
Chalets have the ski-in and ski-out option
British on a skiing holiday prefer wasting no time once they have reached their destination. For this reason, many chalets across Europe have a ski-in and ski-out option, which is wonderful for skiers wishing to make the most of their time. This actually means you can start to ski as soon as you arrive from your chalet.
This is equivalent to renting out on oceanfront property, where you can walk straight to the beach from your room. In this case your chalet is located right next to the prime sloping areas and you don't waste time on ski lifts, transport and heading up and down the slopes.
Ski chalets come in Alpine designs
Nowadays, almost all chalets at key ski resorts are beautifully designed and are knitted out with wood and traditional Alpine styled furnishings. This makes them incredibly cozy, something which the Brits love after a hard day on the slopes in the cold winter air.
Due to the artistic design and the interior features like living room, bathroom, kitchen etc, chalets are referred to as a home away from home, allowing the guest to totally unwind and relax.
Tons and tons of food
The best thing the Brits like about staying in a catered ski chalet is the delicious food that is served and which you get to enjoy. Beginning from a big cooked breakfast to keep the body fuelled for the day to tea and fresh baked cakes waiting for you after you are done with the slopes.
Finally, a lip-smacking four course evening meal prepared by the chalet staff is served at the end of the day which is particularly nice for the ladies in the family to earn a well deserved rest from cooking.
Catered chalets may seem expensive at first, but if you calculate how much you spend on every meal while eating out, the amount of convenience and the quality of food provided at the ski chalet makes the expenditure worth every penny spent.
Profile photo: A living room with a view in a ski chalet – Why do Brits love their ski chalet holidays
This article may contain affiliate/compensated links. For full information, please see our disclaimer here.
Please follow and like us: