For the second year running, Jason Atherton (now 4 Michelin stars worldwide) and Claude Bosi (straight at 2 Michelin stars with his new venture, Bibendum), join inaugural genius Sat Bains (2 Michelin stars) for an incredible experience curated by Heston Blumenthal in Courmayeur, Mont Blanc, from 20 to 23 March.
The added twist is the unexpected presence of Marcus Wareing, who enjoyed the first 2 experiences so much, he has come back for more!
[bdotcom_bm bannerid="2409″]
Guests from the UK, Canada, Dubai, France and Ireland will converge on Courmayeur for 3 days of epicurean alchemy provided by the stellar chefs and their support team composed of 10 chefs from the UK.
An important addition to 2018 will be the emerging young talented chef Paolo Griffa, recently arrived at the Grand Hotel Royal & Golf with all of his creative genius, ready to share his favourite dishes on the first night with the stellar chefs and guests.
On the 21 March guests and chefs alike, following a morning of ski guiding and lessons with Scuola di Sci Monte Bianco, will sample a lunchtime wine tasting from Maison Anselmet, showcasing the amazing vineyards of the Aosta Valley, paired with the traditional Zuppa alla Valpellinentze, Heston's favourite mountain dish, along with barbecued local meats.
After a wholesome day of skiing, the jewel in the crown of the experience, the 6 canapés and 7 course tasting dinner on the mountain, accessible only by cable car and snowmobile at La Chaumiere, with inspired wine pairings by the owner and sommelier, Alessandra Demoz and an introduction to the most heroic winemakers in the Aosta Valley, Maison Maurice Cretaz. Some fascinating dishes from the chefs await, from duck with pine and thyme to Orkney langoustine and chocolate paired with balsamic vinegar. Ssshhh…… it's a secret.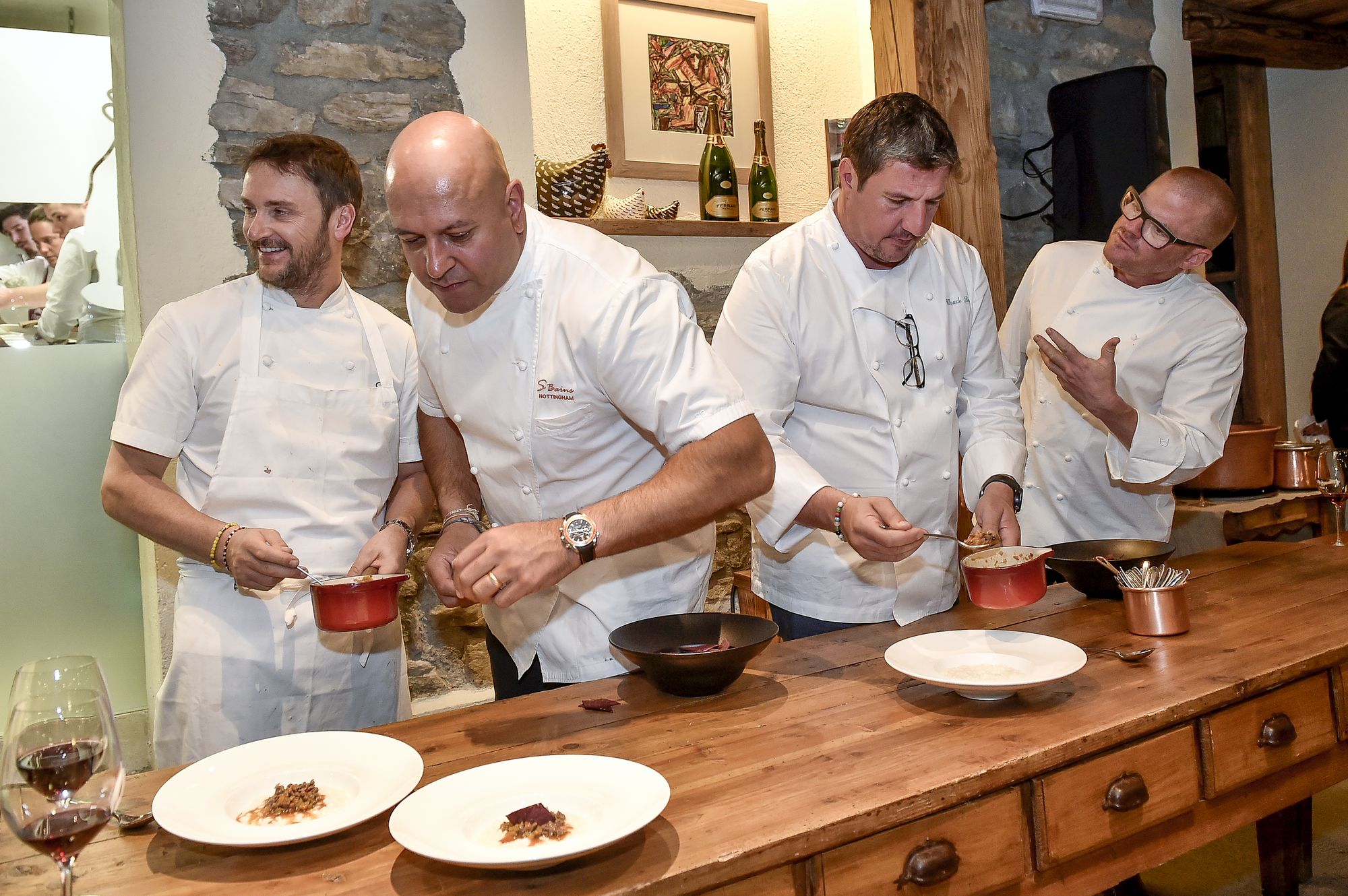 On the 22nd, more skiing and a "trendy" lunch at Super G, Courmayeur's answer to Les Folies Douces, and the ultimate dinner, with canapés prepared live by the 4 chefs, underneath the watchful eye of Mont Blanc, at Maison Vieille mountain refuge, with the local produce from Lo Matson, Courmayeur's very own artisan food festival, allowing the smaller and best local ingredients to come alive.
All of this thanks to Courmayeur Mont Blanc Funivie, staying open every night of the winter season until midnight, and for the event even until 2am to allow a proper party spirit, as befits the ultimate alchemy and camaraderie of the experience.
For Friday, the choice of skiing, dogsledding with Fabrizio Lovati international competitive musher or a ride up the revolutionary Skyway cable car and walk on the glacier, roundly concluded with a true Italian aperitivo lunch at historic Caffe' della Posta and then a find farewell to all…
You can check our MUST-Read Guide to Courmayeur here and where to stay in Courmayeur. 
To keep on reading more ski news at your fingertips – keep on coming back to The-Ski-Guru, sign up to our newsletter and follow us on Social Media through our hashtags #skinewsatyourfingertips and #theskiguru
We've also covered Taste of Courmayeur and the St Moritz Gourmet Festival.
And while you are there, you should take a ride up the Mont Blanc Massif in a helicopter!
Featured Image: Mountain Gourmet Ski Experience 2018- Photo courtesy of Courmayeur Mont Blanc.
Please follow and like us: