The Gran San Bernardo pass has reopened
From AostaSera
Today the Gran San Bernardo Pass has reopened to the public. The pass, at 2,450 meters links Valais in Switzerland to the Aosta Valley in Italy. Lots of people came to the open ceremony. The opening works started by Anas personnel in April. Snow has accumulated on the sides of State Road 27 up to 12 meters of height.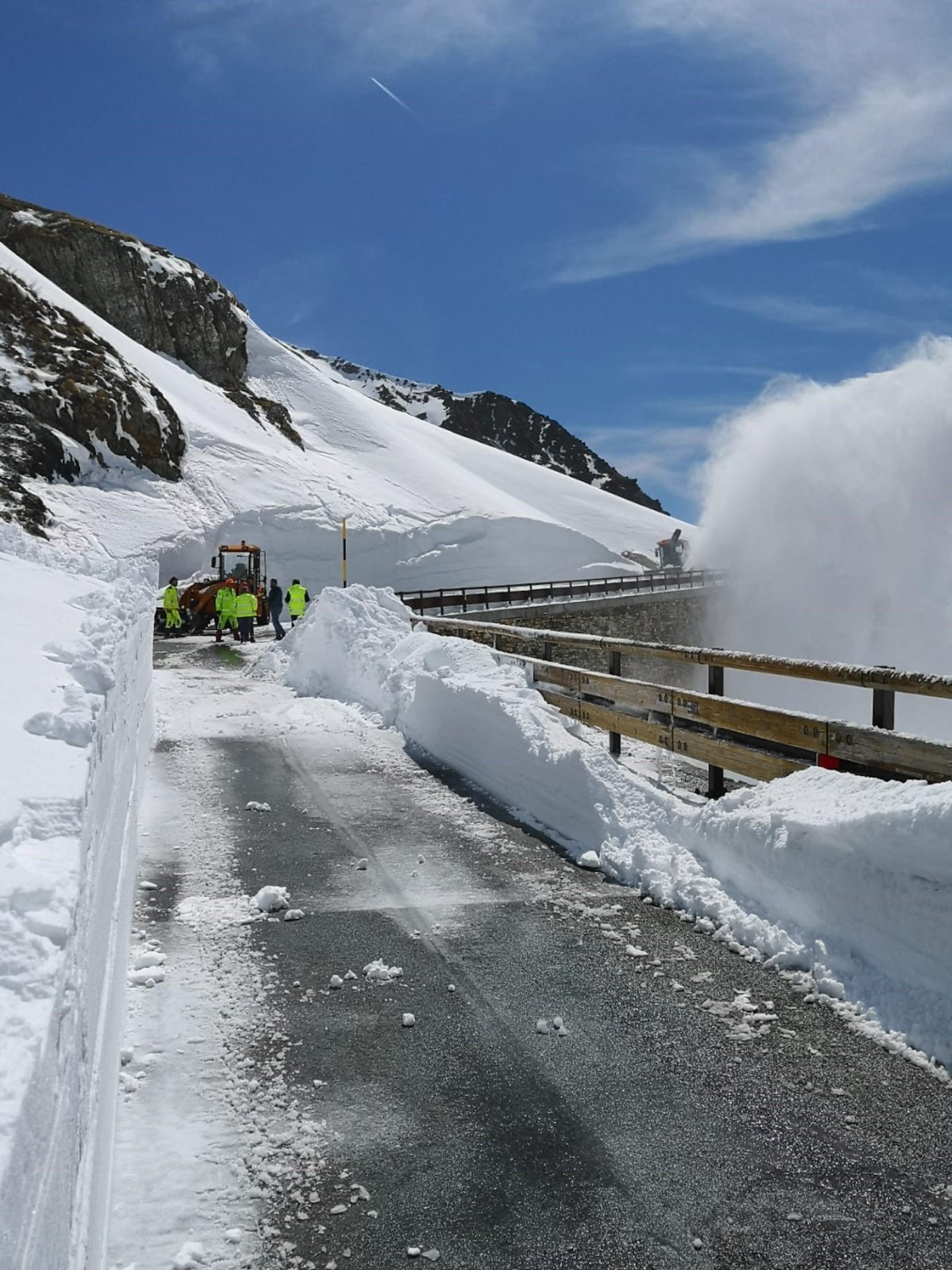 Anas personnel started opening a gap in the snow reaching a stretch about 4 km from the state border. As the road was cleaned, the side barriers and vertical signs were also restored, removed before closing and stored to avoid damage due to possible avalanches.
More information: AostaSera
We've covered that work was underway to open the Petit Saint Bernard Pass.
The-Ski-Guru TRAVEL is a CONCIERGE service that can help you organise your bespoke ski trip to the Americas, Alps or Japan, including for those going from Britain to Europe, helping you book your Eurotunnel trip, and for all trips: lodging, lift tickets, rentals, ski school, and all you need for an excellent vacation. Go to https://www.the-ski-guru.com/travel and upload your information – this page will be updated soon with more travel ideas. Check our amazing Ski Safari in the Dolomites , stay at the San Lorenzo Lodge White Deer in the Val Pusteria of Sudtirol, in the Hotel Petrus in Riscone, for skiing Kronplatz, or check our offer to Obergurgl-Hochgurgl and Sölden to ski with your family. Maybe you want to come on my group to ski with other like-minded skiers in Courmayeur in January 2020, staying at the Gran Baita hotel?
You can start thinking about your trip, by reading the articles on the Planning your Ski Trip tab.  Or how to pack for your family ski trip.  If taking your furry friend abroad to the continent, read about the new Pet Travel Scheme update from DEFRA. Self-drive skiers also need to plan for Brexit. Check out our tips for driving to the mountains.  If flying and renting a car in Europe, beware of the extra charges they will pass to you if you want winter tyres, snow chains or ski racks. If driving, check the winter tyres news for Europe and North America. You can see how our last family ski holiday was not as expected, even though one plans it to be a success, but how we could do the most of it.

You can also look for your own accommodation in the snow through our Accommodation Search tab.
Featured Image: The Gran San Bernardo pass has reopened. Photo: AostaSera
Please follow and like us: