A Rockslide, with a boulder of a size of a house, wiped out a section of the highway in SW Colorado
From The Journal, Denver Post and CDOT
A crew Sunday night blasted one of two boulders that shut down Colorado Highway 145 north of Dolores since Friday, and built a temporary road to allow traffic through.
Trucks hauled way the rubble beginning Sunday, and the bypass road opened Monday afternoon.
The rock slide prompted three days of work to try to reopen the highway, a key route between Dolores and Telluride, and an alternate route to the Iron Horse bicycle race from Durango to Silverton.
On Saturday, officials assessed the ridgeline above the highway for additional threats. CDOT had two priorities: to "patch the damaged road" and to ensure the stability of the rock ridge formation.
"A geo-technical crew conducted a ground and aerial investigation of the steep terrain earlier today and determined rock scaling is needed," CDOT spokeswoman Lisa Schwantes said Saturday. A team was airlifted to the 'brow' of the ridgeline to clean and clear loose rock on the ridge and slope.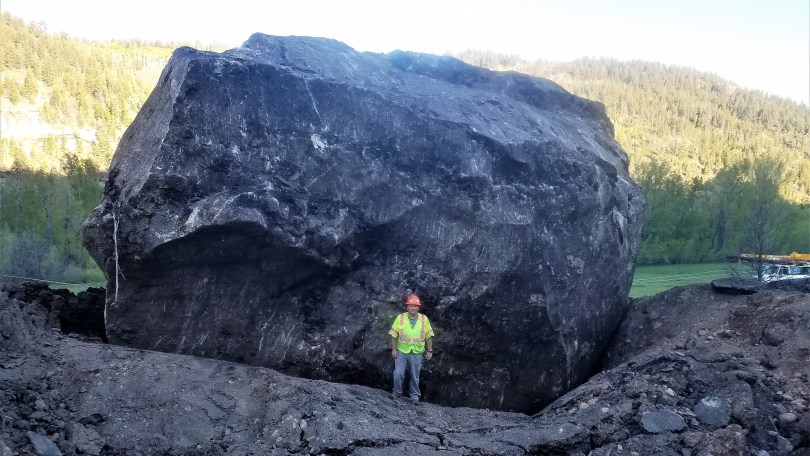 By Sunday, a crew had finished scaling the top of the ridge to ensure it was stable and began drilling blasting holes on top of one of the boulders.
An earthen ramp was built to the top of the boulder so crews could drill.
The geo-technical crew calculated that 15 to 20 holes, each 15 feet deep, were needed to be drilled vertically into the rock. The holes were then filled with explosive charges to pop the rock into chunks that could be hauled away.
Crews also built a temporary bypass road so the highway could be reopened to alternating, one-lane northbound and southbound traffic. The bypass originally was projected to open Tuesday or Wednesday.
The boulder on the highway was estimated to be 48 feet long, 18 feet wide and 18 feet high. It weighed about 2.3 million pounds, according to Schwantes. The other boulder crossed the highway and "blew out an eight-foot trench." It was estimated to be 50 feet long, 50 feet wide and 26 feet high and weigh 8.5 million pounds.
CDOT feared rain Monday would delay efforts to remove the boulders.
"There are a lot of unknowns right now," Schwantes said Sunday.
The Rockslide, with a boulder of a size of a house, wiped out a section of the highway in SW Colorado on Friday 25th May in the afternoon
CDOT (The Colorado Department of Transportation) has given at that time a news release that Colorado 145 highway indefinitely 12 miles north of Dolores, between Cortez and Telluride, in SW Colorado.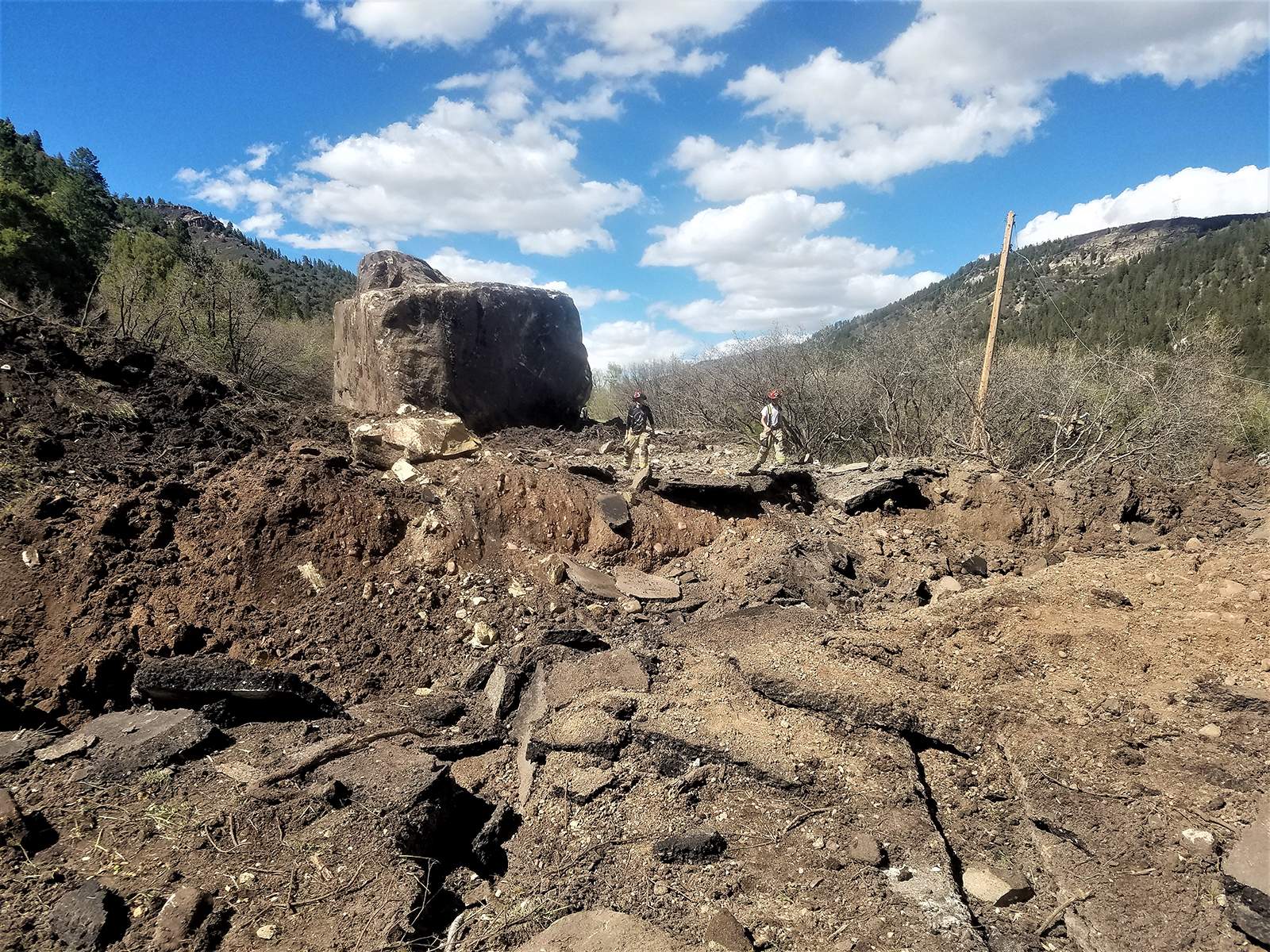 More info: The Journal
For more information on Driving to the Mountains
The-Ski-Guru TRAVEL is a CONCIERGE service that can help you organise your bespoke ski trip to the Americas, Alps or Japan, including for those going from Britain to Europe, helping you book your Eurotunnel trip, and for all trips: lodging, lift tickets, rentals, ski school, and all you need for an excellent vacation. Go to https://www.the-ski-guru.com/travel and upload your information – this page will be updated soon with more travel ideas. Check our amazing Ski Safari in the Dolomites , stay at the San Lorenzo Lodge White Deer in the Val Pusteria of Sudtirol, in the Hotel Petrus in Riscone, for skiing Kronplatz, or check our offer to Obergurgl-Hochgurgl and Sölden to ski with your family. Maybe you want to come on my group to ski with other like-minded skiers in Courmayeur in January 2020, staying at the Gran Baita hotel?
You can start thinking about your trip, by reading the articles on the Planning your Ski Trip tab.  Or how to pack for your family ski trip.  If taking your furry friend abroad to the continent, read about the new Pet Travel Scheme update from DEFRA. Self-drive skiers also need to plan for Brexit. Check out our tips for driving to the mountains.  If flying and renting a car in Europe, beware of the extra charges they will pass to you if you want winter tyres, snow chains or ski racks. If driving, check the winter tyres news for Europe and North America. You can see how our last family ski holiday was not as expected, even though one plans it to be a success, but how we could do the most of it.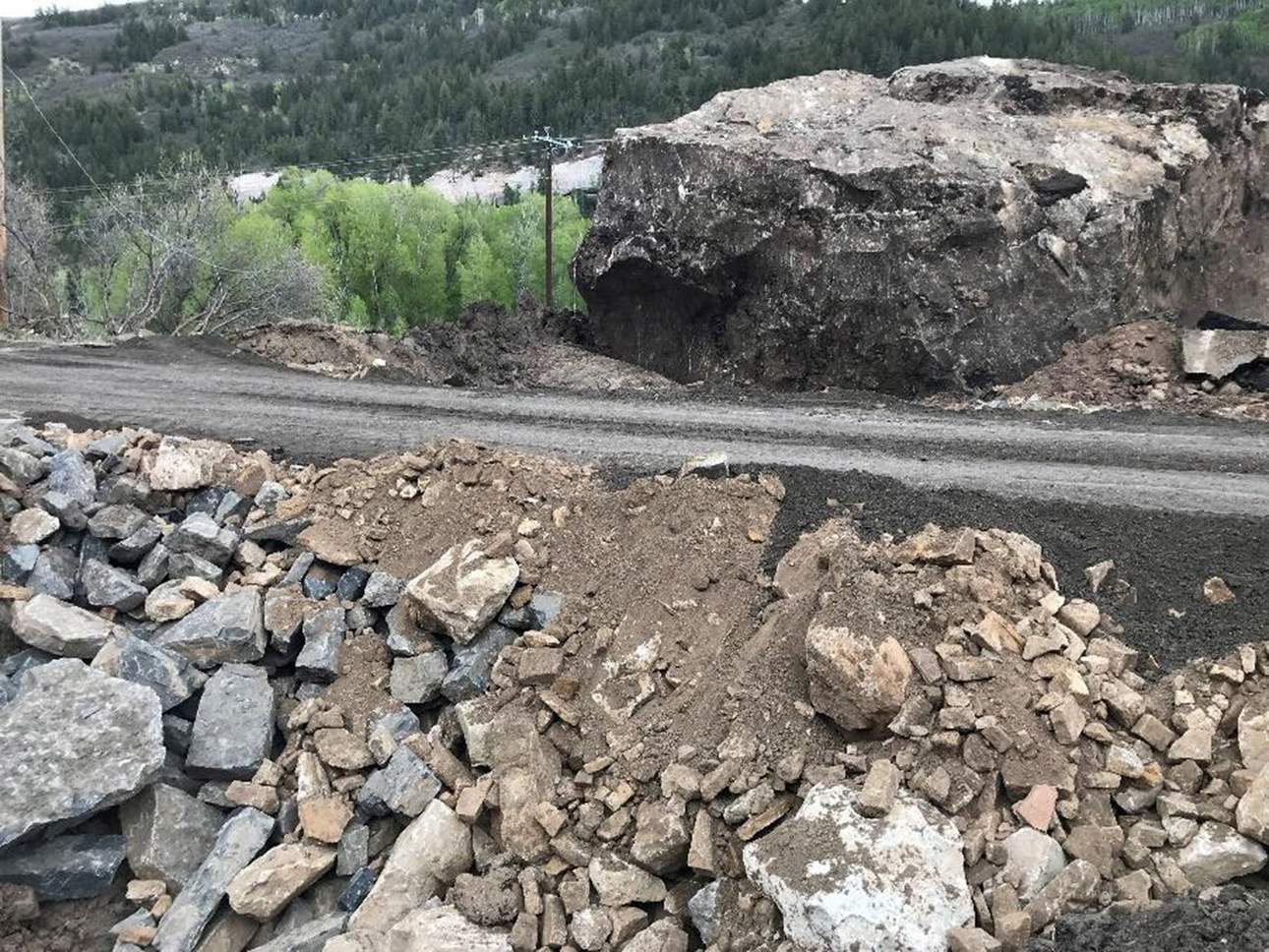 You can also look for your own accommodation in the snow through our Accommodation Search tab.
Featured Image: An aerial image of the road obstruction. Photo: CDOT. A Rockslide, with a boulder of a size of a house, wiped out a section of the highway in SW Colorado
Please follow and like us: