A fast-melting glacier in the Mont Blanc raised an alarm in the area of Val Ferret of Courmayeur.
This article may contain affiliate/compensated links. For full information, please see our disclaimer here.
The Planpincieux glacier on the Grande Jorasses peak of the Mont Blanc massif, which marks the border between Italy, France and Switzerland is fast-melting and could provoke a collapse of 8.8 million cubic feet mass of the 512 square mile glacier.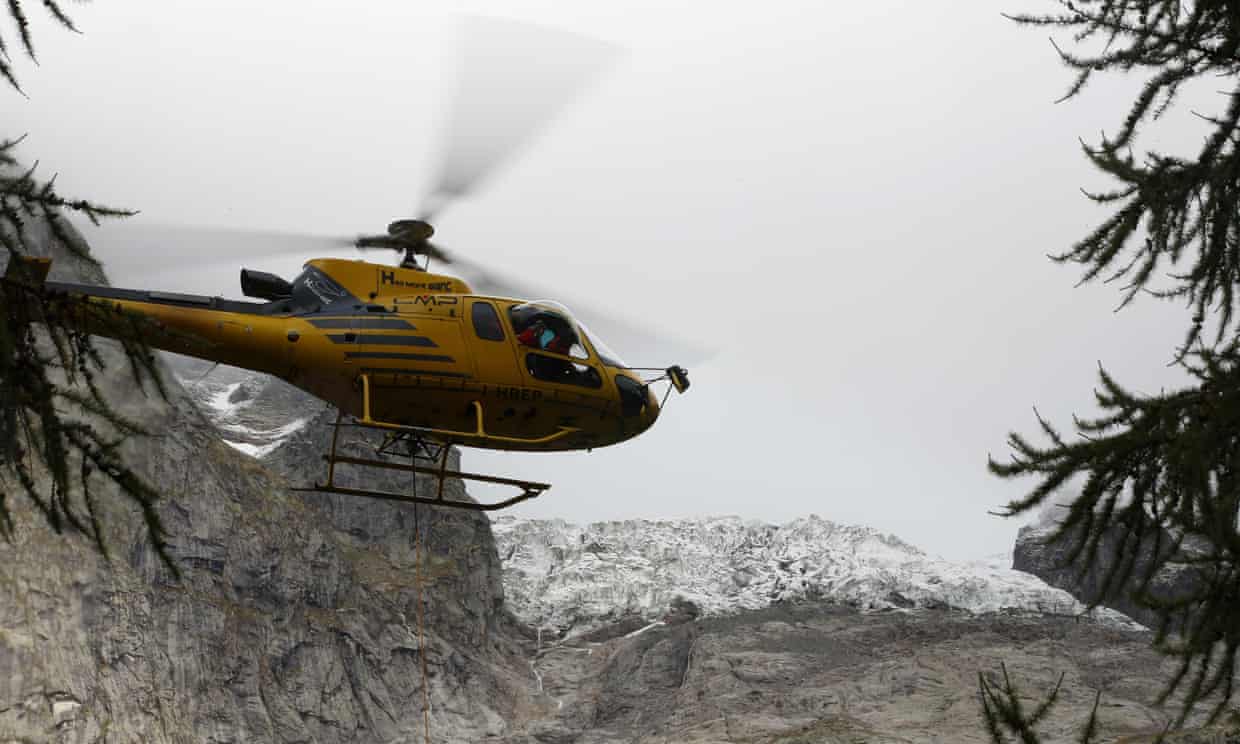 The glacier overlooks the Val Ferret and Planpincieux, 7 km up from Courmayeur. Experts from Fondazione Montagna Sicura (Safe Mountain Foundation), a charity in charge of monitoring the glaciers of Aosta Valley, said that this glacier has been moving since they have been monitoring it closely starting in 2013, but the size of a recent fracture and the increase of the speed at which the ice is melting raised the alarm.
This area is popular with hikers, so Courmayeur's Major Miserocchi closed as a safety measure, mountain refuges and part of a road upon which the ice could directly fall. Contrary to first reported, only one home had to be evacuated. The rest of the 10 homes in the hamlet beneath the glacier are empty summer holiday homes.
A group of 160 or so pupils marched on Friday to protest against climate change with banners and slogans from "Ban plastic, save our planet" to "You broke our glacier".
Matteo Pelliciotta, a teacher who helped on the march said "We live here and can see the damage that climate change is doing. Every day, the glacier changes and becomes more grey in colour. This protest is more than just a message, it is a demand for politicians to take proper action."
Miserocchi told the Observer newspaper: "Each year you see how much the glacier changes. The average temperature has risen to the point where, in winter, ice is no longer being recreated because even though it snows, the temperature doesn't get cold enough. Where there was once ice, there is now rock."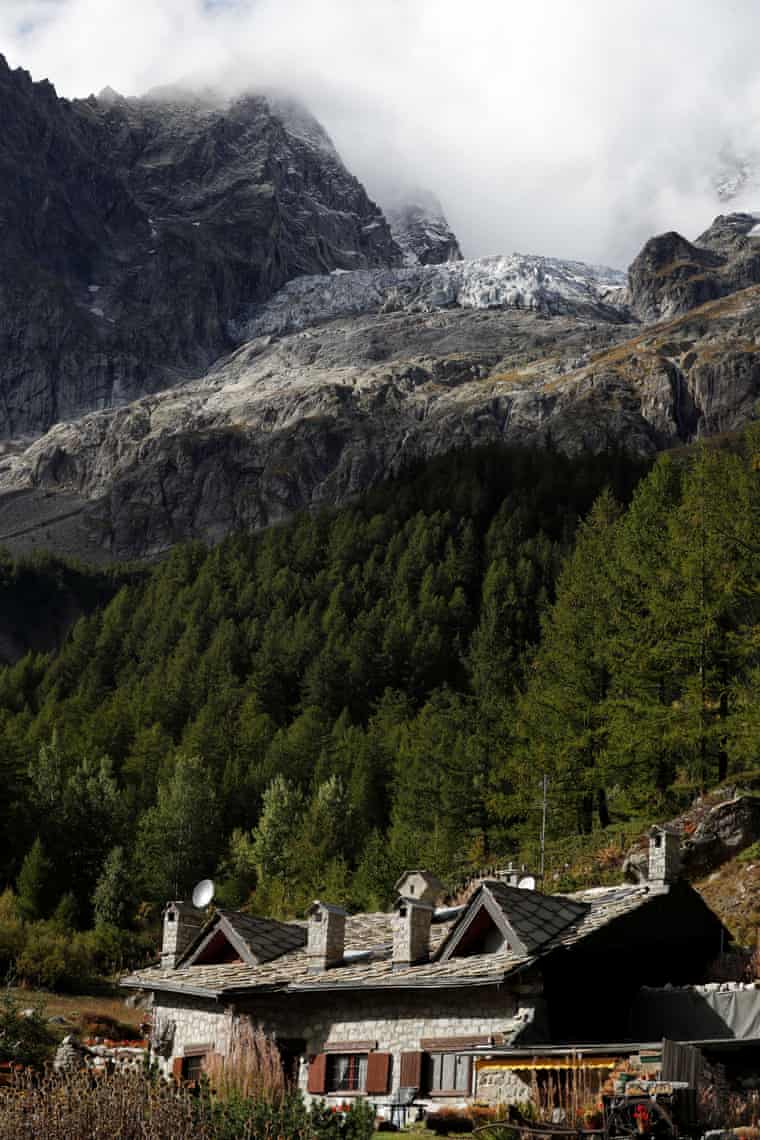 Experts are unable to predict when the mass of ice might collapse, but Miserocchi is not taking chances as the glacier's changes already has cost lives. Last year in August, a heavy storm unfurled unleashing a debris flow which swept away and killed an elderly couple in their car in the same area. We were there that week on holidays and talked briefly about it – you can read it here.
Also, in January, a breakage in the wall of ice caused an avalanche, missing homes narrowly.
The experts of Fondazione Montagna Sicura are monitoring 184 glaciers in the Aosta Valley region. There are 4,000 glaciers across the Mont Blanc massif, the highest mountain range in Europe, located in France, Italy and Switzerland. The scientists are expecting Alpine glaciers to shed half of their ice by 2050 if emissions continue to rise at the current rate.
Fabrizio Troilo, a geologist at the foundation, says that "everything is under control" with the Planpincieux glacier, and in the worst-case scenario the ice would fall in the direction of the road and not on the cluster of homes in the area of Val Ferret.
This news has attracted global attention only because the Italian prime minister, Giuseppe Conte, said that the warning that part of the Mont Blanc risked collapsing "must shake us all and force us to mobilise" while he was at the UN climate action summit in New York. If this didn't happen, maybe the news would have been only known regionally.
Rocco Raffaele, the manager responsible for the defence of the territory at Aosta's regional authority said "…but the Alps have been feeling the effects of climate change for a long time. As a glacier disappears, the material extracts beneath it become exposed and when it rains, like it did in August last year, that material gets deposited down."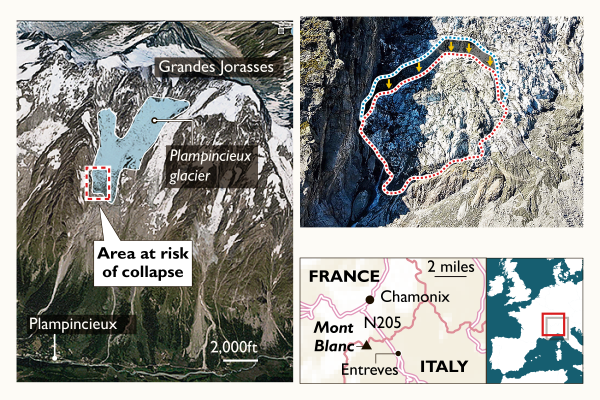 In the event of a collapse, it would take less than two minutes for the mass to reach the municipal road.
Raffaele continued saying "There is a danger, but that doesn't mean you have to shut everything down. It simply means being aware and understanding how to be responsible in the mountains."
But, as worried tourists frantically called hotels to inquire if they should cancel their trips to Courmayeur, those running tourism businesses were unhappy that the news had generated so much attention.
Luca Savaglia from the Alpine Guides Society, which organises mountain excursions says that "this could be really damaging for us. This particular glacier has always moved, and there are no hiking paths there, no climbing… we haven't had any cancellations, but a lot of people have called to ask what is going on."
Residents and hoteliers were unhappy as the press was giving the impression that Courmayeur itself was in danger. Jean Pierre Fosson, secretary-general of the Safe Mountain Foundation was left fuming after Greenpeace released an inaccurate statement.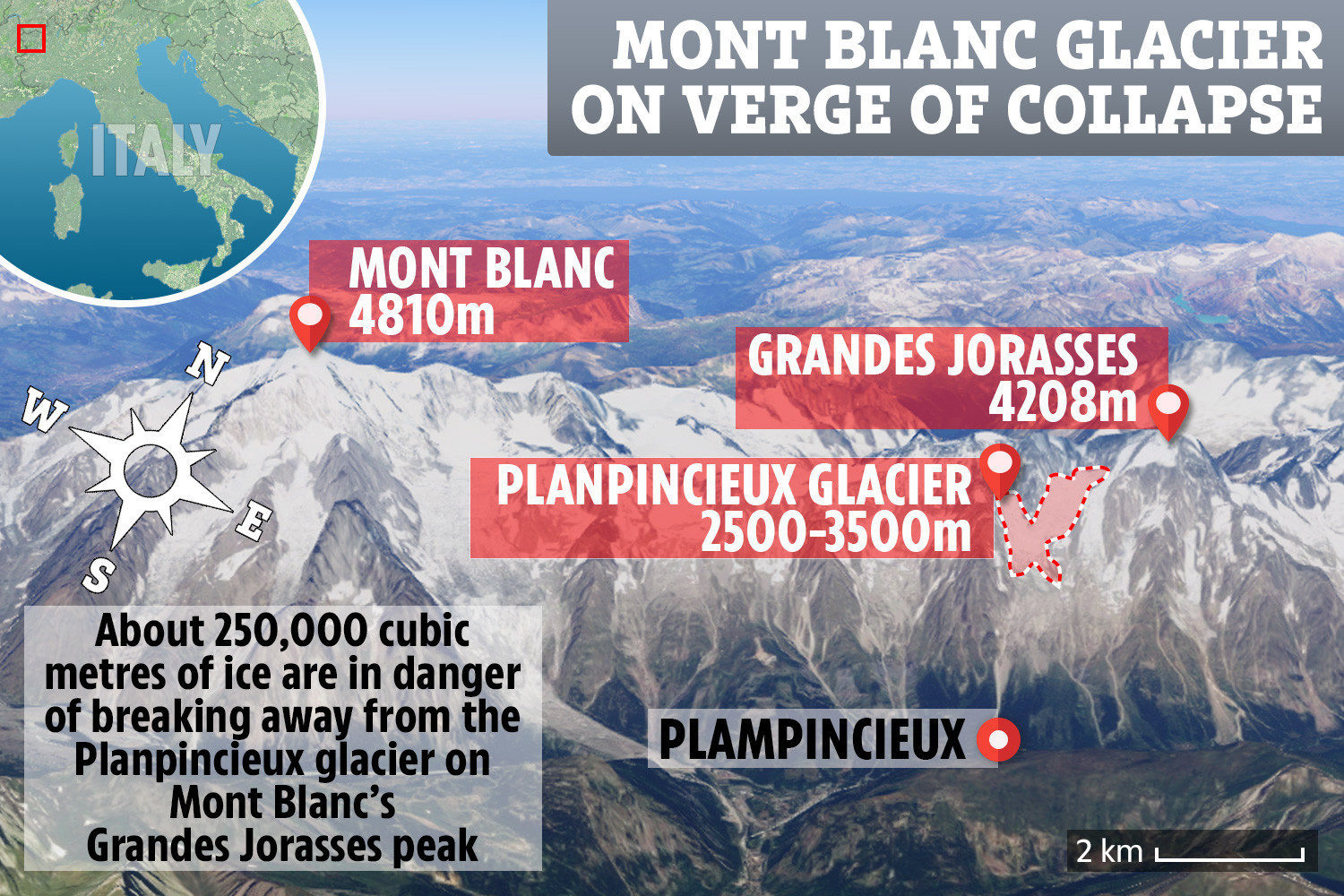 He said: "They said the situation was very dangerous in Courmayeur and that lots of homes were evacuated, but Planpincieux is 7km away from Courmayeur. We would never say a situation is not serious, but at the same time we have to give the correct information as we don't want people living here to leave."
In a week where millions of children protested against climate change inspired by the Swedish activist Greta Thunberg, experts are pleased the news has helped draw attention to the vulnerability of glaciers. The children of Courmayeur were amongst the estimated 1 million young Italian protesters.
More info:
If you are planning to visit Courmayeur this winter, you can check our Must Read Guide to Courmayeur here.
Also, our preferred hotels where to stay in Courmayeur are:
A bit out of Courmayeur, in La Salle, this lovely deluxe hotel:
Mont Blanc Hotel Village, part of the Small Luxury Hotels of the World.
If going in a budget:
I have written about the end of one of our ski trips in Courmayeur here. If you want to take your family skiing but don't know where to start, read along. In a past post, I've written how also the Vallée Blanche glacier is shrinking massively fast.
You can search for your own accommodation in the snow for your next ski holiday through our Accommodation Search tab.
And search for your ski transfers from all airports to the Mountains here. And for those that are like me, that are lazy to cook, you can get your food, even gourmet mountain food delivered to your home with Huski.
The-Ski-Guru TRAVEL is a CONCIERGE service that can help you organise your bespoke ski trip to the Americas, Alps or Japan, including for those going from Britain to Europe, helping you book your Eurotunnel trip, and for all trips: lodging, lift tickets, rentals, ski school, and all you need for an excellent vacation. Go to https://www.the-ski-guru.com/travel and upload your information – this page will be updated soon with more travel ideas. Check our amazing Ski Safari in the Dolomites , stay at the San Lorenzo Lodge White Deer in the Val Pusteria of Sudtirol, in the Hotel Petrus in Riscone, for skiing Kronplatz, or check our offer to Obergurgl-Hochgurgl and Sölden to ski with your family. Maybe you want to come on my group to ski with other like-minded skiers in Courmayeur in January 2020, staying at the Gran Baita hotel?
You can start thinking about your trip, by reading the articles on the Planning your Ski Trip tab.  Or how to pack for your family ski trip.  If taking your furry friend abroad to the continent, read about the new Pet Travel Scheme update from DEFRA. Self-drive skiers also need to plan for Brexit. Check out our tips for driving to the mountains.  If flying and renting a car in Europe, beware of the extra charges they will pass to you if you want winter tyres, snow chains or ski racks. If driving, check the winter tyres news for Europe and North America. You can see how our last family ski holiday was not as expected, even though one plans it to be a success, but how we could do the most of it. If you want to get better before getting to your next ski holiday, here is a quick guide to indoor skiing and dry slopes in the UK. You can also read our week in the mountains during our summer holidays in Courmayeur.
Featured Image: Plampincieux Iconography – from Daily Mail. A fast-melting glacier in the Mont Blanc raised an alarm in the area of Val Ferret of Courmayeur. 
Please follow and like us: