Stranded tourists heli-ported after Stanserhorn CabriO cable car breakdown
From Swiss.ch
Around 150 tourists stranded at the top of the Stanserhorn mountain in central Switzerland had to be rescued by helicopter after the cable car they came up with broke down.
On Friday evening, the monitoring system of the open-air cable car triggered an emergency shutdown due to a technical defect, said the operators. Passengers in the cabins were able reach both ends thanks to a backup mechanism. However, those who were at the top of the mountain were stranded. They had to be transported by three helicopters to the valley below.
"At no time were they in any danger," said the Stanserhorn cable car operators.
Repairs were scheduled for Saturday morning and the cable cars are expected to return to service Sunday morning. A similar incident took place a week ago on the Niesen mountain in the Bernese mountains. The breakdown of the funicular railway had necessitated a rescue by helicopter.
More information: Swiss.ch
We have covered lots of lifts evacuations here at The-Ski-Guru. From the Patriata chairlift in Pakistan, from the employees stuck at the Vail Eagle Bahn on their way to work, to those rescued in Cervinia by helicopter.  You can see them all in our Lift Evacuations category. If you fancy getting a house in Switzerland, there are some houses in the Ticino canton sold for 1CHF. But read what is the catch!
You can search for your own accommodation in the snow for your next ski holiday through our Accommodation Search tab.
The-Ski-Guru TRAVEL is a CONCIERGE service that can help you organise your bespoke ski trip to the Americas, Alps or Japan, including for those going from Britain to Europe, helping you book your Eurotunnel trip, and for all trips: lodging, lift tickets, rentals, ski school, and all you need for an excellent vacation. Go to https://www.the-ski-guru.com/travel and upload your information – this page will be updated soon with more travel ideas. Check our amazing Ski Safari in the Dolomites , stay at the San Lorenzo Lodge White Deer in the Val Pusteria of Sudtirol, in the Hotel Petrus in Riscone, for skiing Kronplatz, or check our offer to Obergurgl-Hochgurgl and Sölden to ski with your family. Maybe you want to come on my group to ski with other like-minded skiers in Courmayeur in January 2020, staying at the Gran Baita hotel?
You can start thinking about your trip, by reading the articles on the Planning your Ski Trip tab.  Or how to pack for your family ski trip.  If taking your furry friend abroad to the continent, read about the new Pet Travel Scheme update from DEFRA. Self-drive skiers also need to plan for Brexit. Check out our tips for driving to the mountains.  If flying and renting a car in Europe, beware of the extra charges they will pass to you if you want winter tyres, snow chains or ski racks. If driving, check the winter tyres news for Europe and North America. You can see how our last family ski holiday was not as expected, even though one plans it to be a success, but how we could do the most of it. If you want to get better before getting to your next ski holiday, here is a quick guide to indoor skiing and dry slopes in the UK. You can also read our week in the mountains during our summer holidays in Courmayeur.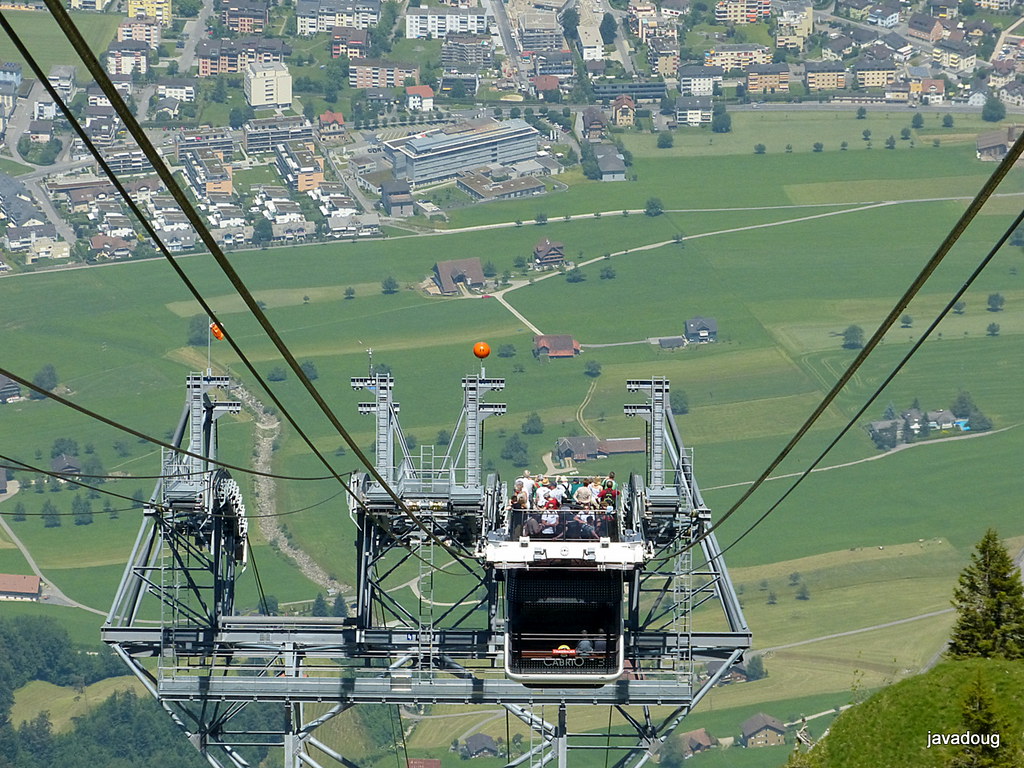 Featured Image: The Stanserhorn Cabrio cablecar. Stranded tourists heli-ported after Stanserhorn CabriO cable car breakdown
Please follow and like us: