A group of Bolivian "Cholitas" – (Aymara indigenous) women to climb the Aconcagua, the Highest Peak of the Americas (6,962 m/22,840 feet). Aconcagua is located in the province of Mendoza, in Argentina and towers the other mountains of the Andes by more than 1,000 meters.
These 'Cholitas' have been working cooking for tourist expeditions in the mountains of Bolivia. They got caught with curiosity on why people were coming back, year after year, and started climbing themselves. The feeling of freedom got them hooked and they've started doing it more and more.
Aconcagua is a magnet for all climbers. Being the highest peak of the Americas, where the treeline is low, makes it a very tough mountain. It has three climbing routes – the normal route, the Polish Glacier and Traverse route and the third route known as the Direct Route or the Polish Glacier Route. You can read a good article on these routes here.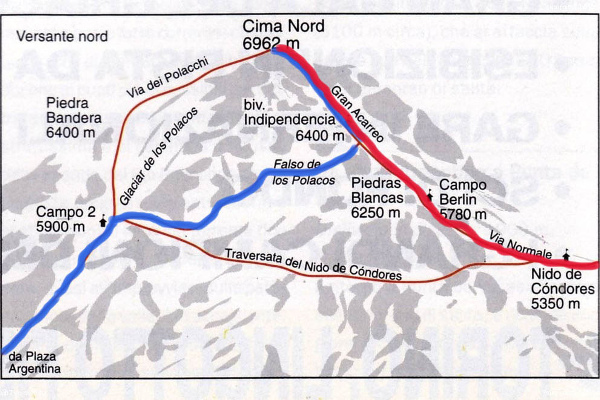 Aconcagua is also known as the world's highest 'trekking peak' and thousands of hikers attempt to climb it each year. However, it is one of the most underestimated mountains in the world and has one of the lowest summit success rates. Extreme altitude and temperatures going up to -30C, plus having a low treeline, that makes you feel the lack of oxygen sooner, makes Aconcagua a difficult mountain to climb.
These 'Cholitas' have left La Paz in Bolivia to get to Mendoza and start their ascent. They are between 24 and 50 years old.
Their idea is to show their abilities in climbing the Aconcagua and show that they can do it, even as they have been before discriminated for being women and indigenous. The Ministry of Culture and Tourism of Bolivia communicated that the objective of this mission is to show the women's abilities and being part of a documentary video that will be aired in Spain. This expedition has been financed by Montura.
At the beginnings of 2017, this group managed to climb the Illimani. This is one of the most emblematic mountains of the department of La Paz in Bolivia. One of the climbers expressed that the 'feeling of arriving was the most beautiful that one can feel, is like being in paradise. I've felt free of everything. I remembered that everybody thought that not even myself nor my colleagues would be able to reach the Illimani. But we demonstrated we could do it with facts, not words. It was a really unique experience'
This is what they've written on their Facebook page:
"Press Release 1
We say goodbye to our families with a lot of nostalgia from our homes and at the airport. The trip from peace to Mendoza was very beautiful and surprising because we saw the Royal Andes Mountain range from the plane
We made a small scale in Santiago de Chile and landed in Mendoza at night.
We met different people on this journey that wished us a lot of success in our ascent to Aconcagua. Especially women who felt inspired by our history, they called us warriors, representatives of a female empowerment for being fulfilling this dream so special that we have to conquer the highest summit in America. And many people took pictures with us we feel very happy and represented.
The arrival to Mendoza received us with lots of sun and heat.
We are now preparing our backpacks that are our ..and many people are pending every detail of what we lack.
Today we will go to Horcones and stay in the shelter of the caves and tomorrow we will start walking towards confluence.
Let's go with the heart of our Bolivia and meet Argentine friends and other countries to share experiences.
We are very excited and now we feel that this is the beginning of the dream.
Let's go for the top!!! Sincerely #cholitasescaldorasdebolivia#cholitasclimbingbolivia #cholitasblimbersbolivia
Lidia Huaylas Estrada
Dora magueño machaca
Ana Lia Gonzales magueño
Cecilia Llusco Alana
Elena Quispe Tincuta
This message was yesterday, we are now in the caves already about to start our promotion."
And here is posted their petition for funds and explaining why they are attempting to climb the Aconcagua:
"We are a group of Bolivian women passionate about the mountains. We have worked for years as cooks for tourist expeditions to different mountains of the Andes. That way, curiosity began to awake inside us. Why did tourists return so happy, what was up there? We started climbing and we were caught by the feeling of freedom that we found.
Our dream is to climb the largest mountain in America, the Aconcagua Mount. We want to record on video our expedition, and show the world that we can, even though we have been marginalized before because we are women, and because we are indigenous. We are capable of great feats.
We need help, we have never climbed out of our country and the expedition costs money: plane tickets, permits to climb to the top, food. We are going to climb Aconcagua at the beginning of next year. We are sure that, if we achieve to pay the expedition, we will be able to reach the top. We are preparing physically, and we are in a very good shape and with a huge motivation. If you follow us, we will show you the video at the end and we will try to let the whole world know what we have done thanks to your help.
Thank you so much. "
The link to this petition is here.
More info:
National Geographic en Español
The-Ski-Guru TRAVEL can organise your bespoke ski trip to the Americas, Alps or Japan, including for those going from Britain to Europe, booking your Eurotunnel trip, and for all trips: lodging, lift tickets, rentals, ski school, and all you need for an excellent vacation. Go to https://www.the-ski-guru.com/travel and upload your information – this page will be updated soon with more travel ideas. Check our Easter offer to Obergurgl-Hochgurgl and Sölden to ski with your family.
You can start thinking about your trip, by reading the articles on the Planning your Ski Trip tab.  Or how to pack for your family ski trip.  If taking your furry friend abroad to the continent, read about the new Pet Travel Scheme update from DEFRA. Check out our tips for driving to the mountains.  If flying and renting a car in Europe, beware of the extra charges they will pass to you if you want winter tyres, snow chains or ski racks. If driving, check the winter tyres news for Europe and North America.
Or you can read our last news on equipment as seen at the London Ski Show. Also, the new range of skis of Black Crows, one of our favourite brands. Shred-Dog is a definitely favourite brand for parents of growing kids.
Lots of snow makes you wonder how the resorts deal with the avalanche danger. Here you can read the interview to Coco Torres, former Head of Operations of Las Leñas, in Argentina, as how they dealt with avalanches at the resort. 
Or perhaps you may choose to read the Ski Resort News, Ski Passes News, and the Must-Read Guides to Lech,  Zermatt,  Courmayeur, Val di Fiemme and Crans-Montana. Coming soon will be the guide to St Anton. Or  watch an amazing heli flight over the Mont Blanc Massif. Also see tips on how not to be scammed when booking a ski chalet.
You can also read what's new at Les Trois Vallées and the last article on what is new at the Tirol ski areas,  in Cervinia, in La Plagne, in 3 Zinnen Dolomites ,  in Adelboden, Lenk and Kandertal, in Gstaad, in Chamonix,  in Georgia's Gudauri Resort and in the Skicircus Saalbach Hinterglemm Leogang Fieberbrunn. And how the US Ski Team has chosen Alpe Cimbra to train for the following four ski seasons as their European home.  Here is the link to our post on the My Voucher Codes ranking of best European Ski Resorts.  
Crested Butte will have a new chairlift to replace Teocalli lift for the 2019/20 ski season. Jay Peak is officially for sale.
You can plan where to eat in Aspen Snowmass or which events to attend on-mountain while there.  And Cortina D'Ampezzo is getting ready for this winter and the 2021 World Ski Championships. 
Another classic resort, such as St Moritz has been in the news for its famous Cresta Run be opened again for women after a 89 years ban.
Also, you can read how Grandvalira will be staying together as one lift ticket company and how they are adding Ordino Arcalis to  this offer. Grandvalira is opening now all of its six sectors.  And also read how someone tried to sabotage some lifts in Vallnord's Pal Arinsal. And as if it is starting to be a trend, there were two lifts sabotaged in Passo Rolle, in Val di Fiemme, Trentino. Fortunately they were repaired in record time to open to the public.
Also, Mt Hood Meadows was forced to evacuate one lift with 150 skiers and boarders due to a power failure. And the same was the case in a lift with 140 skiers/boarders in Whitefish, Montana. Recently a British skier was killed after suffering a cardiac arrest on a chairlift falling 32 feet to the ground in Méribel resort in Les Trois Vallées. You can see our recent article on how avalanches claimed two lives in Switzerland the past week. And read more what is the real risk of avalanches. Three Germans have been killed by an avalanche near Lech and a fourth is missing. Two were caught in an inbounds avalanche near Kachina Peak in Taos and taken to hospital.
Or read about the latest investments in Whistler Blackcomb. Or see how Taos is going against the industry trend, and instead of merging with the two biggest oligopolies in skiing at the moment, it goes and buys an airline to get more bums in resort. Or how Jackson Hole is appealing to families and beginners – it is not only a resort for expert skiers anymore. Another great area for families is Stubaital in the Tirol. And a new coming ski area that got funding for its first lift is Skeetawk in Alaska.  Courmayeur is opening this season two new trails, one that is 70% steep – not for the faint-hearted! Or read how a group of experienced industry insiders got together to purchase Tamarack Resort. And how Peak Resorts finalised the acquisition of the resorts of Snow Time. You can also check how Vermont's ski passes are the most expensive in New England. And talking about Vermont, you can read on how Killington is planning to change its North Ridge triple chair with a fixed-gripped quad.
Also read how one employee of Aspen Ski Co got caught in an avalanche but got out unscathed while scouting terrain for the Aspen Mountain Powder Tours. Or how the a gondola of the new American Eagle lift from Copper Mountain crashed into the snow in a trial run. The resort confirmed that the chondola will be fixed before it's opening day. Plus this week, some gondolas got tangled in Hochzillertal. And there was a gas explosion at the Grand Hotel Zermatterhof that injured six, before its opening date.
You can keep up to date on how are the sales for the EPIC and IKON passes are doing here. Read how Emma, the first Digital Mountain Assistant, is launched in Keystone now and will be rolled to eight other resorts this season. And even read about the new incorporation to the IKON Pass: Valle Nevado. Here is also a post on the South American resorts.  
Also, Rob Katz and his wife Elana Amsterdam donated 2 million USD in grants to support mental and behavioural health programs in ski towns of North America. And see how Aspen Skiing Company released its sustainability report 2018. 
And here is a summary of a report by LISTEX on the State of the UK Snowsports Market.
And what Switzerland could look by 2060 due to climate change.
Or check out how now with the EPIC Pass you can ski in Europe, specifically in Les Trois Vallées and the resorts of Skirama Dolomiti in Trentino's Italy. Or see our review of L'Héliopic Hotel Sweet & Spa if thinking in staying in Chamonix this winter.
You may want to read the interview we made last year to Coco Torres, former Head of Operations at Valle de Las Leñas on how to control avalanches in this high -prone avalanche area.
We have already covered many news due to this latest spat of snow storms in Europe, as the hotel that was hit by an avalanche of 300 meters of width in Eastern Switzerland. And two ski patrollers got killed setting avalanche control charges in the French resort of Morillon in the Grand Massif.
Featured Image: A group of Bolivian 'Cholitas' women to climb Aconcagua. Photo Marzena Wystrach Marchowska. Posted on their Facebook page. 
Please follow and like us: